Leon Hall is staring at a different role, but plenty of snaps.
From your perspective, which rookie has impressed the most thus far? Sean Walls, Buckeye, AZ
SEAN: I'm a sucker for speed. Wide receiver Mario Alford, the seventh-round pick from West Virginia, can flat out fly. His hands look pretty decent and so far it looks like he can catch some punts. I'd like to see him do some of this stuff more consistently in traffic and, obviously, in games. But the kid can run, that's for sure.
I ask awhile back about Leon hall 9.6 million dollar contract and he might not start and you said you would keep him so any change of heart he is clearly overpaid and might not start you cannot sit a 10m. Corner on the bench it is just stupid management if they want to resign AJ they need to cut hall just my thoughts. Ken Lairson, Trenton, OH
KEN: To me, at this point in the season, it would be really stupid to cut a veteran cornerback that is versatile, can still play, and is going to play a lot. I just saw where the Steelers traded for a cornerback after taking one in the second round and fourth round. You need them.
As cornerbacks coach Vance Joseph detailed the other day, they expect to play at least three cornerbacks maybe as much as 75 percent of the time and Hall's ability to play safety gives them more options than most on first down. As good as Kirkpatrick and Dennard have looked, remember, they're still unproven over the long haul. Plus, Adam Jones is going to get some snaps off while returning some punts and kicks. Hall is going to earn his money. He will play a lot of snaps and the thinking is he'll play better than he did last season by playing less.
The argument, then, I guess, is overpaying a guy. They've got room to sign Green without whacking Hall or else they would have done it already.  I think they like the message it sends to the locker room. When you sign a contract here, it's real money. Too late to debate the price now and it was a bargain when they extended him in '11. But, what you can't debate is they need four solid corners, so I don't see him going anywhere and I'm willing to predict there'll be a point very soon you're glad he's here.
Hey Geoff, thanks for all of the camp updates and keeping us posted throughout this long offseason. My question is about the defense. With Dennard and Kirkpatrick looking to have a much bigger role, are you expecting to see a lot more man coverage? I would think that Guenther would be a lot more comfortable stacking the box and getting a lot more pressure on the QB and shut down the run with all of our guys back. I just don't want to see Russell Wilson or Big Ben have a field day if Guenther doesn't get there like so much of last season. Thanks for your time! Caleb Lambert, Hilliard, OH
CALEB: Thanks for the note. Their strength is certainly man-to-man, particularly pressing up on the line. I think defensive coordinator Paul Guenther would tell you he had to blitz more than he wanted to last season because of the struggles of the pass rush. With the return of Michael Johnson and Geno Atkins up front, as well as the progress of Will Clarke, I think they're hoping they're back to the days of the four-man rush in '12 and '13 and that helps every secondary.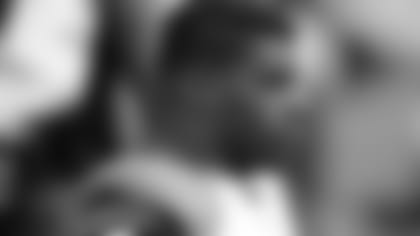 Greg Little is getting another shot.
Hey Geoff, Training camp is up and running and I have caught season kick-off fever! Haha. I cannot wait for this season. First question, I know you have said prior that you believe they may/ should grab another receiver. You don't believe Little is that guy, do you? I hope we pick someone up at cuts or make a trade. I believe we need one more person who could step up if need be, your thoughts? Also, what's the word on MJ? Any other injuries we should know about? Always a pleasure bud. WHO DEY!!!! Cale Smith, Shelbyville, IN
CALE: You sound ready. I'm with you. I think there's one receiver that makes this roster and he's not here yet to go with the Big Three and Alford. He'll arrive late in August or early September. To me the biggest question at receiver besides that is if Alford is going to be active on Sundays. Little is an interesting player, but he'll make a great catch one play and bobble one the next.
Mum's the word on Michael Johnson, but like I wrote when it happened, the word is an MCL sprain. How severe is unknown, but typically it is an injury that has kept players out four to six weeks.
Who can we expect to be our starting kick/punt returners? Robert Bucy, Circleville, OH
ROBERT: We know the main guy is All-Pro returner Adam Jones, but he can' take them all as a starting cornerback. Preseason is basically a battle between two receivers for the backup job, Alford and Brandon Tate. Guys that won't do it but have been back there catching them are running back Giovani Bernard and wide receivers Marvin Jones and Mohamed Sanu. I just can't see them exposing guys like that who have been banged up in the past and are so important from scrimmage.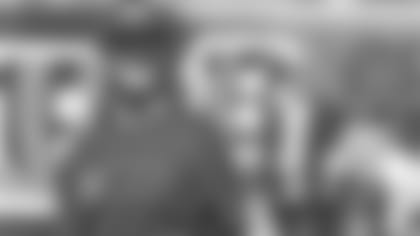 AJ McCarron is looking like the No. 2.
Geoff, I know it's VERY early in camp, but with Jason Campbell retired, Terrelle Pryor being released, and Josh Johnson not really being a viable option, AJ McCarron is basically being handed the job behind Andy Dalton.
Now I like the Bengals, I think McCarron has a lot of talent and will develop into a fine backup QB and possibly a quality starter. But his inconsistent play thus far, (again I understand it's very early in camp) concerns me. What will the Bengals need to see from McCarron during preseason games to not keep three quarterbacks on the roster and bring in another veteran? How much can we expect to see McCarron with the 1st teamers during preseason games? If something were to happen to Dalton, I'm afraid we don't have a capable backup quarterback at this point that can lead this team for several or even a few games. David Lalley, Independence, KY
DAVID: You're exactly right. If Dalton gets hurt in '15, they've got a long road. I don't see them keeping three QBs because you've got the same problem as you do with two. Finding immediate competency at No. 2.  They could have gone the veteran-Matt Schaub-like route back in the spring, but they have chosen to spend their money on their own players.
You have to decide if those veteran guys can win enough games to get you to the playoffs in case of injury. As with everything else, it's a gamble. You pay a guy $3.5 million, he doesn't take a snap, and that is someone you couldn't keep.
Like you, I like McCarron and I think he can be a solid backup. But at the moment he looks like a fifth-rounder in his first training camp. I'm not sure it really matters what he looks like in the preseason, but they would certainly like to see more accuracy. I also think he'll play better in games than he does in practice and if he had to play in what amounts to his rookie year, he's enough of a competitor that he wouldn't collapse. But that's a long way from winning.
Hey, Geoff with James Wright going down and last year's WR infirmary, wondering about Jake Kumerow. I've seen and heard really good things and wanted to know if you think he's got a chance for the 53? Also the UDFA Lengel seems like a beast as well. If he's as good as you've noted (6-7) and solid do they carry the 4 TE's as you opined? That would create several options and mismatches come Sunday. Thanks again, Will Koshover, Independence, KY
WILL: Kumerow looks better than he did in the spring and the veterans love his route running. He may not be as long a shot for the 53 as he was a week ago, but he's got some grinding to do. So, too, does Lengel. In order for them to keep four tight ends (I'm counting Ryan Hewitt as one of the five running backs), they'd only keep five receivers and that's a real long shot. So Kumerow and Lengel are top practice squad candidates. They're going to get a ton of snaps in preseason, so if they look good maybe they keep one or both if they fear losing them on waivers.   
Geoff, I have a couple special questions for you. Can get Coach Simmons to give a more detailed explanation about the difference in fielding kicks and punts? Also if you could ask why we don't see kickers who also punt. Quinn Sharp was a guy I was routing for the last couple of years because he could do both very effectively. Great work as always and thank you for answering my last questions. Dustin Merritt, Manhattan, KS
DUSTIN: I'll check in on that with Darrin this week. I know he liked Sharp, but I think he was looking for more consistency and it's just extremely tough for a young guy to beat out an established kicker or punter and Sharp had to contend with both. Thanks for the kind words.