2010
Following a 2009 division championship, the team never jelled despite having veteran talent, including that of high-profile free agent WR Terrell Owens. After a 2-1 start, the Bengals tied a dubious team one-season record by losing 10 in a row. Wins in two of the last three games did little to ease the dissatisfaction. Head coach Marvin Lewis ended the season with an expired contract, but two days after the season finale, it was announced that Lewis had signed to return for a franchise-record ninth season in 2011, a wise move given that the next five Bengals teams would make the playoffs. In '10, Owens and WR Chad Johnson combined for 139 receptions for 1814 yards and 13 TDs, and Cedric Benson rushed for 1111 yards while Carson Palmer passed for 3970. But the team could not deliver in the clutch. Opponents scored eight TDs on returns (INTs, fumbles, kicks), and the Bengals were minus-eight in turnover differential. Injuries played a part, as the Bengals were forced to place 17 players on the Reserve/Injured list, and nine were veteran defensive players who would have started or seen significant action if healthy. The season was the last one in stripes for Chad Johnson, who completed the year with franchise career record records (still standing through 2017) for receptions (751), receiving yards (10,783), receiving TDs (66) and most 100-yard receiving games (31). The club recorded a franchise-record 57th consecutive sellout (regular and postseason) for a Monday night game on Nov. 8 vs. Pittsburgh, but the streak ended when the Nov. 21 Buffalo game failed to sell out. The Bengals played five preseason games, their most since 1988, as the club was selected to open the NFL preseason against Dallas in the Pro Football Hall of Fame Game on Aug. 8 at Canton, Ohio. On Aug. 7, former Bengals assistant coach and head coach Dick LeBeau was inducted into the Hall of Fame. LeBeau, who spent 18 years on the Cincinnati coaching staff, also had a stellar playing career as a DB with the Detroit Lions, and after leaving Cincinnati he became a successful defensive coordinator with Pittsburgh.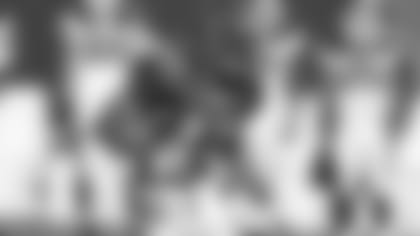 2011
Shortly after re-signing for a Bengals-record ninth season as head coach, Marvin Lewis had a message for Bengals fans upset over the 2010 team's 4-12 record. "I will fix us," Lewis pledged, and the record would bear him out. Lewis led a young team — the AFC's youngest as of Week 1 — to a 9-7 record and a Wild Card playoff berth. Cincinnati lost at Houston in the Wild Card game. The young Bengals squad was not able to work with the coaching staff until late July, due to a player lockout over labor issues that had begun in March. The lockout ended just as training camps were due to open, with the announcement of a new FL Collective Bargaining Agreement. But Cincinnati's players had staged numerous workouts on their own during the lockout, and two veteran leaders — DT Domata Peko and OT Andrew Whitworth — were accorded great credit for helping the team hang together in preparation for its surprise season. The Bengals defied widespread last-place predictions from preseason analysts by putting new offensive pieces together quickly. Working in the scheme of new offensive coordinator Jay Gruden, the club's top two draft picks — WR A.J. Green and QB Andy Dalton — became the first rookie QB-WR duo in NFL history to make the Pro Bowl. K Mike Nugent, from nearby Centerville, Ohio, set club records (still standing through 2017) for points (132) and FGs (33) in a season. The defense, in its fourth season under coordinator Mike Zimmer, ranked seventh in the NFL. DT Geno Atkins, a fourth-round 2010 draft pick, began emerging as one of the best draft steals in franchise history, tying for the NFL lead in sacks (7.5) among interior linemen and earning his first Pro Bowl berth. Dalton's success at QB led to the Bengals trading holdout veteran QB Carson Palmer to Oakland on Oct. 18, and Cincinnati received Oakland's first-round 2012 draft choice and second-round 2013 draft choice. The picks were used on CB Dre Kirkpatrick (2012) and HB Giovani Bernard (2013). On July 29, the Bengals traded talented but problematic Chad Johnson, their all-time leader in receptions (751) and receiving yards (10,783), to New England for a fifth-round and a sixth-round draft choice. Cincinnati used the picks to draft WRs Marvin Jones (2012) and Cobi Hamilton (2013). Johnson would make only 15 more NFL catches, released by New England in June of 2012 and released by Miami the following August. Lewis closed the year with 69 career victories, passing Sam Wyche (64) for most by a Bengals head coach. Through 2010, Lewis had been tied with Wyche and Paul Brown for most seasons as Bengals head coach (eight).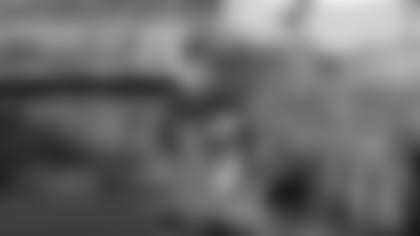 2012
The Bengals brought training camp to downtown Cincinnati, holding camp at the club's home facility for the first time. The team had trained for 29 seasons at Wilmington (Ohio) College and for the next 15 at Georgetown (Ky.) College. Changes in the NFL's Collective Bargaining Agreement helped drive the change, as the Bengals joined a majority of NFL teams which had switched to their home bases. With the new CBA reducing the amount of time players could be on the practice field, it was thought that their increased non-field time could be much better used at Paul Brown Stadium, where medical and classroom facilities were far superior to any remote camp site. Plans for a second straight playoff season seemed to have gone awry when the team lost four straight after a 3-1 start, standing 3-5 at the season's halfway point. But the Bengals stormed back to go 7-1 in the second half and clinched a Wild Card postseason berth with a 10-6 record. The only loss in the final eight games came by one point, 20-19 to Dallas, on a Cowboys FG at the final gun. Of 131 NFL teams to post 3-5 starts between 1990-2012, the Bengals were one of only nine to reach the playoffs, and the 7-1 finish tied the 1981 Cincinnati Super Bowl team for best second-half record in a 16-game season. Cincinnati lost at Houston in the first round of the playoffs for the second straight year, but it was the first time for the Bengals to reach postseason two years in a row since 1981-82. The Bengals clinched their playoff berth with a 13-10 win at Pittsburgh in Game 15, at the same time eliminating the rival Steelers from contention. CB Leon Hall got the only Bengals TD against the Steelers, on a 17-yard INT return. The defense ranked sixth in the NFL in fewest yards allowed (319.7 per game), and it collected a team-record 51 sacks (though the 1976 team, in a 14-game season, had a higher average of sacks per game). All-Pro DT Geno Atkins led the sack parade with 12.5, third-most in club history and most on the season by a margin of 4.5 among NFL interior linemen. WR A.J. Green scored at least one TD in nine straight games (Games 2-10), a Bengals record for within one season. He became only the second NFL player in a 48-year span to have at least one receiving TD in nine straight games in a season, joining Hall of Famer Jerry Rice. P Kevin Huber posted averages of 46.6 gross and 42.0 net, club records that he reset in 2014. New technology lessened the need of the '12 team for notebooks and attention to bulletin boards, as the Bengals became one of the first NFL clubs to issue players tablets, for easy distribution of schedules, video and other key information. Shortly after the end of the season, Bengals RBs coach Jim Anderson announced his retirement. Anderson had joined the Bengals staff in 1984, and his 29 seasons stand through 2017 as a franchise record for most total seasons on the Cincinnati coaching staff. During his last six seasons, Anderson had the most consecutive years with his team of any position coach in the NFL.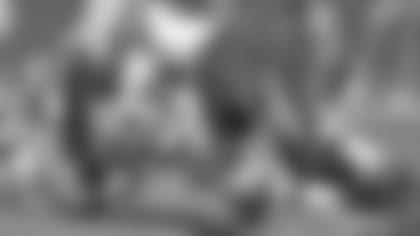 2013
Coach Marvin Lewis led the Bengals to their third straight playoff appearance — a franchise first. Cincinnati won its third AFC North Division title under Lewis, posting an 11-5 record and clinching the crown with a 42-14 rout of Minnesota in Game 15. The Bengals went 8-0 at home for the second time in club history (also 1988), and they were among only five NFL clubs to reach the postseason each year from 2011-13. They were in the postseason for the fourth time in five years, among only six teams to qualify four or more times in that span. For the third straight season, however, the playoffs ended all too soon for Cincinnati, as San Diego prevailed 27-10 in a first round game at Paul Brown Stadium. The '13 team played three overtime games, most in a season in franchise history. They won the first OT contest, but lost in OT in consecutive weeks in Games 9 and 10. It was the first time in franchise history for the team to play two straight OT games. The consecutive losses dropped the team's record to 6-4, but Lewis' club closed the season with five wins in the last six games. QB Andy Dalton set franchise records for passing yards (4293) and TD passes in a season (33), and he became one of only five QBs in NFL history to pilot a playoff club in his first three seasons in the league. WR A.J. Green was named to the Pro Bowl for the third time in his three-year career, and he set club records for most 100-yard receiving games in a season (six) and most consecutive 100-yard receiving games (five). Second-year WR Marvin Jones also posted a club mark, becoming the first Bengal with four TD receptions in a game (Oct. 27 vs. N.Y. Jets). Jones accomplished his feat in the franchise's 700th regular-season game. Green (11) and Jones (10) became the first Bengals duo to each hit double figures in TD receptions in a season. Marvin Lewis earned a "coaching-tree" compliment after the season when, in an NFL rarity, each of his coordinators signed as NFL head coaches. Offensive coordinator Jay Gruden went to Washington, and defensive boss Mike Zimmer went to Minnesota. Also in the TV realm, the Bengals in '13 agreed for the second time in five years to be featured during preseason on the all-access" HBO series, "Hard Knocks." The club allowed virtually unfettered access to team activities to crews from NFL Films. Though many NFL clubs have shied from invitations to be a Hard Knocks team, the Bengals won the AFC North title for the second straight time after doing the show, as they also won after doing Hard Knocks in 2009.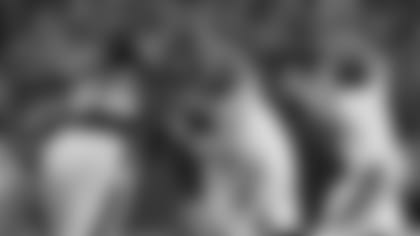 2014
Head coach Marvin Lewis led the Bengals to a 10-5-1 record and a Wild Card playoff berth, and to new heights in terms of consistent success for the franchise. Lewis had the team in postseason for the fourth straight year, extending the club-record of three set in 2013 — and the team established a new club mark with a third straight season of double-digit wins. The season ended when an injury-depleted team lost 26-10 at Indianapolis in a Wild Card playoff game, but the Bengals stood as one of only four NFL teams to have made the playoffs four straight years. Lewis' club record for head coaching victories was extended to 100 in the season's final win, a Monday night playoff clincher in Week 16 vs. Denver. The Bengals tied a franchise record with four regular-season games in prime time on national TV. WR A.J. Green was voted to a fourth straight Pro Bowl, joining WR Isaac Curtis as the only Bengals selected in each of their first four seasons, and CB Adam Jones became the first Bengal to win an NFL kickoff return title, averaging a franchise-record 31.3 yards. In the year's biggest off-field story, DT Devon Still touched hearts across the nation with his openness regarding his daughter Leah being diagnosed with cancer. The Bengals worked to have sales of Still's No. 75 jersey benefit pediatric cancer research, and nearly 15,000 jerseys were sold to buyers near and far. At the Nov. 6 home game vs. Cleveland, Cincinnati Children's Hospital Medical Center was presented with a check for $1.3 million. During training camp, the team signed QB Andy Dalton to a six-year contract extension, running through 2020. On April 17, the club continued its leading role in development of the Cincinnati downtown riverfront, announcing an agreement with Hamilton County that helped pave the way for General Electric to bring a major office facility to the emerging Banks neighborhood between Paul Brown Stadium and the Reds' Great American Ball Park. Fans at home games in 2014 enjoyed the benefits of the first state-of-the-art WiFi system throughout PBS.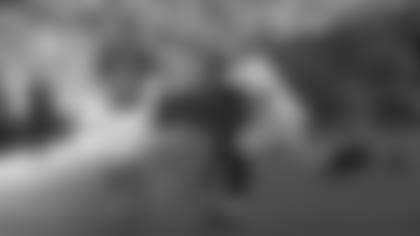 2015
The Bengals extended their franchise record for consecutive playoff seasons to five and stood as one of only four NFL teams to qualify those five consecutive years. But it was one of the more bittersweet seasons in club history. The team got off to an 8-0 start, setting a franchise record for most consecutive wins within a season and tying the mark for most wins regardless of seasons. The 12-4 finish tied Cincinnati records for most wins in a season and best winning percentage in a 16-game season. QB Andy Dalton was a huge key to it all, winning the AFC passing title with a Bengals-record 106.3 rating. But Dalton suffered a thumb injury in Game 13 vs. Pittsburgh and missed the remainder of the campaign, including a dramatic 18-16 loss to Pittsburgh in the first round of the playoffs. Backup QB AJ McCarron, who went 2-1 as a starter in the last three regular season games, rallied the Bengals in the playoff game from a 15-0 deficit after three quarters to a 16-15 lead with 1:50 to play. But the Steelers came back for a winning FG after recovering a fumble by Bengals HB Jeremy Hill deep in Pittsburgh territory. The Bengals' 2015 accomplishments also included a No. 2 NFL finish in scoring defense (17.4), the highest in club history. The club's most singular game accomplishment came Oct. 11 vs. Seattle, when the Bengals overcame a 17-point fourth-quarter deficit (24-7) to win 27-24 in overtime. The last time any NFL team had won a regular season or postseason game after trailing by 17 in the fourth quarter had been Week 15 of 2010, and Cincinnati's win ended a streak of 427 consecutive games in which teams trailing by 17-plus in the fourth quarter had lost. By the end of the postseason, the game stood as the only win for such a trailing team in the previous 536 instances.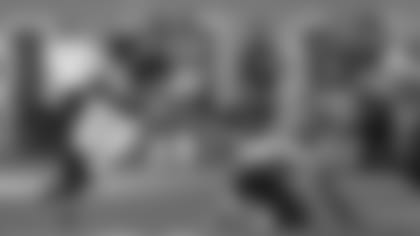 2016
For the first time in six seasons, the Bengals missed the playoffs, and their 6-9-1 record came with plenty of reason to think what else might have been. Cincinnati's last five losses came by a total of 16 points, and a general lack of production in the fourth quarter was highlighted by the team suffering from crucial missed place kicks as no Bengals team had suffered in recent years. Injuries also were a worse-than-usual factor, but head coach Marvin Lewis said simply, "Your record is what you earn. We have to do a better job in so many ways (in 2017)." The most notable injury was a hamstring strain that cost WR A.J. Green all but two snaps of the last seven games. Through nine games, Green's totals of 66 receptions and 964 yards had him on pace to set club season records in both categories by wide margins. DE Carlos Dunlap had a remarkable 15 passes defensed, leading the team by five in becoming the first DL to lead the team in the category, and Dunlap led all NFL defensive linemen by seven. DE Geno Atkins led all NFL interior linemen in sacks (nine), claiming at least a piece of that crown for the fourth time in his seven seasons. Green, Dunlap and Atkins were among five Bengals in the Pro Bowl, joined also by QB Andy Dalton and OT Andrew Whitworth. The Bengals took part for the first time in the NFL's International Series, playing Washington to a 27-all tie on Oct. 30 at London's Wembley Stadium. The Bengals officially named the home team in the game, as the team played only seven games at Paul Brown Stadium, but it stands as the only regular season game in franchise history played at a neutral site. The tie against Washington was notable because it was Cincinnati's third tie in nine seasons (2008-16). Only eight other NFL teams played even one tie in that span, with the remaining 23 playing none. A notable statistic for the season was rookie WR Alex Erickson, a college free agent signee from Wisconsin, leading the AFC with a 27.9-yard kickoff return average, second-highest in team history.
2017
The Bengals in 2017 celebrated their 50th season by creating a commemorative 50th logo for team uniforms and apparel, introducing special signage throughout the stadium and the city, and honoring Bengals legends at halftime of each home game. On the field, the Bengals finished the 2017 season in third place of the AFC North Division at 7-9 and missed the playoffs for the second consecutive year. The offense failed to score a TD in the team's first two games, which included a 20-0 shutout at home in the opener vs. Baltimore and 13-9 loss to Houston on national TV on Thursday Night Football. Offensive coordinator Ken Zampese was fired on Sept. 15, and QBs coach Bill Lazor was named as his replacement. Despite the adjustment, the Bengals ended the season ranked last in the NFL in total offense, averaging just 280.5 yards per game. The team allowed 40 sacks and produced just a 3.6-yard average per rush. The Bengals' defense was on the field for 184 more plays than the offense (1146 to 962), the equivalent of nearly three extra games of action. That perhaps contributed to additional injuries to defensive players, as the Bengals relied heavily upon backups as the season progressed. The defense, which ranked No. 2 in the NFL through Week 6, fell to No. 18 by the end of the season. After a 33-7 loss vs. Chicago in Week 14 and a 34-7 loss at Minnesota in Week 15 dropped their record to 5-9, the Bengals rebounded to win their final two games of the season and knock both of their opponents — Detroit and Baltimore — out of playoff contention. The Bengals' win in the season finale came in dramatic fashion, as the team stunned the Ravens at Baltimore with a knockout TD in the final minute to eliminate the Ravens from the playoffs. QB Andy Dalton hit WR Tyler Boyd for a 49-yard score on fourth down with 44 seconds left to give the Bengals the win. The win helped elevate Buffalo to the playoffs for the first time since 1999, and Bills fans showed their appreciation of Dalton's last-minute heroics by donating heavily to his charity. Bills backers made a large number of $17 contributions ($1 for each of the 17 consecutive non-playoff seasons for the Bills), and in the end, more than $450,000 in donations were made to the Andy and Jordan Dalton Foundation. LB Carl Lawson led all NFL rookies in sacks (8.5) in 2017, and DT Geno Atkins led all NFL interior linemen in sacks (nine). Bengals co-founder Pete Brown, 74, died on Dec. 12. Brown, who was senior vice president of player personnel, had worked in the mid-1960s with his father, Paul, and brother, Mike, to bring pro football to Cincinnati. Two days after the season ended, Bengals head coach Marvin Lewis signed a two-year extension through 2019. Offensive line coach Paul Alexander, the second-longest tenured assistant in Bengals history at 24 seasons, departed for the Dallas Cowboys after his contract was not renewed by Cincinnati.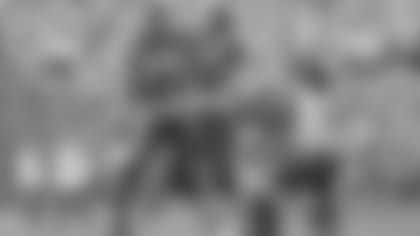 2018
The Bengals raced to a 4-1 start and stood 5-3 at the mid-way point of the season, but a 1-7 finish left them with a 6-10 final record and last-place finish in the AFC North. The season was marred by a wave of injuries that crippled the team. Of the 53 players on the roster for the regular-season opener at Indianapolis, 22 missed at least two games due to injury. Fourteen of those 22 players ended the season on Reserve/Injured, including starters QB Andy Dalton, WR A.J. Green, WR Tyler Boyd and TE Tyler Eifert, as well as other major contributors, including DE Carl Lawson and TE Tyler Kroft. Cincinnati's defense struggled from the outset, and through nine games was allowing a league-worst 454.6 net yards per game, which at the time was on pace to set an NFL record for yards allowed in a season. The Bengals fired first-year defensive coordinator Teryl Austin on Nov. 12, the day after a 51-14 home loss to New Orleans, and head coach Marvin Lewis assumed defensive coordinator duties for the season's final seven games. The Bengals' defense showed improvement under Lewis, but still finished last in the NFL at 413.6 net yards allowed per game. Second-year HB Joe Mixon rushed for 1168 yards and became the first Bengal ever to lead the AFC in rushing in a season (though RB Paul Robinson led the AFL in rushing in 1968). Boyd enjoyed a breakout season, and his 1028 receiving yards made him the first Bengal other than Green to hit the century mark in 10 seasons (Chad Johnson, 2009). On Oct. 7 vs. Miami, Green's 112 receiving yards gave him his 32nd 100-yard game, passing WR Chad Johnson (31) for most in team history. Rookie S Jessie Bates III totaled a team-best 111 tackles on defense, making him only the sixth Bengals rookie ever to lead the team in tackles. On Dec. 31, the day after the season finale, the Bengals and head coach Marvin Lewis mutually decided to part ways after 16 seasons. Lewis ended his career with a 131-122-3 regular season record (131-129-3 including postseason). His total of 131 career victories is the most in team history and at the time ranked tied for 24th in NFL history.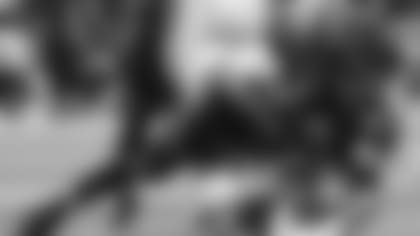 2019
On Feb. 4, the Bengals hired L.A. Rams quarterbacks coach Zac Taylor as the Cincinnati's 10th head coach. His first season was marked by injuries to key players and early-season team struggles which led to a franchise-worst 0-11 start. The Bengals finished the year at 2-14, which (through 2019) matched the worst record in team history (the 2002 club also finished 2-14). Cincinnati's hopes for success took three significant hits before the end of the first preseason game. Rookie OT Jonah Williams, the Bengals' first-round pick who had been slated to start at LOT, was lost for the season in June OTAs due to a shoulder injury (he returned to practice late in the year, but did not see game action). Then on July 27, in the team's first training camp practice, which was held at Welcome Stadium in Dayton as part of the NFL's 100th season celebration, perennial All-Pro WR A.J. Green went down with an ankle injury that ended up costing him the entire season. Making matters worse, OT Cordy Glenn, who was to replace Williams at LOT, suffered a concussion in the preseason opener at Kansas City and did not return to game action until late November. After the team had progressed to an 0-8 start, Taylor announced during the team's bye week that he would be benching longtime starting QB Andy Dalton in favor of rookie Ryan Finley. The experiment turned out to be short-lived, as Cincinnati's offense managed just 33 points over the next three games (all losses). Dalton returned to the starting role on Dec. 1 vs. the N.Y. Jets and led the Bengals to their first win of the season. During that game, Dalton passed Ken Anderson for most career completions and TD passes in team history (Anderson had 2654 completions and 197 TD passes). Cincinnati secured the No. 1 overall pick in the 2020 NFL Draft with a Dec. 22 loss at Miami, but the game will perhaps be remembered most for the Bengals' dramatic 23-point fourth-quarter comeback that featured 16 points in the final 29 seconds to force OT. The game also included a 57-yard FG from K Randy Bullock, the longest in team history. Cincinnati wrapped up its season with a convincing 33-23 win over Cleveland at Paul Brown Stadium. After that contest, fans lined the stands surrounding the Bengals' tunnel and chanted Dalton's name as he exited the field from what was believed to be his final game with the team.