Even the scouting combine photo of Cris Collinsworth, which turned 40 this spring, seems to reflect the audacity of that second-round pick in 1981.
There is the 6-4 Collinsworth, stripped to gray shorts and gangling at maybe 180 pounds, Mike Brown recalls. The "XL," stamped on the shorts is a gag. The only other items he's wearing are a wrist watch and a slight, crooked grin he can't quite hide.
Does that mean he knows that anybody with a build that would conjure up ungainly comparisons from Don Knotts to Ichabod Crane shouldn't even think about being selected in the first round of any NFL Draft?
Or does that mean he knows that in that first round everyone is going to miss out on one of the toughest and most productive wide receivers in the 1980s NFL? A guy that would leave eight years later as the franchise's all-time leading receiver with a game of guts and guile that Brown would call great?
"It's not like it is today," Collinsworth says. "Back then, nobody knew anything."
What we do know now on the 40th anniversary of that draft is that just not Tom Brady is a result of fate and fortune. With the 10th pick, the Bengals took David Verser, a 6-1, 200-pound tornado out of Kansas widely regarded as the best wide receiver available. In the next round at No. 37, the Bengals took the kid with the watch.
When the hands hit 12, Verser caught 23 balls in his career and by the time Collinsworth played in his second Super Bowl, he was out of the league.
"We had them graded closely enough to talk about it," says Brown, the Bengals president, of that first round. "It was a fortuitous pick. I guess it just goes to show the draft is potluck to some degree."
The way the story goes, which is now locked somewhere between myth and microfilm, Bengals founder Paul Brown watched offensive coordinator Lindy Infante climb off the table after his impassioned plea to take Collinsworth at No. 10 and then chose Verser when he took one last look at Collinsworth in his shorts.
"I'm going to guess that Lindy Infante made it up," Collinsworth says of the tale. "But now that neither one of them are here, hey … it's a good story."
Paul and Mike Brown, along with Infante and second-year head coach Forrest Gregg, were among the chief architects of that '81 Super Bowl team that is regarded as the best pro football team in Cincinnati history. The Browns for their roster building. Gregg for his discipline. Infante for his innovative passing game. Only Mike Brown is alive from that day the Bengals stunned the world and took receivers with the first two picks. He just doesn't remember it that way.
"I don't know where that one came from," Brown says of the photo story. "Because I know we took him in the second round and I know my father was in charge. We wouldn't have taken him except my father consented to us taking him in the second round. It reflected how close the discussion was over the first-round pick and we had a divided room.
"Memories have been made to conform with what you wish you had done or said," Brown says. "My only memory of how Cris was built is at the weigh-in at Tampa, which is where the combine was then.
It might have come up (during the draft), but if it did, I don't remember. I just remember they were both in the discussion and I remember how vehement Lindy was for Collinsworth. It was a close-run thing."
As a sick-of-this-stuff shot at the combine, Collinsworth says he swiped an offensive lineman's XL shorts for the photo. But Kim Wood never joked about his strength of heart and body.
Wood, appointed by Paul Brown as the NFL's first full-time strength coach, still has an endless network of conditioning contacts and in 1981 he knew the photo didn't translate. Collinsworth's strength coach at Florida told Wood that the kid was muscular enough to have been named to an All-American strength team.
"Lindy was from Florida. He knew all about Collinsworth," Wood says. "He wanted Collinsworth. He said he was a winner. And Lindy was right. What a tough SOB Collinsworth was, He'd get killed over the middle and get right back up. But Verser was a hell of a player. One of his runs helped us get into the Super Bowl."
Can't you see this through the haze of the Freezer Bowl at the end of that rookie year? The play after the Chargers cut the lead to 10-7 in the second quarter, Verser returned the kickoff 40 yards and seven plays later the Bengals were up 17-7 and on the way to their first Super Bowl.
"It is the fact that when you got the ball to David Verser, he was hell on wheels. We just couldn't figure out how to get it to him." Mike Brown says. "I'm not here to condemn anyone. Sometimes the team is at fault. They don't get it out of the guy for whatever reason."
If Infante was livid that he didn't get Collinsworth first, he didn't let the media know it. It was reported the day after the draft that he had spent the offseason visiting the top ten receivers on campus and put them through the high jump, broad jump, made them run dashes and patterns and asked them questions. The Cincinnati Enquirer reported that from December on Verser was No. 1 on the Bengals list, Collinsworth No. 2.
"If I walk in here again," said Infante after they picked Collinsworth, "I'm dreaming."
Infante compared Verser's fluid running style to future Steelers Hall of Famer Lynn Swann: "We were looking for someone who can beat the bump-and-run coverage, a guy who's quick enough and strong enough to outmaneuver individuals in the defensive secondary."
Infante, who passed away five years ago at age 75, coached and played at the University of Florida in the two decades before Collinsworth enrolled at Gainesville. Collinsworth, who disclosed neatly on his Bengals information form that he was studying accounting, wore contacts and glasses while supplying the address and phone number of parents Donetta and Abe Collinsworth in Titusville, Fla., had been recruited by Infante when Infante was the offensive coordinator at Tulane.
"He's a very smart individual," the papers quoted Infante as he explained how he was attracted to Collinsworth by his height and productivity in Florida's pro-style offense. "He has the intelligence to learn any or all three positions in which we use wide receivers, the kind of guy who I think will be extremely dependable. You can rely on him to do what he's told to do."
Infante told the press the Verser pick was a consensus choice and that's what the notes from that 1981 draft reveal among the scouts. Verser one, Collinsworth two. They raved about both.
Milt von Mann, the ex-Marine, filed his military-crisp report on Collinsworth on "1 Nov. 80," and circled '2,' for the round he'd take him.
Next to strong points von Mann jotted, "Great athletic skill. Good hands, speed, quickness. He is a big playmaker … A quality athlete. A very intelligent person. He makes the kind of plays that can break open a football game."
Next to "What Do We Need To Know Further For Rating On This Prospect?" von Mann sensed the room even before Infante went on his trips: "This could be the guy Lindy Infante wants!"
On 22 Jan 81, von Mann said Verser "is my choice of the receivers I've seen … Rare and exceptional ability, he should be an outstanding performer in his first year. He has size and strength. Very good balance and agility."
Scout Frank Ubile compared Collinsworth favorably to a current Bengal ("A Pat McInally with speed") and some of the draft's top receivers, such as Mississippi State's Mardye McDole and UNLV's Sam Greene: "More speed than Verser, much more than McDole … more consistent  than Verser and Greene.
"Makes things happen!" Ubile wrote. "This man gets open consistently … Will catch underneath, runs routes hard every down."
Pete Brown, the Bengals director of player personnel circled both the first and second round for Collinsworth.
"He reminds me of a shorter but faster Pat McInally," Pete Brown wrote. "He has some wayward motion with his arms. He has a habit of jump cradle catching, but he can extend if it is required. He can catch the ball in his hands. Good post pattern runner because he can really run once under way … Good player, good target, good deep speed."
Infante's report on Collinsworth isn't in the notes, but his visit with Verser is: "Runs deep routes well. Good concentration on streak. Can jump for a high ball. Good quickness on cuts. Good running ability after catch.
Knows how to set up a DB to go by … Could be a big play guy… could start for us."
They must have had it like the rest of the league. One scouting report from December with an indecipherable signature concluded Verser is "the No. 1 WR in the draft. I hope he is there … Only (Isaac) Curtis has better catching abilities (on the Bengals). Better runner than our running backs."
While all this back and forth was going on in Cincinnati in the months leading up to the draft, Collinsworth didn't know he was a prospect until the Hula Bowl invited him in the preseason for the post-season all-star game. When he got off to a slow start his senior year, they took away the invite and when he finished strong they invited him again.
Collinsworth basically told them to take a hike, went to the Japan Bowl and was the MVP.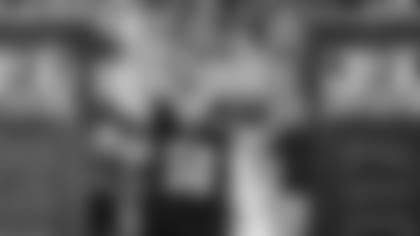 "Had a great experience there," he says.
When he came back, Infante worked him out in Gainesville and while he didn't figure it out until later when he hooked with an NFL passing champion in Bengals quarterback Ken Anderson, he realized what Infante was doing matched his cerebral game of leverage and speed.
"I don't remember the workout. I remember the conversation afterward," Collinsworth says. "(Infante) was a Florida guy … Some people you just connect with. His was very much a thinking offense that really relied on the receivers being able to basically play quarterback. You had to think your way through it. It ended up being a nice fit. Now it wasn't my rookie year. I was running around like a chicken with my head cut off. After a while I figured out what they wanted."
But Riverfront Stadium wasn't exactly some kind of barnyard in that rookie season of 1981. Running Infante's choice routes where the receivers reacted to the defender and could do it because of the deep trust in Anderson's precision, Collinsworth became the Bengals' first 1,000-yard receiver in the first of four such seasons.
No one projected that in their reports. Not the scouts. Not Infante. Who could? The draft has always been an Ouija board interspersed with 40-yard dashes to the unknown and vertical leaps into uncertainty.
So will this one coming up when it starts with Thursday's first round, 40 years to the day the morning newspapers hit the street bannering the news that the Bengals' antiquated offense had taken two receivers in the first two rounds.
"You get an idea what those two boys are going to be doing," Paul Brown said, pointing to Gregg and Infante in the doorway of the news conference room.
Then Brown, 72 years young, the man who sketched the beginnings of the modern passing game as the head coach in Cleveland three decades before, bounced out of the room cocking his arm to throw an imaginary football. This draft had become more than a passing fancy with Collinsworth still there at No. 37.
"It's always a wild ride," Collinsworth says of a draft he now covers as one of the NFL's best and visible network analysts, another confirmation of those smart kid scouting reports.
Some 30 years before Rutgers wide receiver Mohamed Sanu got pranked by a caller that said the Bengals were picking him in the first round before they really drafted him in the third, Collinsworth got a phony call that said the New York media was poised to talk to him. He finally figured out it was a Florida teammate and not the Giants.
"The guy had me on the hook for five minutes," Collinsworth says.
He says he felt all the emotions as he watched the draft in his Gainesville apartment with his parents. Born in Dayton and the son of a Cincinnati educator before the family moved south, Collinsworth was already popular in town before he became one of the most iconic Bengals. When the call didn't come at No. 10, his agent went to great lengths to assure him that Cincinnati wasn't the place for him.
The ubiquitous Cowboys and Raiders had told him they could take him late in the first round. Still seething, the one time Collinsworth kicked back and relaxed was the ninth pick of the second round when the Bengals went to pick at No. 37. Three Hall of Famers were already off the board in Lawrence Taylor, Kenny Easley and Ronnie Lott. So was Collinsworth's future Bengals Super Bowl teammate James Brooks.
"I figured there was no way they were going to take another receiver," Collinsworth says. "When I got the call, I didn't really trust it when I got it. 'Is this BS?' It hadn't been announced on TV."
All hell was breaking loose. His mother left the room in tears, still recalling what the agent had said about the Bengals not being a fit. ("But I was only trying to make him feel better," the agent pleaded is how Collinsworth remembers it) and he can't recall who called from the team.
But in a nice harbinger, Collinsworth does remember that night going on the radio with Bob Trumpy on the WLW show Collinsworth would inherit before the decade was out.
"I have a very distinct memory of that practice when they first came in," Mike Brown says. "You knew right away that you had a special player. He had quickness, size and he was fast. He didn't run with a pretty or classic running style. He was all over the place. Except he was fast. He was smart . He could catch. Right away you knew. We got lucky … He was brave. He never shied away from traffic … He was a great player."
Hall of Fame linebacker Mike Singletary went with the next pick. At No. 39 the Vikings picked McDole, one of the receivers whom had been unfavorably compared to Collinsworth and whose career consisted of three catches.
It's always been a wild ride.
"It worked out," said the kid who was all arms, legs and brains, "just fine and dandy."