It's a good 16 months or so before the election and already wide receiver A.J. Green has his running mate for the next four years if he chooses to serve and Tyler Boyd thinks he will.
"A.J.'s not going anywhere," Boyd said Tuesday after he signed what has been reported as a four-year, $43 million extension. "They won't let him go. They love him here. He's an all-time great here."
All eyes turned to Green after Boyd's career year gave him the well-deserved $10 million per year. Green turns 31 next week as he heads into his contract year and the Bengals brass has no concerns that Green is slowing down after missing 14 games the last three years with a bad toe and partially torn hamstring.
Bengals president Mike Brown: "One thing I've learned is that great players have a tendency to keep on longer, they just have more in the tank. And I think that applies to AJ. Yes, he's going to be in his 30s and we can all count and we know that eventually things end, but I don't think it's now for him."
Director of player personnel Duke Tobin: "The only thing I've ever seen of A.J. is his tremendous ability, and I haven't seen that fall off. The guys that have the high-level skill set normally tend to last longer. They tend to heal quicker, and their careers tend to go a little longer because they are so physically gifted. He takes such good care of himself and it means so much to him, I'm not anticipating a dropoff."
And that's one of the reasons Boyd wanted to stay. He loves playing with him. He and Green were talking pretty much throughout the negotiations that began in the spring and ended Monday. Green missed half the season last year with the toe and still had 646 yards and six touchdowns. Boyd had 1,028 yards and seven TDs even though he missed the last two games with a knee injury.
And that gets him wondering.
"I give it about a year or two and we should be talked about as the top duos," Boyd said. "I feel like he's the best receiver in the game. The only reason he's not in that top two or three category is because he hasn't been healthy throughout the years. But he proved himself last year. He had (six) touchdowns for 700. C'mon. If he played another half (of the season), he's leading the league. Just walking through this door man, that's the only guy I wanted to watch and learn from."
Boyd has the Pro Bowl and playoffs on his mind. He wants to reach both. Again, it comes back to Green after he missed his only Pro Bowl in eight seasons last year.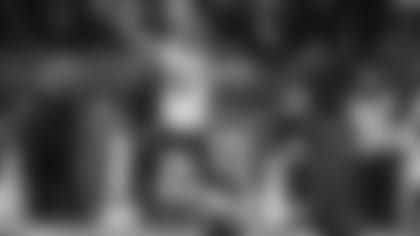 "To stay as consistent as possible," he says of his goals with the new deal. "Stay fluid in and out of breaks. Catching balls, try not to drop balls. All the little things. (Green) has been in the Pro Bowl every year he's played if he didn't get hurt. Every single year he played. That's why I believe he's the best receiver in the game right now. He steps on the field and is who he is and a lot of that comes from who he is of the field.
"He's polished about everything. He does nothing stupid. Doesn't jeopardize his family. That's why I think he always is on the field with a clear mind and been able to kill everybody out there."
Of course, Green was one of the first people Boyd told about the deal when his management team finished it off with Bengals president Katie Blackburn on Monday.
"He was happy for me. The whole process he just kept asking me 'Bro, what's going on?' He was probably one of the few guys that I was keeping updates with," Boyd said. "Because he's getting his contract fixed up as well. He was one of the first guys on the team that I sent it to, like 'Bro, it's done. A done deal,' about two days ago. He congratulated me, gave me a nice little shout out on IG. That's my boy, man. It just shows he cares about me. And I'm helping relieve stress off his back so he can continue to be great like he's always been."
What a comeback for Boyd. How far does $43 million reach? Go back to the 14th game of the 2017 season. Remember when the Bengals decided not to play him in Minnesota? He does.
"It was kind of up and down because I was the receiver who really didn't do special teams," Boyd said. "So it really came down to that. There really wasn't no other logical reason outside of the other guys that wasn't starting at receiver played more special teams than me. So I just let it be that."
But they couldn't get him out of the lineup after that. Two weeks later he famously ended the season with the 49-yard TD catch on fourth-and-12 with 44 seconds left in Baltimore. He was asked Tuesday if he'd be sitting up there with $10 million per if not for that play.
"Good question," Boyd said. "I believe so. That whole game I was killing it. I was making good third-down conversions and solidifying my opportunity as a starter. That catch and touchdown increased my chances. That gave me that assurance they knew and they want me to be here next year. I don't think that play meant much. I just felt like it was giving me an opportunity to show what I can do the following year."
And he never looked back. In the end, Boyd got the green and Green got Boyd.
"I'm seeking for me to become a Pro Bowler," Boyd said. "I want to go out there and really continue to do what I've been doing. I've been working my tail off even before the money. Why stop when the money comes?"