So it won't be the first time both A.J. Green and Andy Dalton miss a game in the Green-Dalton Era.
A smiling Green met the media Wednesday with, "Hey, I can talk to you now," because he's ready to play Sunday (1 p.m.-Cincinnati's Channel 12, **order tickets**) against the Broncos at Paul Brown Stadium now that his injured toe has healed. The three-game losing streak that has accompanied his absence and cost them Dalton for the season with an injured thumb has PBS in a 5-6 funk. But the populace, especially Green, had a kick in its step Wednesday.
"I'm just happy to be back, man," Green offered after the Wednesday morning walk-through and why it took one more week after he was close to playing last Sunday. "It was tough, just being out there not being able to do anything. An injury like this I just have to let it rest … I couldn't really rush it or do anything to speed up the process. It was tough, but I'm just glad to being back to playing football again."
Green had more TV time on Sunday than Bengals assistant coach Hue Jackson playing his old Cleveland team on Sunday as he tried to will the Andy-less receivers. Word is that Green has been vocal in using his chip as The Team's Best Player in an effort to keep the Bengals together in this spin.
"I just tried to talk to some of the younger guys and the older guys just stay together, stop pointing fingers. Everybody can go down once you have a losing season and a lot of people start to point fingers," Green said. "When you are having a losing season and lose three games in a row a lot of people stop talking and start pointing fingers when things aren't going right. For me, we all have to stick together. We are all in this together. We are all losing together. Nobody is winning. End of the day we just have to go back to the drawing board and look ourselves in the mirror and go out there and practice hard. Try to do your job, that's the biggest thing and everything else will take care of itself."
What galls Green is what might be. He watched them lose by a field goal in Baltimore, a building where he has led them to so many wins against a team he has owned with nine TDs. Then last Sunday against the Browns, a team he has rolled for nearly 1,000 yards for 73 per game, held them scoreless until the last minute of the first half.
"If I play these last two games we win those games. I hope (we go 3-0). I feel like teams play me differently and it's a whole different game when I'm out there. I felt like if I was out there we have a better chance," said Green, who looked devastated at the end in Baltimore. "It was tough, because I felt like we really needed that one. Losing division games back-to-back is tough, but you have to look at being in the sixth spot a lot of these teams are 5-6 so we're right there. If we can stack some wins together starting on Sunday and control what we can control and that's win these last five games and see where that puts us."
Green made sure there would be no replay of 2016, when the Bengals didn't want to play him with a torn hamstring at the end of a year they were out of it but took him to Houston to put him on injured reserve Christmas Eve. There were reports he was upset and bolted the club to get home for the holiday. But he made it clear Wednesday there would be no seat for him this year.
"Not happening. Not happening. Not happening. Not happening this year. Not happening. Not happening," Green said. "I'm not going to handle that very well. I'm going to leave that there … There is no chance. I'm here to win. I'm here to play football no matter what the situation is.
"I don't care what our record was I was coming back and play again. When you sit out everything is not a given and it puts other things in perspective and don't take anything for granted. I don't care if we were 0 and 15 and I have to play the last game of the season I would just be happy to be back and do whatever it takes to help this team win."
But there seems to be no collateral damage from that 2016 incident. Despite on the verge of missing the postseason three straight years after making it in his first five, Green is committed to ending his career as a Bengal knowing there would have to be an extension of the current deal that runs through next season.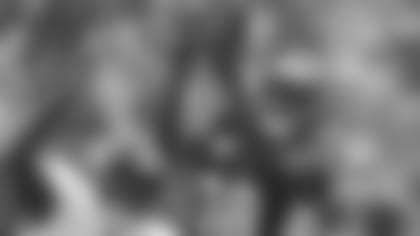 "I don't want to be like, 'Oh, A.J. left because he wasn't winning.' It's not about football, that's just who I am to stay loyal to whoever gave me an opportunity," Green said. "It's been fun. I wouldn't rather be nowhere else. In tough times that's why I'm here, try to lead these guys and get this thing back on the road and for the future. I have one more year on my contract and then we'll see what happens.
"When Andy and I got here I feel like we turned a lot of things around. We still can do that. Put some more pieces around us and we'll be fine. "
One of the reasons Green likes the place is the continuity. He has been so dialed in to Dalton that he can't remember catching a ball from Jeff Driskel in the three years Driskel has been here. Not even in drills. But he doesn't think it's going to take all that much to develop timing with him.
"He puts the ball somewhere and I go get it. That's my job," Green said. "Not long."
Green is just one of Driskel's many teammates that admire his athleticism. The stoic Driskel let a smile slip when he was relayed this via a few scribes straight from The Team's Best Player: "Jeff is the most athletic guy on our team … He's an athlete. He can play every position in football and be fine."
Green has been around long enough that if he averages 63 yards per in the last five games that will give him seven 1,000-yard seasons. He's 100 yards away from 9,000, the eighth active receiver to hit the number. And now Driskel has got him going, too.
"Jeff is not just a runner. He has a great arm, great arm talent, I'm excited to play with him this Sunday," Green said. "I have seen him jump, dunk, I squat with him. He squats like 400 pounds. He's a guy that can play at a high level. Giving him his chance is going to open up a lot of eyes."
But on Sunday, it is Green that is going to be a sight for sore eyes.