With that Super Bowl ring and three different NFL uniforms, Josh Bynes knows he's been around. But he didn't know just how much until he showed up on Zoom this month as the star of the Extreme Makeover Bengals Edition rehab project at linebacker.
"Really?" asked Bynes Wednesday when told his 101 NFL games are eight more than the rest of the Bengals backers combined. "I didn't know it would be that far apart. My job is to impart that knowledge they can use and then they can pass it on in their career. There's no point keeping it to myself."
Al Golden, the new Bengals linebackers coach, couldn't have said it better as he re-assembles the most scrutinized position in Bengaldom. With four of his nine players rookies coming off senior seasons they were named captains, Golden is using leadership as a building block for a position that has been eroding for nearly five years in a stretch that began with Vontaze Burfict's injuries and suspensions and exacerbated with four different play-callers during the past three seasons.
"We've gotten leaders," said Golden after another day suspended in cyberspace getting extra from the veterans and doing extra for the rookies. "We've increased our football intelligence and, obviously, the more four-down players you have then the more chances you have to be successful. I think we've done that this offseason."
It's the first offseason in three years the Bengals have had the same defensive coordinator they had the year before and Lou Anarumo made it quite clear what he wanted this time around in a linebacker when he met with the media at the NFL scouting combine three months ago.
"Start with before the ball is ever snapped stuff," Anarumo said back in late February, the pre-snap uncertainty still hot under his collar. "Command of the huddle, command of leadership. Communicative guy. A guy that can cover a back or a tight end or fit a gap. Leadership. Playmaking."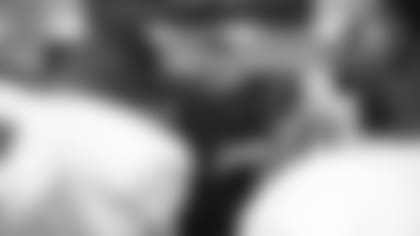 Anarumo had leadership and experience in mind when he hired a linebackers coach to replace new Boston College defensive coordinator Tem Lukabu. At one time or another, Golden, 50, a two-time college head coach, has been a Penn State captain, a Patriots tight end cut by Bill Parcells, the second youngest head coach in the country and a position coach on both sides of the ball in the NFL.
"Al's been great," said Bynes, who was in Detroit when Golden coached the Lions tight ends before new head coach Matt Patricia moved him to backers. "He wants us to learn and understand what offenses are doing. I can't wait to get out on the field and we can have all that experience from him. Our linebackers loved him and I can see why."
BENGALS LINEBACKERS AND NFL GAMES:
Josh Bynes (101), Jordan Evans (45), Austin Calitro (29), Germaine Pratt (16), Brady Sheldon (3), Markus Bailey (R), Akeem Davis-Gaither (R), Marcel Spears, Jr., (R), Logan Wilson (R)
Golden has done so many things in the game, but he hasn't done this:
- His first day coaching for the Bengals was their first day on the field at the Senior Bowl back in January.
- Before the shutdown, his wife and three children were able to work in visits to Cincinnati-area schools and the first decisions of the draft were done. His oldest, a son, is headed to St. Xavier High School while his daughters are set for Summit.
- Working out of his home in Detroit, Golden immediately jumped on planes after the combine to scout pro days and was up to five when traveled to the March 12 workout for Iowa State's Marcel Spears, Jr., at his high school just outside Kansas City, Kan., the day before he was pulled off the road.
- While moving the family to their home on the New Jersey shore, Golden Zoomed into the draft process with his position a priority, if not, the priority. He ended up knowing the names of the Bengals video and technology personnel as well as Logan Wilson, Akeem Davis-Gaither and Markus Bailey, the three backers they drafted out of their seven picks.
"I'm telling you, Travis (Brammer), Kent (Stearman) and Brooks (Santanello) have been all over the video," Golden said. "And Jake Kiser and Tyler Gross made sure they sent me my laptop and the hard drives because I just take my iPad on the road. All of us at one time or another need their help and they were great. I couldn't believe how well the draft went off."
He could have also been talking about his draft picks, too, not to mention Spears. The idea in Anarumo's hybrid 3-4 defense is outside-inside versatility and Golden believes the four rookies have it.
Take Appalachian State's Davis-Gaither. He had never played in the box before the Bengals put him there for the Senior Bowl and they saw enough to believe he can mix it up inside as well as run and hit, so they took him at the top of the fourth round.
Golden did his homework beyond Mobile, where he also saw Wilson play for the other team. Although Bailey missed most of his senior season at Purdue with a torn ACL, Golden had him wired through Boilermakers co-defensive coordinator Anthony Poindexter, a former NFL player that played for Golden at Virginia.
And there was the undrafted Spears out of Iowa State. Uninvited to the combine he remained alluring on their board by starting the last 39 games of his career with a terrific production line of 272 tackles, 24.5 TFLs, 13 pass break-ups, six sacks, four interceptions, two pick-sixes, two forced fumbles, one fumble recovery and six double-digit tackle games.
But when the pandemic cancelled his March 24 pro day, Spears got only one call for a workout at his high school, Olathe North, the same school of the first linebacker drafted, Clemson's Isaiah Simmons.
"It was great for him to come out because the coronavirus was really starting to hit," Spears said. "We had a classroom session for about 30 to 40 minutes and we went on the field for about 20 to 30 minutes. We didn't do any testing. It was linebacker drills. Then we just wanted to make sure he got home safe."
But not before Golden got the goods. The X and O discussion went well and when they got on the field, Golden saw why they put him inside at Iowa State in a 3-4 while still being able to run and hit and how well his experience would translate to the Bengals scheme.
"I'm looking for guys that can play early downs," Golden said. "I'm looking for guys that can stay on the field on third down and I'm looking for guys (on special teams). We stress that and if you couple that with football intelligence and leadership, you tilt the odds of success in your favor and that's what we're trying to do with this young group and what we're trying to do with the makeup of the room."
The rookies need extra Zoom work, maybe even more with no field work and Golden remembers those days a few weeks ago back when the vets and rookies couldn't meet together. So he'd start Zooming at nine in the morning all the way to about 5:30 with no breaks. His 10-year-old daughter had to venture upstairs to drop off his lunch.
"The thing is, you're hunkered down with your family and it's been amazing to watch my wife with the home schooling," Golden said. "And I've been blessed with great intelligence in our (linebacker) room."
No, of course. Golden can't ever remember anything like this. "There have been times internally where things were turned upside down, but never where the way of life has been changed." He says coaches who have been doing it one way for so long are finding out they have to do it other ways now, too.
That's why he's been quite grateful for the work of second-year defensive quality control coach Jordan Kovacs, in large part because he has been a bridge to the players around from last season. But also for his ability to come up with Thursdays' Kahoot! football quizzes.
"The only way I know about Kahoot! Is from my (youngest) daughter's schoolwork," Golden said. "It's a riot when you see these football players reacting when they get one wrong. They're so competitive, it's like they're going to come through the screen."
Until they can gather as a group, Golden has been forced to find a variety of visuals. Everything is leading up to practice. Nothing can be determined before then. But: "If we keep our focus the way we have for the next couple of weeks, I think we'll be where we want to be when we get on the field."
"The biggest adjustment going through this is not having the walkthrough," Golden said. "We've lost the walkthrough, how do we create that third prong to go with the meetings and the playbook? Whether it's different notes or different tips or coaching points, different diagrams, you're looking for that third prong to help them."
Golden doesn't talk to his guys more than he asks them questions, which is why he says holdovers Jordan Evans and Germaine Pratt have been very good for the group looking back on last season. He also says the presence of two young players that have been in different organizations, Austin Calitro and Brady Sheldon, have been helpful to find other approaches.
"You have to be prepared when you go into these meetings or they'll get on you," said Golden of his questions. "And they have been. They're sharp."
But Bynes is clearly the group's go-to guy. Except, they can't go to him yet.
"Right now, they're picking it up," Bynes said of the kids. "The changes come when you practice it. You get to a high level by practice. That's what this league has been built on since before time. It's good to be ready in the classroom, but you have to do it on the field."
At 30, Bynes has four years on everybody else in the room. Which is just fine.
"I don't consider myself old, just experienced," Bynes said. "I'm as hungry as they are."