Talk about a short week for running backs coach Kyle Caskey. His backs, all 5-9 of them, got short-changed from their weekend off after their short-week win over Baltimore.
In the Bengals' 34-23 victory over the Ravens, Joe Mixon began the running backs' tale of woe when he slightly tore a knee meniscus and is out for an unspecified amount of time after undergoing arthroscopic knee surgery. Then in the next practice on Monday Tra Carson pulled his hamstring and while he may return to the Bengals when he gets healthy in a month or so, the Bengals had to waive him injured to make room for somebody that can play Sunday (1 p.m.-Cincinnati's Channel 12) if needed in Carolina.
That turned out to be Thomas Rawls, who had six 100-yard games as a member of the Seattle Seahawks, but none since the 2016 Wild Card win over the Lions and no carries of any sort since the Jets cut him in training camp. Which points to the youngest Bengal of them all, rookie Mark Walton, 21 years and nearly six months, expected to get his first NFL touch in his first NFL game on Sunday.
And, of course, after all that Bernard (knee) showed up limited on the injury report and Rawls couldn't get through his first Bengals' practice without cramping. Walton, like Bernard, a South Florida product and marketed as a "Gio Clone," are their top two backs on a Sunday. Bernard and Walton each go about 5-9, 205 pounds. Rawls, who ripped the Bengals for 169 yards as a rookie in 2015, stands about 5-9, 214 pounds. Caskey smiled after Wednesday's practice in what is suddenly his short week.
"We're hiding them. When they get behind the line you can't see them," Caskey said. "These guys have a good background. Gio has played a lot. Thomas has played a lot if he needs to play. I trust in Mark. He's a good young player … These guys are explosive. I think they can do everything they want to do. It just may not look exactly the same (than Mixon)."
The coaches have no problems giving the savvy, six-year vet Bernard the bulk of the work. Maybe not for an entire season. But they'll take their chances on more than a month of Sundays. This guy could be a No. 1 for a lot of clubs. Look at the last five games of last season when Bernard averaged 19 touches. In that stretch the Bengals knocked two teams out of the playoffs and had the Steelers on the ropes. Mixon averaged 22 in the first two games.
The coaches also not only see Bernard's talent, but the character that oozes as a role model.
"Most games you should consider it's going to take more than one back. I think it's fair," said offensive coordinator Bill Lazor. "But I don't look at Gio any differently. To me the guy's a warrior. Coming off the knee surgery two years ago and what he did last year, I just think he's a warrior. He's really physically unique being able to do that with his stature, to play the way he plays. He finishes runs, he doesn't run out of bounds, he doesn't go down easily. I think he's a warrior. I have great respect for him. Do we have to be smart with him? Absolutely. But no different than with any starting running back."
Now maybe they have to play it pretty straight with Walton and Rawls when Bernard gets some blows. Yet the Bengals say Rawls was exposed to a similar offensive system in Seattle and is bright enough that he could play Sunday by just picking up some of the terminology. But don't look for Lazor to tear up his game plan without Mixon. The coaches have a different size for Bernard than the one in the program.
"He may be 5-foot-8, 200, but he's about 6-4, 250 in heart. He's one of these guys that gives you everything he has. He's going to be a lot more productive and explosive than you think he's going to be," said Caskey, who believes people get Bernard all wrong. "They think he's just a run around people, space kind of guy. He can run between the tackles. I don't put him in any kind of box. He can do it all. If you go back and look over time he has done it all. We just have to trust that's what he's going to do and let the other guys keep coming along behind him and we'll be fine."
When Bernard came into this season with 4.2 yards per carry on 688 rushes in his first five seasons, that was the third best average among the Bengals' top ten rushers with at least 688 attempts. Ahead of him were James Brooks (4.8) and Corey Dillon (4.3) and he was ahead of Rudi Johnson (4.0) and Cedric Benson (3.8). He hasn't toted it like the big boys while averaging 138 carries a year (the 5-10 Brooks averaged 168), but he's carried enough that when he gets 150 more yards he'll vault past franchise icons Boobie Clark and Essex Johnson into seventh on the all-time rushing list.
Mixon's deal is making big plays in the pass game and Bernard has made his share of those, too. Brooks and Bernard are the only backs in club history with at least 2,000 receiving yards.
"I mean, I'm not like an ice cube. It's not like I'm not going to die or something. Its football," said Bernard about the fretting over his pounding. "Guys are going to go down and the next man has to step up at the end of the day, and it's my opportunity to go out there and play football like I do every Sunday.
"Whatever play I get, I'm a running back, so inside, outside, don't really matter. Just when you get the ball in your hands, make a play."
Although Bernard has just 25 yards on seven carries in the first two games, he knows how much better this running game is. How good is Bernard? Last year during the worst rushing season in the history of the franchise he averaged 4.4 yards while the team average was 3.6. This year it's 4.4 and while the Panthers have a big front they're also giving up 4.9 yards per game. Even though the Bengals don't have Mixon, they're finally feeling it in the run game. Ever since Bernard showed up at training camp he's been raving about new offensive line coach Frank Pollack.
"He's really brought a different mentality with the offensive line," Bernard said. "You look around, it's really some of the same guys for the most part, but the mentality has changed. You can definitely see that in the preseason and in these first two weeks."
The Bengals are averaging 104.5 yards per game rushing. They rushed for more than 100 yards in just five games last season. The Bengals have 68 points. They didn't get that until Oct. 8 last year in the fifth game.
"Honestly, it's not so much," Bernard said of the differences. "Obviously Coach Lazor has implemented a different style, but I think it's really the mentality, the mentality that these new coaches have brought in really changes the dynamics of how these guys work, and that shows. It showed in how we ended the season last year and how we picked right back up this season."
Now the question is if they can keep it going without Mixon. Go back to those last five games last season. Bernard relieved Mixon after seven carries against Pittsburgh and his 77 yards on 13 carriers put the Bengals on the doorstep. He replaced him against Detroit and Bernard's 169 yards on 30 touches carried the day. In the finale his 16 touches for 70 yards complemented Mixon's 19 touches for 97 yards.
Which brings us to Walton, the fourth-rounder from the University of Miami. If you want to know what makes Bernard so special in the locker room, go back to that pick. Even though they picked a 21-year-old Gio clone, Walton says Bernard was the first player to reach out to him after the draft.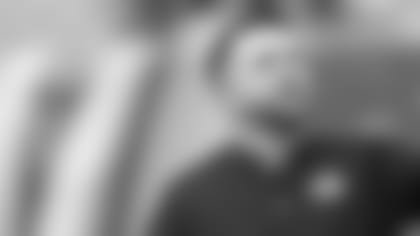 "It's his reliability, consistency, discipline of playing that spot, being in the right spots for the quarterback all the time and his pass protection," said head coach Marvin Lewis. "He's a great role model for Joe, Mark and the rest of these guys. He's been a great role model for how to do things."
Walton hasn't taken off like Bernard did as a rookie and dresses for the first time this season Sunday. In Bernard's second game as a pro he danced into the end zone on a 27-yard touchdown pass on Monday night when the Bengals beat the Steelers in the 2013 Paul Brown Stadium opener. But not only does Caskey think Walton is coming on, the most important thing is that Walton thinks so.
After a preseason he couldn't manage more yards than carries (21-22), Walton thinks he's got it figured out. They've got the speed to catch you on the back side in the pros.
"I was kind of hesitating and second-guessing myself, and I would start waiting for the cutback," Walton said. "In college, I had a lot of cutbacks and that's what I thought I was going to bring here, but cutbacks are very rare here in this league so you've just got to take what you can get from the defense."
And this new warp speed just wasn't behind him, but in front of him.
"The way the offensive line was taking off, I was a little late taking my stance a couple times," Walton said. "I'm just trying to clean up those errors and trying to get in phase with the offensive line."
If there's one thing that keeps NFL running backs coaches up late it is a rookie's adjustment to pass protection. It sounds like Caskey is going to get some shut eye Saturday night.
"He knows the protections. That was the biggest thing for me. With his running he didn't have a whole lot of success in the preseason," Caskey said. "He didn't get a chance to run behind our first line, either. With his progression over the last couple of weeks he's been doing some good things in practice. I think he's got it down to where he needs to be and he can be productive."
Another short week. They hope it works as well as last week.