Television: The game will air on FOX-TV. In the Bengals' home region, it will be carried by WXIX-TV (Ch. 19) in Cincinnati, WGRT-TV (Ch. 45) in Dayton, WDKY-TV (Ch. 56) in Lexington, and WTTE-TV (Ch. 28) in Columbus. Broadcasters are Kevin Burkhardt (play-by-play), Charles Davis (analyst) and Pam Oliver (sideline reporter).
Radio: The game will air on the Bengals Radio Network, led by Cincinnati flagship stations WLW-AM (700), WCKY-AM (ESPN 1530; all sports) and WEBN-FM (102.7). Broadcasters are Dan Hoard (play-by-play) and Dave Lapham (analyst). The game also will air nationally on Compass Media Networks. Broadcasters are Doug Gottlieb (play-by-play) and Brian Baldinger (analyst).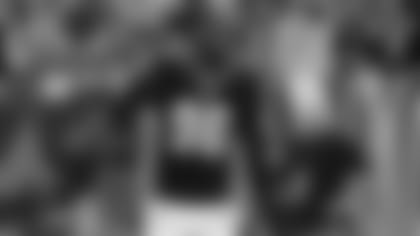 Tickets may be purchased by calling the Bengals Ticket Hotline at (513) 621-8383, online (click to buy your tickets) or by visiting the Paul Brown Stadium ticket office. The Bengals Ticket Hotline and ticket office hours are from 9 a.m.-5 p.m. Mondays through Fridays. Tickets may be purchased 24/7 through Bengals.com. Fans can call the Bengals Ticket Hotline or chat with a ticket representative online if they have any questions.
For those who purchase individual game tickets on Bengals.com or the Official Bengals app will not be subject to additional processing fees when they choose mobile tickets as the delivery option.
Setting the scene: At exactly the midpoint of their regular-season schedule and fresh off their bye weekend, the Cincinnati Bengals this week host the New Orleans Saints on Sunday at Paul Brown Stadium.
The Bengals enter the contest at 5-3 and very much in the race for the AFC North Division title. They stand just a game behind the 6-2-1 Pittsburgh Steelers for the division lead and a game and a half ahead of the third-place Baltimore Ravens, who are 4-5.
While looking to keep pace with the Steelers and stay ahead of the Ravens in the standings, the Bengals face a strong opponent in the 7-1 Saints. In addition to featuring a surefire future Hall of Famer and the NFL's current leading passer in QB Drew Brees (120.6 rating), New Orleans enters the game on a seven-game winning streak, having just beaten the last remaining undefeated team in the NFL, the L.A. Rams, 45-35. The Saints' offense ranks No. 7 in the NFL in total net yards (402.0), and Brees has completed 76.3 percent of his passes (213 of 279) for 2336 yards, 18 touchdowns and just one interception. In addition, while their defense ranks No. 25 in the league overall in total net yards allowed per game (387.8), the Saints rank No. 1 against the run (76.4).
Cincinnati two weeks ago defeated the Tampa Bay Buccaneers at Paul Brown Stadium, 37-34. Bengals QB Andy Dalton led an eight-play, 50-yard drive in the game's final minute that ended with a 44-yard field goal by K Randy Bullock on the final play for the win. It was Dalton's 24th career game-winning drive and his fourth of the season.
The Bengals earned their win over the Buccaneers despite listing seven prominent players as inactives for the game due to injuries. On offense, that list included starting C Billy Price (foot), starting TE Tyler Kroft (foot), HB Giovani Bernard (knee) and WR John Ross (groin). And on defense, it included starting LB Vontaze Burfict (hip), LB Nick Vigil (knee) and CB Darqueze Dennard (sternoclavicular). The status of those players for the Saints game will not be known until later in the week, but the Bengals certainly hope to benefit from the extra time that the bye weekend afforded for their continuing recoveries. That may be particularly true on offense, because the status of WR A.J. Green, who suffered a toe injury late in the game against Tampa Bay, is unclear for the Saints contest.
The series: Cincinnati leads the all-time series 7-6, and the Bengals have won four of the past five meetings. The road team has done well in the series. The Saints lead 4-3 in Cincinnati, while the Bengals lead 4-2 in New Orleans. The Bengals won the most recent meeting, 27-10 at New Orleans in 2014. The Saints, however, won the most recent meeting at Cincinnati, 34-30 in 2010.
Bengals' O excels in red zone: The Bengals' offense this season has scored TDs on 20 of its 26 trips to the red zone, good for a league-best 76.9 percent rate. Cincinnati also ranks fifth in total scoring percentage in the red zone, coming away with points on 92.3 percent of their trips inside the 20-yard line (26 possessions, 24 scores). The Bengals scored TDs on all four of their red-zone trips in Game 8 vs. Tampa Bay. They have scored TDs on eight of their last nine trips to the red zone, dating back to Game 6 vs. Pittsburgh.
Entering their Week 5 matchup with Miami, Cincinnati had come away with points on an NFL-best 34 consecutive trips to the red zone (25 TDs, nine FGs) dating back to Game 9 of last season. But an INT on their first red-zone trip vs. Miami ended the streak, which was the longest by a Bengals team since 2005-06 (40 straight).
Rookie defenders make their mark: Bengals rookies Sam Hubbard and Jessie Bates have made a strong impact in their first season. Both have seen large roles on Cincinnati's defense and produced valuable results. Both Bates, a safety, and Hubbard, a defensive end, have scored touchdowns this season, marking just the third time in Bengals history that multiple rookies have scored defensive TDs.
Bates, the Bengals' second-round selection in April's draft, found the end zone in Game 8 vs. Tampa Bay, when he intercepted a Jameis Winston pass and returned it 21 yards for a TD. It was the first pick-six by a Bengals rookie since Nov. 19, 2006, when S Ethan Kilmer intercepted a Drew Brees pass at New Orleans and returned it 52 yards for a TD.
Hubbard, a third-round selection in April's draft, scored when he recovered a Ryan Tannehill fumble in Game 5 vs. Miami. The score came with 2:37 left to play and helped seal a 27-17 Bengals win. Entering Week 10, Bates has a team-high 60 tackles, and his three INTs are tied with fellow safety Shawn Williams for the team lead. Hubbard has 19 tackles, including two sacks, to go with his fumble recovery.
Bengals-Saints connections: Bengals linebackers coach Jim Haslett was a Saints assistant from 1995-96, and then later served as the team's head coach from 2000-05 ... Saints head coach Sean Payton coached at Miami (Ohio) University from 1994-95 ... Saints CB Eli Apple, S Vonn Bell, S Kurt Coleman, CB Marshon Lattimore, WR Michael Thomas, QB J.T. Barrett (practice squad) and WR Ted Ginn Jr. (Reserve/Injured) all played at Ohio State University. Coleman is from Clayton, Ohio (Northmont High School) ... Saints QB Teddy Bridgewater and DT Sheldon Rankins played at the University of Louisville ... Saints G Larry Warford is from Richmond, Ky., and played at the University of Kentucky ... Bengals QB Jeff Driskel played one season (2015) at Louisiana Tech University ... Bengals S Brandon Wilson is from Shreveport, La.... Bengals H-B Cethan Carter (Reserve/Injured) is from New Orleans (Archbishop Rummel High School) ... Saints offensive line coach Dan Roushar coached at the University of Cincinnati from 2005-06 ... Saints head strength and conditioning coach Dan Dalrymple played (1983-86) and coached ('87-2005) at Miami (Ohio) University ... Saints quarterbacks coach Joe Lombardi coached at the University of Dayton from 1996-98 ... Bengals running backs coach Kyle Caskey coached at the University of Louisiana-Monroe from 2004-05 ... Bengals secondary/cornerbacks coach Daronte Jones coached at Nicholls State University in 2002 ... Saints assistant strength and conditioning coach Rob Wenning is from Coldwater, Ohio, played at the University of Findlay from 2003-06 and coached at Ohio State University in '07 ... Saints assistant strength and conditioning coach Charles Byrd is from Oxford, Ohio, played at Morehead State University from 2001-04, and coached at Miami (Ohio) University from 2006-07 ... Saints running backs coach Joel Thomas coached at the University of Louisville from 2002-03.