Bengals fans will have the first opportunity to see this year's team at Thursday's preseason home opener against the Bears.
Fans can purchase tickets by calling the Bengals Ticket Hotline at (513) 621-8383, online at Bengals.com or by visiting the Paul Brown Stadium ticket office. The Bengals Ticket Hotline and ticket office hours are from 9:00 a.m.-5:00 p.m. Mondays through Fridays. Tickets may be purchased 24/7 through Bengals.com. Fans can call the Bengals Ticket Hotline or chat with a ticket representative online if they have any questions.
Gates will open at 5:30 p.m. Fifth Third Bank will make game day a Fifth Third better® with early access at Gate E 30 minutes prior to regular admission when you show your Bengals Debut Card and game ticket.
As part of a league-wide initiative, the Bengals are replacing the print-at-home PDF ticket option with a mobile ticketing option. Single Game, Jungle Pass, Pack and Group Buyers can enter the stadium using mobile tickets via the free Bengals app.
Will Call is located on the North side of the stadium, between Gate B and Gate C (next to the Bengals Pro Shop). Will Call will open at 3:00 p.m. on Thursday and remain open until the end of the second quarter.
The Jungle Zone is home to the Bengals' pregame tailgate party. Located on the east plaza level of Paul Brown Stadium, the Jungle Zone features food, drinks, giveaways and family-friendly activities including inflatables and face painting. The Jungle Zone will open at 4:00 p.m. on Thursday.
Based on recommended NFL public safety best practices, we strongly encourage fans to not bring any bags. One (per person) of the bags listed below will be permitted inside Paul Brown Stadium:
Bags that are clear plastic, vinyl or PVC and do not exceed 12"x6"x12"
One-gallon re-sealable clear freezer bag
Women's clutch purse no larger than 4.5" x 6.5" with one of the clear plastic bags
Medical bags for accompanying patron
All items subject to search. All other bags will be denied. Prohibited items include, but are not limited to: purses larger than a clutch bag, coolers, briefcases, backpacks, fanny packs, non-clear cinch bags, luggage of any kind, seat cushions with zippered covers, pockets or flaps, computer bags, camera bags, and any bag larger than the permissible size.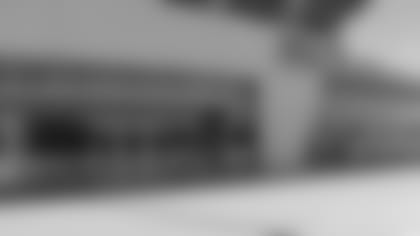 The Bengals Pro Shop will be open from 10:00 a.m.-2:00 p.m. and from 5:30 p.m. until after the game on Thursday.
Fifth Third Bank will make game day a Fifth Third better® by providing free rides from downtown to Paul Brown Stadium throughout the season. The Fifth Third better® carts will be picking up fans from designated pick up spots (Fountain Square, P&G Gardens and Duke Energy Center) and shuttling fans to the stadium three hours prior to game time, up until kickoff. Be on the lookout for the Fifth Third better® cart and grab a free ride to the game.
Coverage on the Bengals Preseason Network features Mike Watts (play-by-play), Anthony Munoz (analyst) and Mike Valpredo (sideline reporter). The network is led by flagship WKRC-TV (CBS Channel 12) in Cincinnati. Also on the network are WKEF-TV (ABC Ch. 22) in Dayton, WSYX-TV (ABC Ch. 6) in Columbus, WLIO-TV (FOX Ch. 8.2) in Lima, WDKY-TV FOX Ch. 56) in Lexington, Ky. and WDRB-TV (FOX Ch. 41) in Louisville, Ky.
Fans in the Cincinnati, Dayton, Columbus, Lima, Lexington and Louisville markets can live stream the game on NFL.com.
Coverage on the Bengals Radio Network, led by Cincinnati flagship stations WCKY-AM (ESPN 1530), WLW-AM (700) and WEBN-FM (102.7). Broadcasters are Dan Hoard (play-by-play) and Dave Lapham (analyst). Wayne Box Miller hosts the pregame and postgame shows.
Additionally, the radio broadcast will be streamed on Bengals.com.
BENGALS RADIO NETWORK STATIONS:
Cincinnati - WCKY-AM (1530)
Cincinnati - WEBN-FM (102.7)
Cincinnati - WLW-AM (700)
Columbus - WXZX-FM (105.7)
Lancaster - WLOH-FM (104.5)
Marietta - WMOA-AM (1490)
Marysville - WQTT-AM (1270)
Mount Vernon - WMVO-AM (1300)
Portsmouth - WIOI-AM (1010)
Zanesville - WHIZ-FM (92.7)
Cynthiana - WCYN-FM (102.3)
Lexington - WBVX-FM (92.1)
Louisville - WKRD-AM (790)
Paintsville - WKYH-AM (600)
Somerset - WTLO-AM (1480)
Huntington - WRVC-AM (930)
Montgomery - WMON-AM (1340)
Ravenswood - WMOV-AM (1360)
Ravenswood - WMOV-FM (106.7)
Saint Albans - WJYP-AM (1300)