Sept. 13 CHARGERS, 4:05 p.m.: They have a revamped defense, too, adding first-round linebacker Kenneth Murray in the draft and tackle Linval Joseph and cornerback Chris Harris in free agency. They were ranked No. 6 last season and got a lot of production from pass rushers Joey Bosa and Melvin Ingram with a combined 18 sacks, but they were ranked last in turnovers and 28th in total sacks. Which defense is ready to take advantage of possibly two rookie QBs?
SEPT. 17 at Cleveland, 8:20 p.m.: The Bengals' first night game on Lake Erie since Oct. 22, 1990, a Monday nighter the Bengals rushed for 233 yards in a 34-13 win led by rookie running back Harold Green's 75 yards and spiced with the season debut of running back Ickey Woods off an ACL injured that featured an "Ickey Shuffle," after his one-yard TD finished the scoring. It was the last season for Paul Brown, who founded both teams, and the year before the Browns hired Bill Belichick as head coach.
SEPT. 27 at Philadelphia, 1 p.m.: The Bengals running game gets a huge test in the City of Brotherly Shove. During the last half of last season running back Joe Mixon rung up more yards than everybody in the NFL but Tennessee's Derrick Henry and he'll face off against the Eagles' third-ranked run defense from 2019 that picked up a stalwart piece in defensive tackle Javon Hargrave from the Steelers.
OCT. 4 JAGUARS, 1 p.m.: The Bengals defense gets matched up against two old friends in former Pro Bowl tight end Tyler Eifert and former offensive coordinator Jay Gruden, now doing the same job for the Jaguars. It is Gruden's first appearance at PBS since he left following the 2013 season and a third straight play-off appearance during his three seasons that jump-started the Green-Dalton Era. But it's a game the Bengals offensive line must answer the bell. In the last two games against Jacksonville in 2017 and 2019, the Bengals have rushed for 62 yards on 37 carries.
OCT 11 at Baltimore, 1 p.m.: Arguably the two best players in the AFC North, Bengals wide receiver A.J. Green and Ravens quarterback Lamar Jackson, have yet to start a game against each other and they absolutely kill the other team. Jackson is unbeaten against the Bengals with two 100-yard rushing games. Green, a notorious Ravens-killer, scored three touchdowns in the first 17 minutes of the last game he played against them in 2018. From 2013-15 in the three games in Baltimore he put the '13 game in on OT catching a Hail Mary on the last play of regulation, caught a bomb in the last five minutes to win the '14 opener and beat them with two fourth-quarter TDs in '15.
OCT 13 at Indianapolis, 1 p.m.: Philip Rivers tries to beat his fourth different Bengals quarterback in a fourth city. He was 2-1 in three shootouts with Carson Palmer for San Diego, never beat Andy Dalton in three regular-season games but got him in a road Wild Card Game and he fended off Jeff Driskel in 2018 in Los Angeles, 26-21, with the help of magically producing three points at the half-time gun despite getting the ball at his 32 with 10 seconds left. Rivers hasn't exactly gone off vs. Cincy with 11 TDs and six picks for a 91.2 passer rating, below his career mark of 95.1. The Bengals starting cornerbacks, Trae Waynes, William Jackson III and Mackensie Alexander, have combined to play 174 games compared to Rivers' 228.
OCT. 25 BROWNS, 1 p.m.: For the first time in the 21 seasons of Paul Brown Stadium, it's possible two Heisman Trophy-winning quarterbacks hook up in Joe Burrow and Cleveland's Baker Mayfield. But it's probably going to come down to two of the league's best running backs. Last season Brown running back Nick Chubb missed out on the NFL rushing title by 46 yards, but Mixon, who led the NFL in carries over the second half of the season, outrushed Chubb by 126 yards in that same stretch.
NOV. 1 TITANS, 1 p.m.: Another mega matchup for Joltin' Joe as he tees it up against the guy that beat Chubb for the title, the monstrous Derrick Henry. A great test for the Bengals' renovated defense coming off the worst three-year stretch in the league against the rush. The Titans ran for fourth best in the league last year and buried what was once thought to be the defense of the decade with five yards a shot for 200 yards in New England during a play-off shocker. The PBS crowd can offer a tip of the hat to Titans cornerback Johnathan Joseph. At some point Burrow may be throwing to a receiver covered by Joseph, two Bengals' first-rounders selected 14 years apart.
NOV. 15 at Pittsburgh, 1 p.m.: The first meeting of the two Ohio guys, Burrow of Athens and Ben Roethlisberger of Findlay. Maybe that's the key against Big Ben with his career record of 46-9-1 against Cincinnati and Cleveland. The date is good karma for the Bengals. It's the 11th anniversary of the Battle of 18-12, one of those losses the Bengals pinned on Ben with four sacks. The only Bengals left from that game are punter Kevin Huber and long snapper Clark Harris.
NOV. 22 at Washington, 1 p.m.: Story lines abound. It matches up the two top picks and former Ohio State teammates, Burrow and defensive end Chase Young. New Washington head coach Ron Rivera seems to be all in on Dwayne Haskins, the guy that won the Buckeyes job Burrow sought and started the trail to LSU. Rivera is trying to patch kids like Young with veteran free-agents like Thomas Davis, but the Bengals hope they can take aim at a re-building defense coming off a season last in the league getting off the field on third down.
NOV. 29 GIANTS, 1 p.m.: For the second straight week the Bengals must take advantage of a team with a first-year coach, a second-year quarterback and a defense coming off a struggling season. The Giants came out of it ranked 25th. Between these two foes, they won just a combined seven games last season. It's the first time the New York Football Giants come to PBS without Eli Manning as their quarterback. The last Giants quarterback to start a game at Cincy before Manning was Phil Simms in losing a 1991 Riverfront Stadium game to Boomer Esiason during a CBS special.
DEC. 6 at Miami, 1 p.m.: For the third straight week the Bengals play a team that didn't win six games last season. One of the Dolphins' five wins came against the Bengals in an overtime frenzy set up by Cincinnati's first-ever NFL feat of scoring 16 points in the last 29 seconds of regulation to either win or tie a game. But losing the four-hour marathon gave the Bengals the first pick and Burrow and no matter how much the Dolphins stocked their defense (linebacker Kyle Van Noy and cornerback Byron Jones come to mind as free agents), this one, no doubt, comes down to the rookie QBs that were decided last year in this building. Burrow and Alabama's Tua Tagovailoa.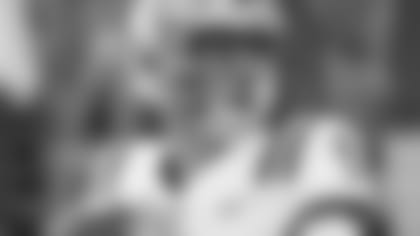 Dec. 13 COWBOYS, 1 p.m.: It's always big when the Cowboys come to town, given its only their sixth trip here in 53 seasons. Especially since Andy Dalton returns as Dak Prescott's backup. The Bengals are 3-2 here against Dallas and it's their third game in four weeks against a team with a first-year head coach. But Mike McCarthy has been around with all those years and a Super Bowl title in Green Bay. The Bengals were 3-1 against McCarthy when he was with the Packers, including 2-0 at PBS. You know Joltin' Joe is going to be jacked in a head-to-head matchup with Dallas running back Zeke Elliott. Since Mixon came into the NFL in 2017, Elliott has rushed for the most yards with 3,774. Mixon is fourth with 2,931 on 154 fewer carries. The Joltin' likes December, where six of his nine 100-yard games reside.
Dec. 21 STEELERS, 8:15 p.m.: Who knows what is going to transpire here? In the last two prime-time games these two teams have played at PBS, bedlam has reigned. In a Monday night game in 2017 the Bengals went up 24-10 midway through the third quarter on 61-yard TD pass from Dalton to Green that got wiped out on a hold and the Steelers staged a fourth-quarter comeback to win at the gun, 23-20. That was nothing. The PBS prime-time game before that was that riveting 2015 Wild Card Game, otherwise known as "The Brawl in the Paul," where the Bengals scored 16 unanswered points in the fourth quarter to erase a 15-0 deficit and took a 16-15 lead with 1:50 left on Green's 25-yard TD catch from back-up AJ McCarron. But the Bengals couldn't hold on in another loss at the gun. So who knows what happens when the lights go on again?
Dec. 27 at Houston, 1 p.m.: Homecoming for the Bengals' D.J. Reader, the man Cincy made the highest-paid nose tackle in the game during free agency. They'll need him to stop quarterback Deshaun Watson, the guy that made his first start in Cincinnati in the second game of 2017 and left his calling card with a 49-yard scrambling TD near the end of the first half for the game's only touchdown. The Bengals haven't been his only victims. Watson hasn't stopped since.
Jan. 3 RAVENS, 1 p.m.: For the eighth time in 11 years these teams close their seasons. It usually means something. It certainly did in 2017, when the Bengals knocked out the Ravens out of the postseason on their last offensive snap of the season. Since that day, the man who caught the winning TD, Tyler Boyd, is one of 16 players to catch at least 2,000 yards in the last two seasons.