When the Bengals drafted Joe Burrow last week, Giovani Bernard did the same thing Andy Dalton did for him when he got drafted seven years ago.
Reached out, offered congratulations, told him to savor the moment, said he was happy to have him and do whatever he could do to help.
"Andy was the first person outside of Coach (Marvin) Lewis and the organization to reach out to me and that meant a lot to a rookie running back," Bernard recalled of his fellow Bengals captain Thursday. "From then on he always showed me the kind of leadership that I looked up to.
"One of the things the city will miss is what he does for the community. It's much more about football. It's the kind of person he is. What he means to the players and their families. Not only him, but JJ, his, wife. She's a role model for a lot of the women on the team."
There was some speculation that the Bengals might keep Dalton with Burrow because of the uncertainty of if and when the season would begin. The shorter the timetable the tougher for a rookie quarterback, one school of thought went. Yet the Bengals appeared to believe Dalton needed to be free now to hook on in a favorable situation and it was important to put the ball in Burrow's hands as soon as possible.
"(Dalton) deserved that," said wide receiver Alex Erickson. "He's been an unbelievable leader in that locker room and a stand-up guy. It's going to be up to the rest of us to step up and help bridge the learning gap."
But if there's a sadness to the ending, guys like Bernard, Erickson and tight end C.J. Uzomah know they'll be friends for life with Dalton and yet have a surge of excitement for the change Burrow represents.
Because while the Green-Dalton Era ended Thursday, a new chapter in Bengaldom opened with Burrow becoming the fourth rookie quarterback in Bengals history to get an Opening Day start. The last one was Dalton, who won it on the way to become the Bengals' winningest quarterback ever.
"Even before they drafted Joe, I was fired up with free agency," Uzomah said of last month's record haul. "That's never happened since I've been here. I was like, 'Whoa.' Then we drafted Joe No. 1 and I got a chance to get his number and call him and he was great. He said, 'When we get this all figured out, I just want to go down there and throw.' I'm pumped."
The Dalton move is not an easy move for the locker room. Heck, it wasn't an easy move for the front office, where Bengals president Mike Brown called it a "hard" day. But it's the players who saw him do things like give up his first-class seat to injured wide receiver Auden Tate on the charter back from Oakland.
It wasn't exactly the 38 minutes from Cleveland.
"He was always my go-to-guy," Uzomah said. "If I had any questions about a play or anything football, you could always ask him. And he'd stop by the lunch table, asking how things were going, life after football, and stuff like that."
Bernard arrived two years after Dalton was the rookie QB that led the Bengals to the playoffs despite the lockout wiping out the offseason and he's got faith in the team's faith in Burrow.
"I don't have a doubt in my mind a guy like Joe is not going to hesitate," Bernard said. "The biggest thing with him is we see the type of leadership he brought his team at LSU. We know what type of player we're getting. The coaches have done their fair share of film watching. I'm sure the (Brown) family has done their fair share of film watching and they're very confident in his play. If they're confident we're obviously confident. We may not get a lot of practice. But at the same time we know what kind of player we're getting. That we see on film and we just have to work from there."
Center Trey Hopkins calls Dalton a "great leader," and "the kind of guy you want on your team."
"Wherever he ends up he'll be a great asset for them."
He's also got an eye on a rookie quarterback.
"It's not necessarily tough. But fast," Hopkins said of a rookie season. "It sounds like he's going to be a good fit. I'm definitely excited. I know the fan base is excited. That's always a good thing. Whenever we get out there I'm going to do my best to make him look good and make his job as easy as possible."
A tough day for guys like Bernard. But during the first week of virtual meetings convened by head coach Zac Taylor, he can sense the Zooming excitement.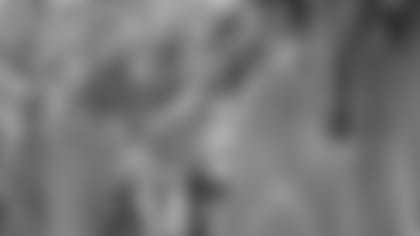 "I know the team is excited. Coach Taylor is excited," Bernard said. "We see the type of players he's bringing in and what he's trying to change and we're all excited for that. We're seeing that change. The city is seeing it, too. But having the first-hand experience of speaking to Coach Taylor, you see the determination of change in his mind. You can see that every day."
A tough day Thursday that turned out to be a new day.
"Changeups can be good, too," Hopkins said.