It took only the time between two mere full moons for Andy Dalton to regain some of the popularity he originally won during his first five seasons in the NFL he led the Bengals to the playoffs in each year. But even when Dalton got benched 30 days ago, one of his biggest fans sent a text letting him know he still was.
"Just to let him know I've always been a supporter and still am," says Kenny Anderson, the man Dalton can eclipse Sunday against the Jets at Paul Brown Stadium (1 p.m.-Cincinnati's Local 12) in Bengals annals with his next touchdown pass when he returns from his three-game exile.
"I hope he gets it. What he's done for Cincinnati has been great. When you look at all the things he's done, leading the Bengals to five straight playoffs and the wonderful job he's done making our community a better place. Yeah. I'm a big fan."
The feeling is mutual when it comes to Dalton and Anderson, who share more than No. 14 and 197 touchdown passes. Anderson was an NFL Man of the Year of the Year and Dalton could be any year. They once went in together on a memorable night in a PBS lounge overlooking the city they've given so much to raise money for each of their charitable foundations.
And there is something to be said for grace under pressure. Dalton saw it from Anderson right away that week he was drafted in 2011 and asked to wear the No. 14 Anderson wore in a Super Bowl as the NFL MVP. And Dalton knew full well that the Bengals all-time leading passer had every right to tell him to take a hike, son.
Instead, Anderson gave his blessing, but not without a hint of a Spinney Field challenge straight from '75: "You better wear it well."
And Dalton wore it well enough as the Bengals' all-time winningest quarterback that Anderson says, "I'm so proud of Andy."
 Dalton, who showed an Andersonian form of grace under pressure in the 27 days of his benching, recalled how that first conversation yielded many more as he reflected on their relationship before Wednesday's practice when he went back to running the first team.
 "To pass a guy like him, a guy that's been such a huge part of the organization, a Super Bowl and all that. A guy that tore up the league. It's pretty cool," Dalton said. "It's pretty cool that he not only let me wear 14, but the kind of career he had and I have had a chance to do some things. Kenny's been great. He's always kept in touch. He texted me (after the benching) and told me to hang in there and that he'd see me soon because he'd be coming through."
Grace under pressure. Anderson showed it so often during pockets of his 16 years in Cincinnati when he took the brunt of criticism for some bad teams that surrounded him. Dalton showed it the last three weeks but, believe him, it wasn't easy. He wanted to be bitter.
"You can be bitter all you want. You're choosing to be that way," Dalton said. "I didn't want to be like that. That's not me. You have to make a decision. But it doesn't just go away. Every day you have to choose to not be bitter and be the same person."
If Dalton has a fan in Anderson, he's always had a legion of fans in his own locker room. Where the fans see a player that has never won a play-off game, many of his teammates see a smart, resourceful guy that found a way to get them to the playoffs when a lot of guys couldn't and didn't mind him being so understated doing it.
"I think the experience Andy presents and the leadership with the amount of games he's won in this league," says wide receiver Alex Erickson, "and the things he's done in this league that not a lot of guys have done and he 'll continue to do is impressive. It's good to get that back."
Dalton was tested early in the benching. He's always opened his home to the Bengals Bible study on Monday nights during the season. He made sure that didn't change even though his job did.
"We're still being the same people. We're still part of it. Still trying to make an impact," Dalton says.
Erickson, a Monday night regular since his rookie year, wasn't very surprised.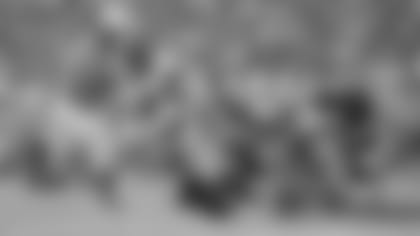 "That just says a lot about him and his character," Erickson says. "As important as our jobs are, as important as this is to us, how you carry yourself and have the respect of your teammates is just as important."
This is how you carry yourself on Wednesday, your first practice back in the saddle:
You're a guy that is one of only two quarterbacks to lead a team to the NFL post-season in your first five seasons. When the season began, only Matthew Stafford had more game-winning drives since 2011. You've been to three Pro Bowls, quarterbacked two division winners and you're the first rookie quarterback to start nine wins and go to the postseason while throwing 20 touchdown passes.
And you're asked this at your Wednesday news conference: Do you feel like these next five games for you is a chance to prove, hey, I can be a legitimate starter in the NFL?
Wow. Insert YouTube rant right there from about half the NFL podiums.
But Dalton politely offered: "Absolutely. I think I've proven that throughout my career and this is just another opportunity. To sit these three weeks and get back in there for the last five, my goal is to win."
You don't have to be an NFL Insider deity to see the writing on the wall. A quarterback would seem be on the horizon with the 2020 draft and Dalton won't bite when asked if he thinks he'll be back next year.
"I'm worried about this season and these last five games," Dalton said. "I have no idea what's going to happen moving forward. I'm just worried about these next five."
Erickson wouldn't have expected another answer.
"His faith in Christ, if you ask him, that's what keeps him who he is," Erickson says. "His identity isn't in whether he wins or loses football games. It was easier for him having the faith to make that transition. I think any time the switch happens, it was frustrating, right? We all want a job. We all put a lot of work into it. In general, I'm sure he was frustrated. But the way he showed up every day says a lot about him, his character and I feel like the guys obviously respect him very highly. I think that even made their respect grow even more if that's possible."
Anderson certainly has that respect even if Dalton gets his record.
"Let's see what happens," Dalton said with a smile. "That would mean I'd have bragging rights on 14. But Kenny's been great to get to know."
For a limited time, save 50 percent when you purchase "This Day in Bengals History" online. Visit Bengals.com/book to learn more.