Many thanks to the 27 scribes who helped craft the first Bengals.com Media Mock Draft of 2023. Let's get to No. 28:
1.PANTHERS _ QB C.J. Stroud, Ohio State; Joe Person, The Athletic
Fluid, as they like to say. Person, North Carolina's defending sportswriter of the year, thinks, for now, that new Carolina head coach Frank Reich is going to get the tall quarterback he has preferred in the past.  But he also says since the Panthers were willing to trade up to No. 2 it suggests they're content with one of the top two.
2.TEXANS _ QB Bryce Young, Alabama; Aaron Wilson, Houston's KPRC-2
New Houston head coach DeMeco Ryans was a Texans rookie in 2006, the fifth and last season overall No. 1 pick David Carr quarterbacked the club. Ryans hopes this pick sticks around longer.
3.CARDINALS _ DE Will Anderson, Alabama; Darren Urban, azcardinals.com
They're in a prime spot to move out for a team wanting a quarterback. If not, take the best player in honor of the departed Chandler Jones.
4.COLTS _ QB Anthony Richardson, Florida; Stephen Holder, ESPN.com
It sounds like the Colts are split on Richardson and Kentucky's Will Levis. Richardson has the bigger upside, which also means he has the biggest bust potential. Indy looks like it wants to build from the ground up.
5.SEAHAWKS  _ DE Tyree Wilson, Texas Tech; John Boyle, Seahawks.com
In his end-of-season news conference, head coach and defensive guru Pete Carroll said his defense needs to "become more dynamic up front." Here's Exhibit A.
6.LIONS _ DT Jalen Carter, Georgia; Mike O'Hara, detroitlions.com
O'Hara has been covering the Lions since the Carter Administration and worked the beat with Jerry Green, the Detroit News icon who died last week after covering every Super Bowl but the last one. O'Hara recalls how Green's wire service background formed his tireless work ethic and thoroughness. And that's what the Lions have been doing in the draft up front lately. Two years ago Penei Sewell. Last year Aidan Hutchinson. Now Carter as the Lions beef up their contender's role.
7.RAIDERS _ CB Devon Witherspoon, Illinois; Vinny Bonsignore, Las Vegas Review-Journal.
Last in turnovers. Next to last in interceptions. Second fewest passes defensed. Fourth most passing yards allowed. Seventh most points allowed. With Jimmy Garoppolo here, they need to defend the passer instead of draft the passer.
8.FALCONS _ DT Bryan Bresee, Clemson; D.Orlando Ledbetter, Atlanta Journal-Constitution
There's not much the Falcons don't need on a defense that allowed the sixth most yards. Start with another in the line of productive defensive linemen from the Tigers.
9.BEARS _ LT Broderick Jones, Georgia; Brad Biggs, The Chicago Tribune
With four defensive linemen gone in the first eight picks, Chicago turns to its other priority and adds to the offensive front.
10.EAGLES _ DE Myles Murphy, Clemson; Zach Berman, The Athletic
Per Berman, the Eagles always prioritize the line of scrimmage and at 21, Murphy has the college production and NFL frame and traits worth developing.
11.TITANS _ LT Peter Skoronski, Northwestern; Paul Kuharsky, paulkuharsky.com.
The first draft pick in a post-Taylor Lewan era the Titans have not brought back four of their most experienced offensive linemen. If it doesn't work out at tackle, Skoronski can kick inside to guard since their first move in free agency was signing Eagles tackle Andre Dillard.
12.TEXANS _ WR Jaxon Smith-Njigba, Ohio State; Aaron Wilson, Houston's KPRC-2
On Tuesday night, he was at Fenway Park to watch brother Canaan Smith-Njigba, a rookie outfielder for the Pirates, help beat the Red Sox while fans cheered him in hopes the Patriots draft him. Instead, he'll be watching the world champion Astros.
13.JETS _ LT Paris Johnson Jr., Ohio State; Rich Cimini, ESPN.com
The Big Willie Anderson disciple and Anthony Munoz Lineman of the Year via Cincinnati's St. Xavier and Princeton high schools is headed to the Big Apple. With Duane Brown turning 38 and Mekhi Becton playing one game in two years because of knee injuries, Gang Green needs some green at tackle.
14.PATRIOTS _ CB Christian Gonzalez, Oregon; Karen Guregian, The Boston Herald
Guregian, chronicler of the six Super Bowl titles, asks a question. When have the Pats won a Super Bowl without a shut-down cornerback? Start with Hal-of-Famer Ty Law, go to another Hall-of-Famer, Darrelle Revis, and stop at Stephon Gilmore.
15.PACKERS _ DE Lukas Van Ness, Iowa; Pete Dougherty, The Green Bay Press-Gazette
One edge (Rashad Gary) is coming off an ACL tear. Another edge (Preston Smith) turns 31 during the season.
16.COMMANDERS _ CB Deonte Banks, Maryland; John Keim, ESPN.com
Washington stays home as the club anticipates starter Kendall Fuller staring at free agency next season.
17.STEELERS _ CB Joey Porter Jr., Penn State; Gerry Dulac, The Pittsburgh Post-Gazette
Is the son of the Bengals' arch-villain the answer? Steelers head coach Mike Tomlin has drafted 17 cornerbacks and only one has received a second contract.
18.LIONS _ RB BIJAN ROBINSON, Texas; Mike O'Hara, detriotlions.com
With both trenches stocked up and second-rounder D'Andre Swift suddenly headed into the last year of his deal, they get another one and he's the best in the draft.
19.BUCCANEERS _ RT Darnell Wright, Tennessee; Pete Prisco, CBS Sports
Prisco, the Florida Football Fount of Knowledge, says Wright is the perfect fit on the right side of a club contemplating moving Tristan Wirfs from right to left.
20.SEAHAWKS _ OLB Nolan Smith, Georgia; John Boyle, Seahawks.com
Pete Carroll echoes as the Seahawks double up on edge rushers.
21.CHARGERS _ WR Quentin Johnston, TCU; Jeff Miller, The Los Angeles Times
All the edgers are gone, so with no running mate for Joey Bosa they look to get some speed in a very good room that lacks a burner for Justin Herbert.
22.RAVENS _ WR Jordan Addison, USC, Jeff Zrebiec, The Athletic
If Baltimore doesn't come out of the draft with at least one wide receiver, does it matter much who is the quarterback? Personnel boss Eric DeCosta has vowed to get them with youngsters Rashod Bateman and Devin Duvernay flashing but inconsistent, special-teamers James Proche II and Tylan Wallace trying to make the jump and 30-year-old Nelson Agholor looking for his second 800-yard season.
23.VIKINGS _ QB Will Levis, Kentucky; Mark Craig; Minneapolis Star-Tribune
With the run of cornerbacks seemingly done, the Vikes turn to an issue they have to face sooner or later with Kirk Cousins, as of now, in a contract year. With Levis surprisingly here, they do it now instead of later in this draft or next year
24.JAGUARS _ TE Michael Mayer, Notre Dame; Michael DiRocco, ESPN.com
The Northern Kentucky native who grew up 15 minutes from Joe Burrow goes to play catch with another overall No. 1 in Trevor Lawrence. The Jags have franchise tagged Evan Engram, the only receiving tight end they have, and don't yet have a long-term deal.
25.GIANTS _ WR Zay Flowers, Boston College; Mike Eisen, Giants.com
Quarterback Daniel Jones has guys to throw to, but they're seeking dynamism from somebody other than running back Saquon Barkley.
26.COWBOYS _ TE Dalton Kincaid, Utah; Todd Archer, ESPN.com
The offensive line is also in the realm, especially with Archer knowing they haven't taken a tight end in the first round since David LaFleur in 1997. But he also knows they lost starting tight end Dalton Schultz in free agency.
27.BILLS _ MLB Drew Sanders, Arkansas; Mark Gaughan, The Buffalo News
The Bills are in a tough spot. The wide receivers seem to have run their course here and if they want one they'd have to trade back. If not, Tremaine Edmunds has left in free agency and Sanders' NFL comp via NFL.com? Tremaine Edmunds.
28.BENGALS _ TE Darnell Washington, Georgia; Geoff Hobson, Bengals.com
It's not so much predicting the pick, it's projecting the potential universe of players at the Bengals' disposal from which they make the pick. Using a gaggle of draft big boards from out in the universe and their needs, it may look something like this:
Washington, Oklahoma tackle Anton Harrison, Pittsburgh defensive tackle Calijah Kancey, Michigan defensive tackle Mazi Smith, Iowa State defensive end Will McDonald IV, Mississippi cornerback Emmanuel Forbes and others, of course.
But the reality is, the player they're going to end up with is probably one of the 27 preceding names. As they found out last year when Michigan safety Dax Hill was there at No. 31, somebody always seems to be there whom you had rated higher than where you're picking.
The nice thing is, just like last year, the Bengals are drafting for depth and development. They don't need an Opening Day starter at No. 28.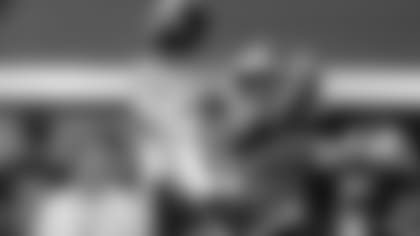 When it comes to tight ends in the first round, there are a few schools of thought.
Start with, Why? The way the Bengals are so wide-receiver centric, why would they spend a first-rounder on one? Particularly after they've won with two different vets (C.J. Uzomah and Hayden Hurst) the last two seasons and are ready to do it a third time with five-year vet Irv Smith Jr.?
And now you're going to draft a guy like Washington? Primarily a blocker for the two-time national champs with just 45 catches in three seasons? The Draft Network argues he's suited more for a run-oriented scheme heavy on play-action. And it's a matter of what you like. PFF rates him the 69th player while Scouts Inc. has him at No. 31.
But the imposing 6-7, 265-pound Washington has a lot of things the Bengals have chosen in Duke Tobin's draft room during the Roaring '20s. He's big (some publications think he could eventually play tackle), athletic (he played high school basketball in Las Vegas) and is fast with a 4.6 40-yard dash. They also love players from winning programs and Washington has one more national title than Burrow, Tee Higgins and Ja'Marr Chase. And production. Yes, just 45 catches. But he got them in 27 games for 17.2 yards per catch.
You can say they're receiver-centric, but Burrow has this terrific knack of finding his tight end in huge moments. Think back to C.J. Uzomah and the 'You-can't-zero-me' two-minute drill against the Jags. Or how about Hayden Hurst's walk-in red-zone touchdown in the AFC Divisional that put them up an untouchable 14-0? Imagine if he had the same tight end for five years?
Washington is certainly not going to blow the top off a defense, but draftnicks seem to believe he's a monstrous matchup in the red zone and a reliable catch in the seams of zones.
PFF says, "If your offense wants an offensive tackle who can also run routes and make guys miss after the catch, Washington is your man." One NFC area scout told NFL.com, "He creates so many advantages in the run game because of his size and strength, but I think the same is true in the passing game when they utilize him."
Which sounds pretty good. A weapon for Burrow who can also block for him? Where can I sign up?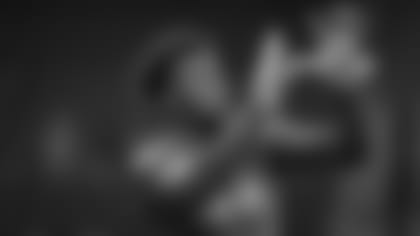 As for the rest of the universe:
Even though No. 1 cornerback Chidobe Awuzie looks good in his ACL rehab, second-rounder Cam Taylor-Britt was one of the top rookies in the league and they signed third cornerback Sidney Jones IV in free agency, it's the old adage.
Same with already having one of the best edge tandems in the league in Trey Hendrickson and Sam Hubbard, along with the blossoming Joseph Ossai and the newly signed Tarrell Basham. It's the old adage.
You can never have enough corners and edge rushers, so they're always going to be on the list.
The defensive tackle depth was so huge last season when should-have-been Pro Bowl nose tackle DJ Reader went down for six weeks and backup Josh Tupou went down for half that time in the same stretch.
Reader and Tupou are really their only true massive nose tackle types, although last year's third-round three- technique Zach Carter held up. The 6-foot, 280-pound Kancey not only comes from Aaron Donald's alma mater, he has the same type of smallish dimensions and a dangerous first step. He's not a nose tackle, but Pro Football Focus graded him the nation's top interior defender with a 92.4 pass-rushing grade. The Bengals drafted a future Hall of Fame three-technique in Geno Atkins with a similar M.O. who turned out to be just as good against the run.
If they want a true nose tackle, Michigan's 6-3, 323-pound Smith has graded out at as the second most athletic defensive tackle. Some compare his style to Dontari Poe, some say he's a second-day pick. One thing is for sure. They haven't drafted a defensive tackle in the first round since they took Dan Wilkinson No. 1 overall in 1994 and haven't taken a defensive lineman since end Justin Smith went No. 4 in 2001. So who says they're going to start now?
A tackle is always nice, too. But they already got one from Oklahoma this offseason. Orlando Brown Jr. And maybe two with Cody Ford now in the mix at right tackle with Jonah Williams, Jackson Carman and Hakeem Adeniji. That's a lot of tackles.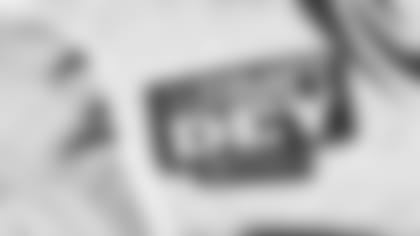 2023 Draft Dey Center
The official sources of news, photos, interviews and more of Draft Dey 2023, presented by Integrity Express Logistics.