Bengals fan Ava Wickham and her husband John got a unique behind-the-scenes experience traveling with the team to Oakland.
The Experience of a Lifetime contest was part of the year-long NFL 100 celebration. Hall of Famer Anthony Munoz surprised Ava on the sidelines before the Jacksonville game to tell her she was the winner.
"I never win anything, that's what I'm thinking right now," Ava said after the surprise. "I've been a lifelong Bengals fan. Win or lose, I love the team. I'm from Cincinnati, I love Cincinnati. I'm just so happy."
Ava's behind-the-scenes experience started with a ride on the team bus to the airport, where her and her husband took a few pictures before boarding the plane.
Ava talked about how excited she was as the trip got started.
"I can't believe I get to do this. I'm looking forward to the entire experience, seeing what the players go through and their routines. I have never been to Oakland, never been to the Black Hole, I'm really looking forward to it."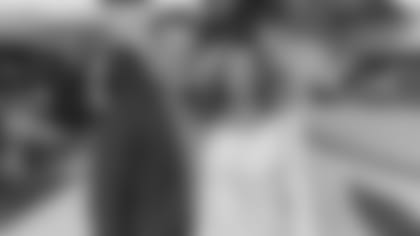 Then it was time to board the plane.
"It was surreal," Ava said. "I loved every second. I've never been able to drive right up to a plane and get right on it. I couldn't believe how nice the plane was and how much food there was."
Ava even got a special visit from running back Joe Mixon during the flight.
"Joe is so sweet. We talked about everything from football to my husband's service in the military to Joe's family coming to the game and how excited he was to see them. Joe was with us for almost two hours. It was great to get to know him."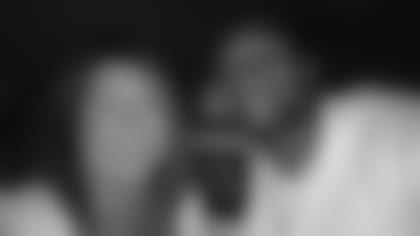 After arriving in Oakland, Ava checked into the team hotel and headed to the team dinner, where she got to spend time with Bengals owners Mike Brown, Katie Blackburn and Troy Blackburn.
"That was really special," Ava said. "Mr. Brown to me is an icon. He's a kind, gracious man and he treats you like family. And Katie and Troy were nice as can be. I was really happy to get to speak with them."
After dinner, Ava got to meet a few more of her favorite players, including quarterback Andy Dalton and defensive end Carlos Dunlap.
"I thought I would be nervous, but not at all. It's very comfortable and feels like family. I feel like I know a lot of the players from years of going to games. It's actually a lot of fun."
On gameday, Ava traveled with the team to the stadium, walking straight out onto the field with the players. She was down on the sidelines pregame before watching the game in a suite.
Ava said this trip was definitely an Experience of a Lifetime.
"When will I ever have an opportunity to travel with an NFL team again and do everything they do? This is so exciting."