Whenever the Bengals' roster is in flux, as it always is this time of year, the best place to re-group to get a snapshot is special teams and such as it is Sunday in Buffalo (4 p.m.-Cincinnati's Channel 19) when head coach Marvin Lewis stages the so-called "dress rehearsal," in the third game of the preseason. With special teams coordinator Darrin Simmons bracing for the quicksilver Bills that live on quick, undersized backers, the Bengals slow burn for speed over the last two years that has brought you sizzlers such as John Ross, Darius Phillips, Brandon Wilson and Malik Jefferson gets tested.
Some of the bigger battles have nothing to do with the kicking game, like the back-up quarterback duel between Matt Barkley and Jeff Driskel played out in front of, of all people, injured Bills quarterback AJ McCarron, Andy Dalton's backup the last three seasons. That's set to consume most of the second half after Dalton and the ones probably get pulled at halftime or after the first series of the second half. Or young defensive tackles Andrew Brown and Josh Tupou scrounging for the last defensive line spot. And no one is going to be shocked if Alex Redmond starts at right guard for the first time this preseason as the Bengals try to settle on a starting offensive line for the Sept. 9 opener in Indianapolis.
But as Lewis and his staff try to resolve how many players to keep at what spots, no matter how you slop on the makeup in the dress rehearsal, special teams matters. It's a fish bowl now under a microscope as Simmons grapples with the new kick-off alignment. The biggest changes feature the cover team prohibited from a running start and the return team stripped of two-man wedge blocking, which in the kicking game universe is like changing balls and strikes.
As much as offensive coordinator Bill Lazor and defensive coordinator Teryl Austin ripped up the previous playbooks this offseason, the coordinator that's been here all of Lewis' 16 seasons may be undergoing the most change after the NFL legislated the rule on the eve of spring practices.
"From a scheme point, yeah, it's all different. Well, not all different, but 75 percent of it is different than what it used to be. It's a lot of new stuff," Simmons said this week. "I've made adjustments between Week 1 and Week 2, or before Week 1 and after Week 1, made adjustments to schemes based on timing. The timing is what's going to be different. The kickoff coverage team is not going to be as deep down the field, not be as fast down the field."
Joining in the fun is Phillips, the fifth-round cornerback and college football's all-time leader with 12 return touchdowns for Western Michigan. He ripped off a 44-yard kick return last Saturday night in Dallas and is averaging 28 yards per on his first five NFL shots. Throw in a 24-yard punt return against the Cowboys and Simmons knows he may have something here. Like he did two years ago when rookie wide receiver Alex Erickson returned everything but his library books to take a job away from all-time franchise leader Brandon Tate.
"He's made a couple nice plays. That's what he did in college. He's got a knack," Simmons said of Phillips. "He's got a level of elusiveness to him. And he has a feel for it. And he's made a couple plays. Again, he's doing the second half against a lot of the other team's twos. It would be nice to get him up with the varsity."
Translation: look for Phillips to be returning early and often against the Bills.
"We did the same thing (two years) ago with Alex," Simmons said. "We played Jacksonville week three. Alex made a couple of plays week one vs. Minnesota, week two vs. Detroit and we put him in there in the first quarter in Jacksonville. We'll do the same thing with Darius. I've got to see him (vs. the 1s)."
Now hear this. Phillips and Erickson aren't battling for the same roster spot. Both are pretty safe when it comes to the final cut on Sept. 1. Erickson has been his usual extremely competent self in the slot and he's already got an AFC kick return crown to his credit. Phillips has struggled at times at corner, but he's a rare athlete that plays a rare position and he's showing you why.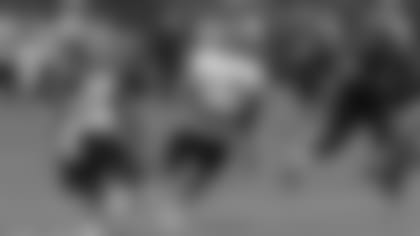 But other spots are hinging on injuries and special teams with two of Simmons' biggest contributors (one proven in veteran wide receiver Cody Core and one projected in fifth-round cornerback Davontae Harris) battling injuries that may or may not take them out of the mix for a spot on Sept. 1. So can rookie wide receiver Auden Tate show them enough in the next two games in the kicking game to come close to giving them what Core does on teams? And if Harris can't answer the bell with a sprained knee, can journeyman cornerback C.J. Goodwin to continue to impress Simmons with his speed despite his ripe old age of 28?
Simmons is mixing it up Sunday in order to find out those answers and others.
"The starters play the whole first half and twos play the whole second half," Simmons said. "I will substitute guys in the first half with the starters. I don't carry just one team the first half. There will be changes. There will be different first-team guys than there were last week. You want to see the first guys and I'll sub guys in. What you see Thursday night (in the pre-season finale) may not be what rolls out (Sept. 9).
What you'll see is why Erickson's experience is so important, especially in the early days of this rule change. Simmons knows teams are trying attack the change with as many schemes as there are teams.
"We try to teach our returners to have an internal clock and they count, one thousand one, one thousand two, one thousand three, one thousand four," Simmons said. "If they get to four and they're catching it after one thousand four, they better set it down because it's a high hang time. Or we could have some sort of right return on and they kick the ball left. Stuff like that all factors into it, too. We had one on the very first one of the preseason that way. We had a right on and they kicked it left.
"I have no idea which way they're going to kick it in the preseason, plus you're playing at night, so the wind factor is not the same at night as it is at 1 o'clock on a Sunday here. The wind typically lays down. So I had a right call and it immediately went left and I'm yelling at Alex "set it down, set it down, set it down!" He caught it right on that red line five yards deep."
The funny thing is the 5-10, 193-pound Phillips has no idea about the old rules. All he knows is the Rules According to Simmons.
"The most important thing is catching it," said the 23-year-old Phillips. "The second most important thing is setting up your blocks and using your cuts. In college, I just tried to make them miss."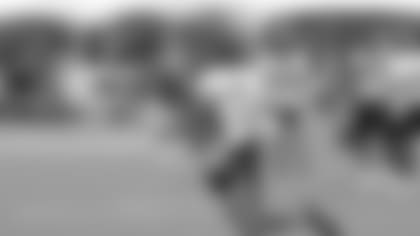 Here's a guy that didn't grow up watching great NFL returners like Devin Hester and Josh Cribbs. He didn't start playing football at Detroit's Robichaud High School until he was a junior. He was all basketball until then and he was watching Pistons like Chauncey Billups and Rip Hamilton. With his best 40-yard dash logged at 4.39 seconds, he's taking full advantage of Simmons' edict to run everything out this preseason so he can compute later.
"There's going to be bigger plays. We've seen that already," Simmons said. "It's going to be more difficult to make plays inside the 20 … I think part of that depends on what rules you give your returner about where do you get the green light to bring it out from? Is it two yards deep? Is it five yards deep? Is it anything in the end zone you set it down?
"Right now in the preseason I want to (run it out) because I want to be able to test that and see what that number is. After the preseason is over we'll collect everything and try to look at the numbers and try to find what that number is for the depth. Right now I want to try to cover everything, and I want to try to return everything so we have a chance to see."
Erickson, who led the AFC as a rookie, has two kick returns in the new era and kind of likes it.
"It's a little bit more open now. It's more like a punt," Erickson said of his 23-yarder and 19-yarder. "You've got more room out there with the cover team not running right at you and all that one-on-one blocking. It's only a small sample. It's a learning process. It's an evolving type deal."
The one thing everyone knows now is that there is a premium on speed covering kicks. Simmons, who thinks the overall team speed has improved, has been replacing, at times, linebackers with DBs. That's where Phillips' 4.39 stuff may come in pretty handy and Simmons is hinting he wants to see that Sunday, too. Can cover as well as return? Auden Tate was the hero of the pre-season opener with the winning touchdown catch. But the next week, his special teams debut was a little rocky.
"I think it was a mixed bag. About what I thought it would be being his first game," Simmons said. "It's about how I thought he would play. A rookie receiver playing his first pre-season game (on teams). A little up and down, but not terrible.
"It's probably harder for guys like that, receivers, to play special teams after playing offense because they're playing in space and he has to go block somebody in space or cover and tackle somebody in space. I think if you ask all these linebackers they'd say it's harder to play special teams than defense because you're playing on a small field."
But it's really a pretty big space. It's where some of those last few roster spots come to rest.