The Bengals fan favorites took over the orange-and-black festival known "Back Together Saturday," when the AFC champions welcomed back the faithful to Paul Brown Stadium for a training camp practice started by Man of the People running back Joe Mixon's address to the fans and ended with Evan McPherson's 65-yard bomb of a field goal that was the longest seen in these parts by special teams archivist Darrin Simmons.
And in between, GQ wide receiver Ja'Marr Chase drew the biggest cheers from the crowd of 28,283 with a mere wave of the gloves of the NFL's hottest young receiver.
"I wanted a big one," said Simmons, in his 20th season as the Bengals special teams coordinator and longest tenured kicking game coach in the NFL. "Why not get a chance to do something to perform? Do something for the crowd?"
McPherson is coming off the most prolific season ever by a rookie kicker that included a record 11 field goals of at least 50 yards, as well as the playoff-record three games with at least three field goals. But he's one of the most popular Bengals because his two walk-off field goals in the postseason put them in Super Bowl LVI.
On Saturday, the crowd, believed to be the biggest to ever see a Bengals non-scrimmage practice, remembered and roared McPherson to the 65-yarder. The kick supplied the perfect metaphor on a day Bengalmania is clearly here for a while. As is McPherson as the good times keep rolling.
"You feel the energy of the crowd," McPherson said. "It definitely helps you a lot to build off their energy and just take it into the period. I just wanted to give them a show."
Mission accomplished. Kevin Huber, in his 14th season as the holder here, estimated McPherson had a few yards to spare on a perfect 85-degree day. Everyone had their slide rule out. Would it have been good from 70? 72?
"Mathematician or engineer, I don't know what the right word is," said head coach Zac Taylor. "But to know the judgment on how many more yards that would go and how drastic the drop off is, I can't really compute that. I'm not smart enough. I went to four colleges."
The school that McPherson attended, Florida, is where he hit a pair of 68-yarders in a team setting. He also hit a windy 75-yarder fooling around on the side in Gainesville, but this one was clearly the longest one Taylor had seen him hit as a Bengal. And it wasn't all that long ago, back in June, when he ended the spring voluntary sessions with a 63-yarder.
Now you know if there's a day like this in Cincinnati in September and October, Taylor won't be nuts for rolling out McPherson for maybe even a 68-yarder.
"We showed it today. If the situations were right at the end of the half or the end of a game I think we're comfortable from 68. Around there," McPherson said. "Indoor it's more 65-66. Outside you normally have kind of a wind aid. Or hurt. Definitely into the wind we're not going to try anything longer 62."
Huber joked, "There was a hurricane behind us," as an ever so slight breeze rustled.
McPherson: "Not sure at the time of the kick. We did know that there was a little wind helping that was kind of a crosswind."
McPherson had an extra day of rest because Friday's session was cancelled when rookie end Jeffrey Gunter went down on one of the last plays of practice with what looked to be a severe ankle injury. But he was up and running around Saturday and so was McPherson.
With cornerback Mike Hilton positioned about a yard away whispering not-so sweet somethings, McPherson made six of the first seven kicks leading up to the big one.
"(Hilton) said he's going to be doing this all year and this year isn't like last year," McPherson said. "And they were saying over the speakers the stats from last year and he was like, 'Those are last year's stats. This is a new year.' "
When McPherson banged his only miss off the right upright on a 45-yarder, Hilton told him he was in his head. But McPherson got the last word.
"The good thing about missing is you never miss twice," is what McPherson says he told Hilton. "So you know I was going to make the next one."
Here's the trivia question. We all know Huber was the holder. But the long snapper wasn't Clark Harris, who has been snapping as long as Huber has been holding. He was the snapper on the first four tries of 37, 41, 45 and 48 and threw it back to first-year punter Drue Chrisman.
Rookie Cal Adomitis was the guy snapping on the long distance ones to Huber on the kicks from 50, 52, 53 and 65.
"He did a good job today. The whole operation did a pretty good job today," McPherson said. "I feel like I'm getting comfortable with both sets. We're interchanging each one. It's focusing not on who is holding or snapping, just when the ball gets there the whole process is the same."
Like every young kicker, McPherson followed Ravens great Justin Tucker and he got a big thrill after ending the AFC title game in overtime with a 31-yard field goal when Tucker reached put to congratulate him for his year and to wish the Bengals good luck in the Super Bowl.
Every school kid knows Tucker has the NFL's longest field goal at 66 yards.
"That would be a fun one to have," McPherson said. "I think every kicker wants to have that record. We'll see."
What we saw Saturday is that McPherson breaking Tucker's record isn't fantasy.
PLAYER OF THE DAY: CB Chidobe Awuzie
You could have picked McPherson or any of the defensive backs. They had a hellacious day, particularly in a 7-on-7 low red zone period that put the ball inside the ten. In about 15 snaps, quarterbacks Brandon Allen and Jake Browning couldn't complete a touchdown pass.
Awuzie, who in his first season as a Bengal last year played the best cornerback anyone had seen around here since the heyday of Leon Hall, has picked up where he left off. One snap was most conspicuous because he was up against Chase, last year's NFL Offensive Rookie of the Year.
Chase has been catching what seems to be nearly every contested ball this camp. It might not always be in-bounds, but he's caught them. Like Saturday's skyscraper ball over the middle. He launched himself between Hilton and Awuzie, secured it and held on as he came back to earth.
On one red zone play, it looked like Chase had a sure touchdown catch coming across the middle. But although Awuzie was trailing the play, he never gave up. As Chase latched onto it, Awuzie kept digging and wrenched the ball away from Chase at the last instant.
"He's just like the quiet assassin out there. I mean, that guy does his job to the highest level. It's hard to say that he's underrated," Taylor said. "It's like, you don't hear a lot about him, but his value on this team is through the roof. The reliance we have on him, the confidence we have in him, he's so confident in himself. He puts in the work. He's a fun person to talk to.
"He's not the loudest guy on the team. But he's just got that quiet confidence about him. He's just so fun to be around. You say lucky to have him. We added him for reasons we knew. I think the impact he's had on our defense, on our locker room, on our coaching staff, he's a tremendous player and person to have in our building."
PLAY OF THE DAY: RB Joe Mixon
Getting the mic from Taylor to welcome the fans back as Mixon led a robust Who-Dey the only way Mixon can?
Or his dazzling one-handed catch down the left sideline off quarterback Brandon Allen's scramble with long, lean 6-3 cornerback Tre Flowers in his face?
Or maybe it was the talk he had Saturday morning with Taylor about what they had talked about only briefly before now: Mixon not appearing on the Bengals' last drive of the Super Bowl in which they failed to convert third-and-one and fourth-and-one.
Together, they put the play-by-play sheet of Super Bowl LVI in the archives forever.
"Zac and I had a conversation. A real conversation between each other and I definitely thought it was a great one to have," Mixon said. "What was said between us will stay between us. At the end of day we're going to move on from it. Next time we're in that situation, if there is a next time and I firmly believe that there will be, we're going to do whatever we can to conquer the situation."
Mixon continues to embrace his role as emotional program leader. During one of the special teams periods, he took a tour of the North end zone, reaching up and shaking hands and signing the occasional football.
And Taylor continues to see Mixon as one of his invaluable great skill players who puts the team ahead of personal numbers.
"He's such a team guy, you absolutely should feel passion about that situation," Taylor said after Saturday's practice. "He's handled it outstanding. That's much appreciated. He knows that. That's one of the reasons why you want to get back to those moments and keep it going.
"He makes an impression on this entire building. You see him going around signing autographs during the practice today. That's not for show. That's not just because there's people. I see that when I go to his camp in Cincinnati. I'm sure people see it at his camp in California. That's just his interaction with everybody he comes across. He's one of the most genuine players I've ever been around. He's definitely appreciated by everyone here in this organization."
For Taylor, it was a no-brainer to hand the mic to Mixon to start the show.
"He's a guy that brings a lot of energy. That's what you are looking for when you are talking to the crowd," Taylor said. "We haven't voted captains yet but he was a captain on the team last year. He's a team leader. Practices with a lot of energy. The fans love him. He brings a lot of energy when he's on the mic. That's a pretty easy selection."
Mixon didn't take it lightly.
"To welcome everybody, all the fans for the first time back to see the players in live action," Mixon said, "that's something I'll always be grateful for and very thankful."
As Mixon gamboled through the afternoon, he's certainly comfortable as a fan fave.
"I kind of took over that role a few years ago and I'm embracing it," Mixon said. "And I try to do what I can to remain that."
As for the catch. Mixon shrugged.
"That's what I do," he said. "Nothing's changed."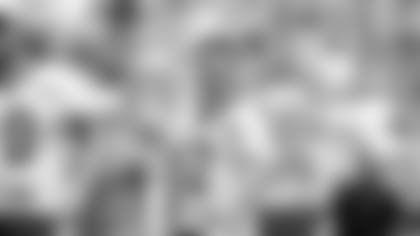 K Evan McPherson on CB Mike Hilton saying he was in his head after a miss:
"I told him, 'The good thing about missing is you never miss twice.' So you know I was going to make the next one."
SLANTS AND SCREENS: Taylor offered no timeline on quarterback Joe Burrow's return to the field or the facility as he recovers from an appendectomy.
"We're trying to give him some privacy and I'm sure he'll be back in when he's ready," Taylor said. "I've talked to his entire family so you try to leave him alone to an extent." …
Wide receiver Mike Thomas (foot) and rookie end Jeffrey Gunter (ankle) went down Friday like they were maimed. But both were back at it Saturday …
Nose tackle D.J. Reader got a veteran's rest day and third-rounder Zac Carter took his spot next to B.J. Hill …
Edge Joseph Ossai (knee, wrist) is doing everything but team and that should be fairly soon … Middle linebacker Logan Wilson (shoulder) is looking for a late August return to team drills …
The Bengals are off Sunday and back at it on the practice fields Monday at 2:15 p.m.