The eighth season of NFL Network's Emmy-nominated series A Football Life continues Friday, Nov. 23 at 8 p.m. ET with a profile of former NFL wide receiver and 16-time Emmy award-winning broadcaster for NBC Sports Cris Collinsworth. The one-hour show produced by NFL Films features sitdown interviews with Collinsworth, NBC Sports broadcast partner Al Michaels, former NBC Sports president Dick Ebersol, former teammates such as Boomer Esiason and Anthony Munoz, family members and more.
Each episode of A Football Life – as well as all NFL Network programming – can be streamed live through the NFL app and via Watch NFL Network on smartphones, tablets, PCs and connected TV devices (Amazon Fire TV, Android TV, Apple TV, PlayStation 4 and Roku). Access is available for NFL Network subscribers of participating TV providers. For more information, go to NFL.com/watch.
Among the topics discussed in Cris Collinsworth: A Football Life are:
Switching from quarterback to wide receiver at the University of Florida after Steve Spurrier's arrival as offensive coordinator
His eight-year career with the Cincinnati Bengals, which included two Super Bowl appearances and retiring as the Bengals' all-time receptions leader
Beginning his broadcasting career with HBO Sports and becoming the color commentator for NBC's coverage of Notre Dame football
Joining FOX Sports in 1998 and returning to NBC Sports in 2006
His job as color analyst for NBC's Sunday Night Football
Emmy-nominated actor Josh Charles narrates.
Cris Collinsworth: A Football Life includes interviews with the following people and more:
Holly Collinsworth – Wife
Austin Collinsworth – Son
Al Michaels – NBC's Sunday Night Football play-by-play announcer
Dick Ebersol – Former NBC Sports president
Fred Gaudelli – NBC's Sunday Night Football producer
Ross Greenburg – Former HBO Sports president
Anthony Munoz – Pro Football Hall of Fame offensive lineman
Boomer Esiason – Cincinnati Bengals teammate
Sam Wyche – Former Cincinnati Bengals head coach
Ken Anderson – Cincinnati Bengals teammate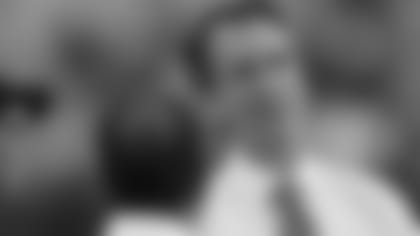 Provided below are some select quotes from Cris Collinsworth: A Football Life:
- "I'm not going to sugarcoat it. I'm not going to give you something just so the coach or the player doesn't get mad at me. I'm going to tell you what I think, and I think that's the job." – Cris Collinsworth
- "He outworks everybody else. He's about the best prepared human being I have ever known." – Dick Ebersol
- "I can't imagine anybody has a better job than I do. You have to occasionally in life step back and go, 'I am the luckiest guy in the world, this is the greatest job in the world.' I do it more often than not." – Cris Collinsworth
- "Right away I learned it didn't matter how lean, how skinny, the guy is one of the toughest guys I'd ever seen play the game." – Anthony Munoz
- "He always had a nice communication way about him on the sideline that was calming. Probably to this day the smartest football player that I've ever played with on the field." – Boomer Esiason
- "He understands the game so thoroughly and he's done such an enormous amount of homework. He sees things that I don't think any other analyst does." – Al Michaels
- "Failing at quarterback impacted my entire life. Train as a receiver, good things happen, I have a nice long career, become a broadcaster out of it – it's amazing. Don't be so afraid when life changes." – Cris Collinsworth
- "Probably didn't dawn on me at the time that I was arguing anything against Philadelphia. I was arguing the calls that had been greatly frustrating for everybody involved in the NFL." – Cris Collinsworth on the reaction to his Super Bowl LII broadcast