Bengals head coach Zac Taylor presided over an emotional moment in Thursday night's post-game locker room when he told the team that rookie running back Rodney Anderson had torn the right ACL he had just finished rehabbing two weeks before and how it was the latest in an unthinkable string.
If anyone could even come close to understanding the heartbreak, it was veteran tight end Tyler Eifert.
"I was thinking about that as he was talking," Eifert said after Friday's light workout. "I was thinking about what I could say to him from my experience."
Taylor, a native of Norman, Okla., knows full well each tragic twist and turn of Anderson's career at Oklahoma, where he suffered three serious early-season ending injuries. A broken leg. Broken neck vertebrae. Last season that ACL tear in the second game of the season. Now this. In between it, all his one healthy season was an out of this world 1,000-yard year on more than six yards per carry.
Taylor told his players to keep Anderson in their thoughts and to let him know they were with him.
"He's a guy who goes about it the right way. I've said that all along. He's what we want this team to look like in terms of the approach," Taylor said after Friday's practice. "I know that he's a great kid. He certainly has faith to fall back on. He's strong in every way …
"This will test any man, but I know he'll come back stronger. But you just feel terrible for him that it happened the way it did.
"I talked to him after the game and just as anyone's spirits would be after you fought back and overcome some adversity and all the sudden you're faced with the exact same adversity. Again, he's a tough kid. He approaches life the right way. I'm confident he'll fight through this."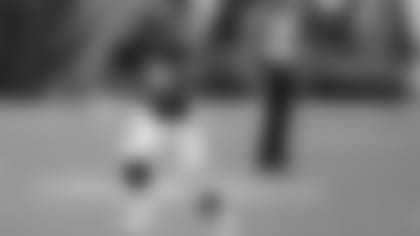 So is Eifert, who turns 29 the day of the opener in Seattle. He's had four of his last five seasons cut short with traumatic injuries. A dislocated elbow nine snaps into one season. Ankle and back issues ganging up on him to limit him to ten games in two seasons. Last season's dislocated ankle in just the fourth game. That one healthy year? The Pro Bowl with 13 touchdown catches in 13 games.
He plans to seek out Anderson soon. If anyone knows when the right time is to reach out, it's Eifert.
"Once it happens, there's nothing you can do. You can't change it," Eifert said. "It's hard to stay positive in the beginning. It won't be very fun. He's probably going to be down. He'll be miserable. But then as he starts to get better and better as it flows in rehab, he'll feel better and he'll get better. It's not easy, but you have to remind yourself as long as you did everything you could to get better and you couldn't have prevented it, you can't go back now. So you might as well go forward with a positive attitude."
Like everyone else last week, Eifert was impressed watching the big (6-0, 224 pounds) Anderson chew up 51 yards on four catches like some pint-sized back, many of those yards after the catch. He believes Anderson can get back there because, well, he's been there.
"He's had the ACL before, so he knows what to expect. So that makes it a little bit easier," Eifert said. "It's a great feeling when you're coming off the injury and you're feeling good and feeling like yourself. Yeah, he looked good. That's what makes it tough. He'll be all right. He'll come back from it."
Eifert admitted right after it happened last season, thoughts of retirement floated through his mind. But not for long.
"He's been through it with a lot of injures, it will wear on you," Eifert said. "In the moment, in the first couple of weeks, I was thinking, 'Am I going to be able to walk normally?' Some wild thoughts go through your mind. But that goes away as you go through it and you get better and better."