As the point man for arguably the NFL's most successful drafts of the 2020s, Duke Tobin heads into his 24th draft with the Bengals shaking his head over the vast differences between the one that starts a week from Thursday night and the one that ended the 1990s.
The one constant as the Bengals mull the 28th pick in the first round is Bengals president Mike Brown.
"The game has evolved and we've both evolved with it," Tobin said Thursday. "There's been quite an evolution in how you prepare for a draft and execute a draft and the rules surrounding it. I've learned so much from Mike. He's a mentor."
Tobin, along with director of college scouting Mike Potts, has shepherded the Bengals draft room through a decade that began with the selection of a generational franchise player in Joe Burrow and has included the drafting of nine starters in the last AFC championship game.
A nice component, Tobin says, is that his scouting department and head coach Zac Taylor's coaching staff have largely stayed the same since Taylor arrived in 2019.
"The more you work with somebody, the more you're around them, I think the more you can gel with them and understand their points of view and what they're looking for and how they operate and what they mean when they say certain things," Tobin said. "Familiarity is great in scouting. That's what makes our scouting staff good. We've been around each other a long time. We've merged our philosophies over the years."
Tobin watched Brown do it for years and says his influence in his career is far-ranging. The continuity of Brown having Tobin is just as large as the continuity between Tobin and Taylor.
"(Brown) and I see football in a very similar light," Tobin said. "I think we have in our minds what's required to play effective football at different positions. And we both value those traits. We look at team building in a very similar light. We look at player value in very similar ways. I think that's because I've been around him so long. He has as much experience as you could ever want to watch, observe and learn from."
You can see it in how both view the process as consensus-builders.
"I try to go about a similar process myself. I've got to get myself ready to have an opinion as well," said Tobin as Potts runs the college department. "You know, we try to make decisions based on consensus. We try to get everybody on board and feeling good about it and that's what we spend a lot of time trying to do leading up to the draft."
Brown goes back to the 1957 draft; when his dad was looking to take a quarterback as the head coach and founder of the Cleveland Browns.
When the Steelers took Kansas quarterback Len Dawson right before him, Paul Brown took Syracuse running back Jim Brown, regarded as the greatest player of his time. Tobin often says the power of a scout lies in his experiences and Brown has seen just about all of them.
"Mike is always somebody I've looked up to," Tobin said. "You look at the players he's seen and he knows what they've been able to do and what they haven't been able to do. His experience running an NFL team is second-none."
Brown is as plugged into this draft as he was for Tobin's first as a Bengal. He knows the depth chart, he knows the prospects and he knows the questions to ask. He and Tobin have brought the Bengals to a point where the draft is scouting-centric and less coaching-centric.
"I wouldn't paint it with that broad of a brush," Tobin said. "There's always been a scouting component here. We've grown that and we've relied on it more as times have changed. But there's always been a collaboration here. I think that's something Mike has always wanted and he's right for wanting it."
The two biggest mentors of Tobin's career were born before Pearl Harbor in Brown and his father, Bill Tobin, a highly-regarded general manager in his day best known as the architect of one of the greatest teams of all time in the Chicago Bears of the 1980s who still watches and evaluates film for the Bengals.
So there's just enough old school mixed in with a staff where area scouts Christian Sarkisian and Andrew Johnson are the youngest, both born in the early 1990s, long after those Bears won a Super Bowl.
And it's that mix the Bengals bring into next Thursday night.
_How the addition of tight ends Irv Smith Jr. and Drew Sample help the Bengals draft the best player and not reach to fill a need.
"If we get an opportunity to add a young guy, we're not going to turn it down. We don't eliminate any position in the draft. If you start doing that you run out of players. And so we're going look at every position and what's available. And if the best guy available is a tight end, we'll probably go that route."
_Amid the hot debate over the value of running backs in the modern game, why drafting one early can't be discounted. (He'll also remind you five-receiver sets are only played about two percent of the time):
"If you say we're not going to take a running back or we're not going to take a tight end and we're not going to take a receiver, once you eliminate a position group or two, you can't get to 28 (players) anymore. You end up with third- and fourth-round picks in your top 28. So we're open to any position that presents itself they're the best player available. And if they're clearly the best player and they will have a role on our team, we'll certainly consider it. I do probably eliminate specialists from that first-round category, but other than that, it's hard to eliminate and I don't think we'll be taking a quarterback up there but everything else is wide open."
_Why the contract statuses of Burrow, wide receiver Tee Higgins, and linebacker Logan Wilson can't influence the draft:
"Whether we can get them extended beyond (this year) or not, the hope is that we could, but when we go into the draft we're still cognizant of what is important not only this year but two years from now. We're not heavy needs. Like. 'We've got to have a safety in the fifth round.' We don't do that. We let the fifth round come and see what the best players are, and then if there are (comparable) players; and there always are, there always are two or three or four guys that we like, then we can pick the position that maybe best fits us right now or maybe into the future.
"We're not jumping guys ahead of more talented players based on a position. It's just something over the years that we haven't done. I don't think it's a smart philosophy to say we're going to turn down these third-round picks to drop down and take this fourth or fifth- round talent because he fits the positional need that we want. You end up regretting that normally. They don't get better just because you draft them earlier."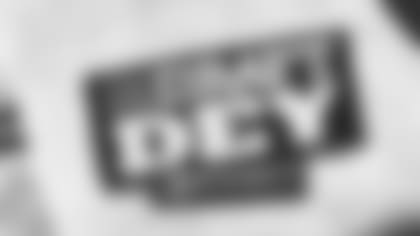 Draft Dey 2023 Center
The official sources of news, photos, interviews and more of Draft Dey 2023, presented by Integrity Express Logistics.
_Despite a raft of pre-draft calls to other teams, why they won't nail down a trade until they're close to the pick:
"What happens in advance is just feeling out. Everybody's open to trading. So you call around and say, 'Hypothetically if we want to come up from 38 to 28, are you guys interested?' 'Sure, give us a call.' Those are the feeling outs. The only thing that really matters is what happens in the moment and what happens as your pick is approaching. The conversations in the days leading up to it are not the ones that matter much, in my opinion.
"It's all dependent how convicted are you on the guy that is available that you will be picking and how much you're getting in return. But we'll look at it if it comes up. But it's all hypothetical right now."
_With just two quarterbacks on the roster, what that could mean on the last day of the draft.
"I think once the draft gets going that's certainly a possibility. If that's the best guy available, and we feel like he's going fit a role and a need for us, we'll certainly consider that as it goes."