Jeff Driskel has waited nearly a year to take a snap for the Bengals.
Jeff Driskel, the Bengals' third-string quarterback at a position they may not keep three, can make them if he lights it up in a preseason that begins Friday night (7:30-Cincinnati's Channel 12) against Tampa Bay at Paul Brown Stadium.
He's used to doing that. Even though he stopped playing baseball after his junior year at Oviedo, Fla., on the outskirts of Orlando the Red Sox still took him in the 2013 MLB draft after he fired up a 132.2 passer rating from under center at the University of Florida in 12 games instead of from his positon on the diamond in centerfield.
And then there's what he can do with a basketball when the Bengals take a break in their weight room.
"He's a specimen of an athlete," said George Iloka, who has seen plenty of that as the Bengals starting safety for the last five years. "I've seen him dunk between his legs 360 (degrees), pause in mid-air and dunk it off a vertical."
"He put the ball between his legs and put the ball behind his back and dunked it one hand," Iloka said. "It was just so effortless."
They like him. If he's not the most athletic quarterback the Bengals have ever had, he's close. But as they try to keep seven wide receivers, four tight ends, and four running backs, this is not exactly the year to go light on the offensive line, right?
But they liked him enough that they claimed him on his rookie Cutdown day last season when the 49ers released him and stashed him all year on the 53-man roster despite never playing him. He's transferred enough of the things that interested them, his arm, mobility, and experience (10-15 for 79 yards in Saturday's semi-scrimmage), that maybe he could give them some flexibility in the Andy Dalton sweepstakes.
McCarron is the No. 2 and quite marketable. And, as usual, there is turbulence at the quarterback position in the NFL at this time of year and there'll be even more next week. Too bad two of the spots, Cleveland and Baltimore, are in their division.
"I think you follow it. Not really for personal reasons. I think I just follow it because I like to know what's going on around the league," Driskel said before Monday's practice. "I can't really worry about other things, but you just like to know. And it's hard not to know with the around-the-clock coverage of everything. Stuff happens in football. People move around. People get hurt. That's just part of the game. You never wish it on anybody, but it happens. That's why you've got to be ready."
If it sounds like the 6-4, 240-pound Driskel has been around, he has. After starting 21 games at Florida while throwing 23 touchdown passes and rushing for 14 more on 552 passes, he threw almost as many balls with 448 when he took a fifth-year at Louisiana Tech. While getting his master's in business he delivered 27 TD passes as the Conference USA Newcomer of the Year at age 22 with a sports management degree from Florida and got drafted in the sixth round.
The marketable AJ McCarron heads into his third preseason.
"He threw the ball all over the field," said offensive coordinator Ken Zampese of his college rakings during the draft. "He had the fast guys down there (at Florida) … had good skill players. And he started at Florida. You usually have a lot of talent if you start at one of those kinds of places."
One of his friends on a youth travel baseball team out of Orlando, Jesse Winker, showed up next door with the Reds and offered some fireworks last week with his first major-league homers. Driskel took Bengals wide receiver Alex Erickson to Sunday's game to get a closer look.
"We were on the right field side and said hey to him," Driskel said.  It was good to see a familiar face … First two games the second time he was called up, so that was pretty sweet."
That's the only reason Driskel was paying any attention to his phone during the 2013 draft. He had a slew of friends getting the call. Then when he perused the 29th round he saw a familiar name posted.
"Man, there's another Jeff Driskel out there?" he thought.
"It said, 'University of Florida,' and I said 'That's weird. That's me,'" Driskel said. "I was waiting for a phone call and I didn't get anything for a day or so and then they called and I said 'What are you guys doing?' They just said, 'How often does a 20-something rounder make the big leagues?' They just thought it was worth taking a 20-something rounder, someone who had the potential to maybe get there if I chose to do so."
That would be the 29th round. And the Sox are right. The guy they chose just ahead of Driskel with the 28th pick, Nick Zammarelli, didn't sign until he went to college and later went in the eighth round to Seattle and he's still in Class A. The guy they took a pick behind him in the 30th round, Nick Longhi, did sign and just got traded to the Reds last month and resides in Double A.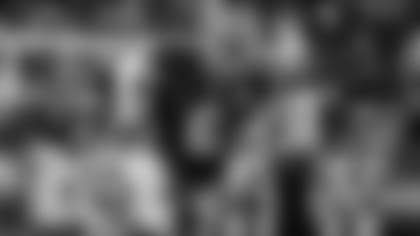 Driskel played in all four pre-season games for the Niners last season, but is still looking for a TD pass.
The only thing Driskel got out of it was a Red Sox jersey with the year of the draft on it, No. 13. He wanted No. 6, the number he wears now, but it's been long retired for the great shortstop Johnny Pesky.
"It was just love for the game," Driskel said of the call to football. "It's just a feel. It was never really a question. It was just something where I'm a football player and I like to play baseball."
Driskel jokes that every baseball prospect is a five-tool player. He says he had a good arm, good power.
"B.P. power," Driskel said of batting practice.
But he certainly has tools in football.
 "I know that I have the ability to stretch the defense with my legs and just talking to some of the defensive guys, they play some different coverages against guys that can run and that opens up guys down the field," Driskel said. "It's just something I have in my toolbox. It's not something I'm going to revert to all the time, but it's something I can use."
"You can't play as much two-man," is what the defensive players have been telling him. "You see a lot of two-man in two-minute situations. And when you get two-man, it just leaves the quarterback wide open for running the football. Their backs are to the quarterback with no underneath players, so they don't do as much of that. It's just harder to play man because you don't have as many eyes on the quarterback."
But he knows there are going to be plenty of eyes on him Friday night.
"I'm not making that decision. Obviously if I was making that decision I would pick me," Driskel said. "But that's not how it goes and you can't worry about that. That's when you start to press, that's when you start to do things that are uncharacteristic. You just have to go out and play and see how everything unwinds."
He's a football guy and just a baseball fan. But don't try to get that Sox jersey from him.
"I'm keeping that bad boy," he said.
He's hoping the Bengals end up saying something like that about No. 6.
Cincinnati Bengals host Training Camp at Paul Brown Stadium Practice Fields 8/7/2017