After leading the Bengals on a break-neck 90-yard touchdown drive in a screeching 130 seconds that ended the first half, quarterback Jeff Driskel faced an even more treacherous drive to the hospital.
That's where his daughter is scheduled to be born in the next several hours, which makes it a very eventful day for him. The Bengals lost a chance for their third unbeaten preseason in history in the final 72 seconds of a rather odd 27-26 loss to the Colts, but they appeared to win a backup for Andy Dalton.
"I think I did, but it's not up to me and I'm not really worried about it," said Driskel, asked if he felt like he won the job. "But I'm pretty happy with what I put on tape."
It's a good thing it's on tape because who would believe the whole night?
Driskel, who left last year's pre-season finale in Indy wearing a cast covering his broken throwing hand, got called into the game early and got his chance for the late-half fireworks when Matt Barkley, his competition, suffered what looked to be a severe knee injury on a roughing the passer penalty.
The winning points were scored by Colts wide receiver Cobi Hamilton, a 2013 Bengals draft pick, and he was being shadowed by undrafted rookie wide receiver Jared Murphy, a 5-9, 178-pound Miami of Ohio product pressed into service as a safety for the first time since high school.
Murphy was out there because with 2:38 left, undrafted rookie Trayvon Henderson, capping a brilliant training camp that put him in the mix, appeared to win the game and maybe even a roster spot with an interception at the Bengals 23. But Henderson looked to suffer a serious non-contact knee injury on the 10-yard run back and had to be carted off the field and, presumably, out of the roster picture.
"Unfortunately, it's part of the game," said Driskel, who says he didn't flash back to a year ago. "Not really. I kind of left that in the past. Unfortunate things happen."
But Driskel didn't win this thing by TKO. It was close, but you could have made the argument Driskel had the edge with his better stats and athleticism. And, ironically, Barkley, with his six NFL starts and 11 NFL games, had the gamesmanship edge over Driskel, still looking to make his NFL debut. But Driskel ended the preseason the way he began it. By coolly converting a hurry-up situation into a touchdown.
His 20-yard touchdown pass Thursday night to sophomore Josh Malone with two seconds left in the first half capped a 13-play drive he hit nine straight passes. His 33-yard touchdown pass to rookie wide receiver Auden Tate with 2:04 left in the pre-season opening win over the Bears covered 91 yards but took just four passes.
"It was two opportunities to get the two-minute drill work in," Driskel said. "We had lot of success in both of them. I thought the guys responded well both times."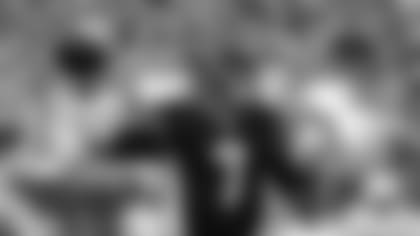 Driskel praised the way his offensive line ran to the ball Thursday and he didn't exactly have the A team out there for that last drive. It was more like the third team. The tackles were Justin Murray and Kent Perkins. The guards were T.J. Johnson and Christian Westerman. The center was undrafted rookie Brad Lundblade.
But Driskel went 10 of 12 in the drive on the way to 14 of 20 for 116 yards in the first half for a 101.2 passer rating that was good enough for head coach Marvin Lewis to sit him down at halftime.
"Jeff Driskel does a great job staying poised," said running back Tra Carson, who converted third-down passes in both of Driskel's scoring drives. "He takes control of the huddle being a commander you need."
Driskel got the whole thing started on a 26-yard pass to, who else? Tate on third-and-11 from his own 14. From there it was bobbing and weaving until the big one to Malone in the back of the end zone. He had all his timeouts and he used two before spiking the ball on the Colts 20 on first down, ending his streak of nine straight completions.
"When we got in the huddle, I told them we were in the two-minute mode," Driskel said. "We're going to try to get out of bounds if we can. But get as much as we can get to get out of bounds. I thought the offensive line did a good job of running to the ball. And I thought we were playing at a high tempo. We were playing under control."
He found Malone getting by the DBs despite a deep zone in the back left corner of the end zone and Malone did a nice job keeping his second foot in.
"I was more focused on catching the ball," Malone said. "Let my feet do the rest of the work. My main priority was catching the ball first."
Malone knew if he wasn't open, Driskel didn't have time to run. But he likes to watch him do that.
"I just know one thing," Malone said, "If he ever breaks the pocket, nobody is going to catch him. That's a big plus. Something you can't defend."
There are those in Bengaldom that believe Driskel is the most athletic quarterback they've ever had. But Thursday's stat line of just one run for seven yards below a 101.2 passer rater reflects how far he's gone from athlete/passer to quarterback.
"I think I've done a nice of playing within the offense during this preseason," Driskel said. "Maybe in the past I might try to get out of the pocket and do some things with my feet. I feel like I've grown as a quarterback. I don't really rely on (running) as much. It's still a weapon, but not as much as before."
Now it looks like you can add Driskel to the lore of pre-season finales that secured jobs. But guys like DeDe Dorsey, Cedric Peerman, Ryan Whalen and Jarveon Williams never had to leave the locker room after securing a roster spot to welcome a baby.
"Now the real stuff starts," Driskel said.