The last thing Jim Hubbard knew is, Sam, his youngest, is about 11 years old taking in a pre-season game at Paul Brown Stadium with him, his mother Amy and grandfather Ken Schneider. Maybe it is 2007 or 2008. But it is definitely the Carson Palmer and Chad Johnson Bengals and it is definitely in the preseason and Sam's face clearly glows like his orange Bengals T-shirt.
"We wouldn't have had seats that good for the regular season," says Jim Hubbard, who took the pictures.
Time isn't unlike the PBS clock. The longer it ticks, it keeps shrinking into a two-minute drill. The next thing Hubbard knows, it is the day before Thursday's pre-season opener at The Paul (7 p.m.-Cincinnati's Channel 12) against the Bears for the A.J. Green and Andy Dalton 2018 Bengals and he is standing in The Party Source with his mother-in-law looking at a Bengals chair that should fit nicely into the tailgate party at Lot D.
"The one thing we learned at Ohio State," Hubbard says, "is you never know who is going to show up."
Sam Hubbard shows up for an opener that, as his father says, is "ridiculously perfect," for the hometown kid that could and did. Moeller High School. Ohio State. The Bengals. He could have gone anywhere for football and lacrosse. Harvard. Stanford. He could have gone anywhere in the NFL. Steelers. Ravens. They all need pass rushers. When the buzz began to circulate around April's draft party in Montgomery that Marvin Lewis was on the phone holding the 77th pick in the third round, well, the jubilation is still there. Lewis didn't have to punch in 513 to get through.
Jim Hubbard says he's still pinching himself. The moments keep coming like a movie trailer. Like right end Michael Johnson. He wasn't here yet that night Sam watched NFL football for the first time. But he arrived soon after and in his ninth Bengals season Johnson has become Sam Hubbard's go-to-guy. Hubbard has made no bones about it. If he has a question, it doesn't matter if it's Ps and Qs or Xs and Os, he makes a beeline for Johnson. If not Johnson, his book-end, left end Carlos Dunlap.
"Sam's a great guy. Great ballplayer. Just what you want," says Johnson, a third-rounder himself when Hubbard was just starting at Moeller. "What do they say in 'The Lion King,' circle of life? That's very cool now we get to be teammates. He's having an excellent camp. He can rush outside. He can go inside. Special teams. The real deal."
Just what you want to hear if you're a father and your son is starting his career with the local company.
"Both of them have been incredibly nice to Sam. He speaks very highly of them," Jim Hubbard says. "He's very grateful for that part of it. To be as generous as they've been. He's a sponge. He takes it all in. He was a little nervous going in, but thrilled the way they welcomed him."
The Hubbards were big fans of those Carson-Chad Bengals teams, but there was just no time to get to games. That two-minute drill. Jim was the chief legal officer at Fifth Third Bank. Amy was nursing at University Hospital. Madison and Jake, Sam's older sister and brother, had their activities. Jake, a teacher who'll be in Lot D, actually played lacrosse against Marvin Lewis' son Marcus.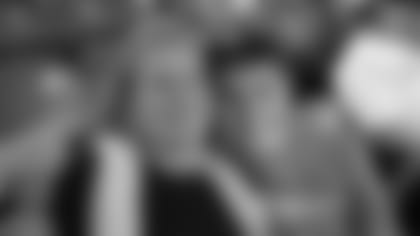 Then Sam started playing football and going right into lacrosse. Maybe he had a couple days off in between. Three years ago Jim Hubbard became general counsel for TIAA Bank and now he's spending more time in Jacksonville, Fla., than Cincinnati. They're still in the two-minute drill even as the celebration of Jim's 60th birthday looms this month to coincide with the Lot D tailgate.
"There were practices on Saturday, games on Sunday, practices during the week. When he went to Ohio State, Sunday was a travel day," Jim says. "The funny thing is, the down time he's got (in training camp) is probably the most free time he's had in a long time. I'll be able to spend Saturday (night) and Sunday with him."
Now they've got season tickets. When Amy and Madison went to The Paul to check out the seats this spring, they ran into the man who made the call at No. 77. Jim has yet to meet Marvin Lewis, but his wife and daughter got a special tour.
Lot D is in good hands. Medically licensed hands. Amy is now a nursing supervisor at University. Madison, who also went to Ohio State, is a nurse at the same place. Jim Hubbard calls them Ph.Ds of tailgating. They can do the operation in their sleep. Amy and her two sisters and their parents live within a mile of each other in Montgomery ever since Jim and Amy moved back from his native New York City.
"A mile is a stretch," Jim says. "Maybe steps. That's the way Amy wanted to raise the kids. With her sisters' kids. It's really nice with all the cousins."
Madison and her Aunt Emily masterminded the NFL's version of the Louisiana Purchase with the No. 94 Jersey Acquisition of '18. They efficiently signed up 160 or so friends and family to get Sam's Bengals jersey. It wasn't just a mass order. Everyone had to fill out the forms and supply the money and provide the sizes. Jim Hubbard's side of the family is sprawling, too. He's one of seven and one of his brothers has eight kids. There are Hubbard 94 Bengals jerseys all the way out in Phoenix and Los Angeles.
"People say I must be nervous," Jim says. "I've never been nervous watching Sam. He's always been a smart player. He always does his best. He always manages to do something special. I can't wait. I'm not nervous. I'm just excited."
Jim Hubbard grew up in Brooklyn in the shadow of the Verrazano Bridge in Bay Ridge, where he and his buddies were crazy about Namath and all the rest. But heading to Lot D as the father of an NFL rookie isn't all that different than getting your kid into a pre-season game. He's still your kid.
"He could have coasted in college," Jim says. "But he went up there and got his finance degree in three-and-a-half years. Finance isn't easy. That's something I'll always be proud of."
The clock is ticking in The Party Source.
"We've got a fleet of Ohio State tents, chairs, coolers," Jim Hubbard says. "We're looking to trade all that stuff out."
A decade apart, they're still getting some pretty good seats in the preseason.
"It's like a dream come true," Jim says. "The planets lined up perfectly."