In the wake of Saturday night's half-full-half-empty pre-season 21-13 victory in Dallas, veteran safety George Iloka's release in the hours after they returned looks to have significant impact on a roster that may make last year's 53 look like an ancient ruin. Remember, with last season's average of 25.45 years old on Opening Day, it was the youngest roster of head coach Marvin Lewis' 15 seasons.
But with his 16th season starting with the wackage of the 28-year-old Iloka and 31-year-old wide receiver Brandon LaFell, they're looking at being a lot younger than that. Not only does the move promote the 21-year-old Jessie Bates III to a starter, it may also open a roster spot for another rookie safety who turned 23 last week in Hawaii's undrafted Trayvon Henderson.
The release of Iloka is another example of the club banking on its last three drafts to get them back to the playoffs for the seventh time in the last decade, particularly the 2018 edition. Now Bates, the second-round pick from Wake Forest, joins first-rounder Billy Price, the Ohio State center, in the starting lineup.
The Bengals aren't the only ones that believe in this draft class. Ourlads' Scouting Services graded it "above average," giving the club that grade for the third time in its five-year review stretching back to the 2013 draft. The only time Ourlads went below average in that stretch is 2016, yet their first three picks from that draft are some of their most productive players since then in cornerback William Jackson, wide receiver Tyler Boyd and SAM linebacker Nick Vigil.
Along with major moves, injuries are also starting to play into the roster look as the Bengals begin preparations for Sunday's dress rehearsal (4 p.m.-Cincinnati's Channel 19) in the third pre-season game at Buffalo.
Rookie cornerback Davontae Harris' knee spent a portion of Sunday in the MRI machine but even if the results aren't good, there are no indications they're looking to add another cornerback. They're at the point now they're looking to subtract rather than add, especially after a game the competition seems be tightening rather than opening. And they hope they're getting another cornerback on the field as soon as Wednesday with Tony McRae showing signs the ankle he sprained during the first days of training camp is close to ready.
Two other guys that got injured early in camp and have yet to play a game, nose tackle Josh Tupou (knee) and fifth-rounder Andrew Brown (hamstring), could be back this week, too. And both are guys that have piqued interest because of their youth and promising moments this preseason, so that should spice the roster jousts even more. And make them even younger. Brown doesn't turn 23 until the last day of the season in Pittsburgh.
Injuries and other issues are such big factors when it comes to the numbers game. And not which 53 guys, but how many players at what spot? With so many cornerbacks nicked up, does that mean keeping ten defensive backs instead of nine? Or, with the offensive line in such inconsistent flux, does that mean keeping nine linemen instead of eight? With Vontaze Burfict suspended for the first four games, do they go with five linebackers instead of six if they need a body at, say, tight end or if the last H-Back is playing better than the last backer?
As head coach Marvin Lewis might say, "We'll see." Or, "Stay tuned." Maybe "Partly cloudy."   
Here is this week's roster check. (Players listed by NFL years of experience in parenthesis.)   
QUARTERBACKS: Andy Dalton (8), Matt Barkley (6), Jeff Driskel (3), Logan Woodside (R).
Dalton just wasn't as sharp as he was last week, or else he would have had that first pass of the game to a wide-open A.J. Green in his hip pocket. He also overthrew the last one, although Green was covered a little tighter and there was a little more pressure. But he can't miss those in real time and Dalton is the first guy to tell you that. Did Driskel play well enough to move past Barkley for No. 2? He was good Saturday with some long, accurate throws and everyone knows he can move. If he didn't move ahead, the competition must be at least even. The bigger question seems to be if they'll keep two or three.
WIDE RECEIVERS: A.J. Green (8), Tyler Boyd (3), Cody Core (3), Alex Erickson (3), Josh Malone (2), John Ross (2), Kermit Whitfield (1), Devonte Boyd (R), Jared Murphy (R), Kayaune Ross (R), Auden Tate (R), Ka'Raun White (R)
Core didn't play Saturday with an unknown ailment and that may impact how the rest of it goes. Hard to see them keeping seven when that seventh guy won't dress and everyone figures that is Tate. But if Core's dinged they would need a healthy sixth. Certainly Green, Boyd, Malone and Ross are untouchable and Erickson looks like a tough cut after making the play of the game on Driskel's third-and-11 throw that Erickson made by toe-stepping in-bounds. Core and Tate look to be battling for a spot and special teams coordinator Darrin Simmons won't give away his slot if the next guy can't do what Core does and he'll want Tate to do more than he did Saturday when he played on nine snaps in the kicking game phases and didn't appear on the stat sheet. Here's a surprise. He had 12 snaps on offense and they only threw it to him once and it wasn't completed.
RUNNING BACKS: Giovani Bernard (6), Tra Carson (2), Brian Hill (2), Joe Mixon (2), Jarveon Williams (1), Quinton Flowers (R), Mark Walton (R).
Hill, who touched it for all 59 yards of their last TD drive Saturday, is getting good tape because it doesn't sound like there is much room at this spot. Carson has looked the best in the group behind Mixon and Bernard for the second straight game. You put him in and he goes straight ahead for four yards per pop on his dozen carries. Walton is still trying to get his bearings (just four yards on ten carries), but he's better on teams. So they may just keep only three backs with the fourth-rounder Walton. How about Walton lowering the age until 21 next March? Mixon's first seven carries tell you how far away the run game is. He doesn't have a run longer than five yards and he's averaging 2.4.  
TIGHT ENDS: Tyler Eifert (6), Tyler Kroft (4), C.J. Uzomah (4), Mason Schreck (2), Moritz Bohringer (1).
H-B: Ryan Hewitt (5), Cethan Carter (2), Jordan Franks (R).
Everyone is thinking four guys out of these two spots and aren't they Eifert, Kroft, Uzomah and Hewitt? But Carter had the third most teams tackles last season and Saturday he caught two balls for 26 yards so you could see them trying to keep him, too. Despite Eifert being out the first two games (expect him Sunday), Kroft has just one catch. Uzomah is tied with Malone for the club lead with five catches each.
OFFENSIVE LINE: G Clint Boling (8), T Cordy Glenn (7), C-G T.J. Johnson (5), T Jake Fisher (4), T Bobby Hart (4), T Cedric Ogbuehi (4), G Trey Hopkins (3), Christian Westerman (3), G Alex Redmond (2), T Kent Perkins (1), T Justin Murray (1), G Cory Helms (R), C-G Brad Lundblade (R), C Billy Price (R).
Have we seen the future and is it Redmond moving in at right guard and Hopkins backing up Price? Redmond played 38 snaps at right guard and Hopkins split his 37 among right guard and center and looked good centering their longest drive of the night. Redmond simply moves people all the time and played pretty well much of the night, although he did start that 14-play, 7:11 drive with a false start and those are the mistakes that have held him back. The left side and Price have responded, but they need the right side to get a footing because that inconsistency clearly impacted the operation Saturday. Hart is trying to solidify that right tackle job and one minute he looks fine and the next he's letting Dalton get pressured. Ogbuehi and Fisher are trying to make up ground but it doesn't seem to have happened yet. Ogbuehi's problem with the bull rush surfaced Saturday in allowing a sack to Taco Charlton.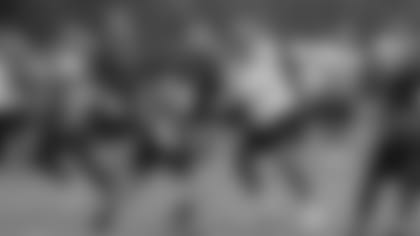 DEFENSIVE LINE: T-E Michael Johnson (10), T Geno Atkins (9), NT Chris Baker (9), E Carlos Dunlap (9), NT Andrew Billings (3), T Ryan Glasgow (2), E Carl Lawson (2), Jordan Willis (2), T Josh Tupou (1), T Andrew Brown (R), T-E Sam Hubbard (R), T Chris Okoye (R), E Eddy Wilson (R), T Simeyon Robinson (R).
They've looked great, right? You're not supposed to do this, but if you take away last week's 69-yarder, they're giving up 3.2 yards per rush. Billings is playing like a starter, Hubbard is playing like a vet and Willis is playing like he's ready. Probably as clear-cut as any spot on the club. Your eight leaders in the clubhouse have to be Geno, Carlos, Michael, Billings, Lawson, Willis, Glasgow and Hubbard. That makes the ninth spot (that probably won't dress) a free-for-all between the two injured guys that could be back this week, Tupou and Brown, although Baker can make it even more interesting with a veteran stand. But they gave him just nine snaps Saturday.
LINEBACKERS: O-I Vincent Rey (8), OLB Vontaze Burfict (7), MLB Preston Brown (5), OLB Nick Vigil (3), )LB Brandon Bell (1), OLB Jordan Evans (2), MLB Hardy Nickerson (2), OLB Malik Jefferson (R), MLB Junior Joseph (R), O-I Chris Worley (R).
What a battle for the sixth spot until Burfict gets back Oct. 1. Jefferson may be adjusting to the pro game, but you have to go through the growing pains to use his unique brew of strength and speed in the kicking game this year as he develops. So keep an eye on the scrum with Nickerson and rookies Worley and Joseph. A computer may spit back Nickerson, but the guy knows football. He's a tough guy for a coach to cut because he's always doing the right thing and he's already got a year in. The fact he surfaced on teams Saturday with an assisted tackle is going to get noticed. Worley is a football guy, too, and has been taking snaps at defensive end to get them out of a numbers crunch. But Nickerson is getting the snaps, 22 on Saturday, as opposed to 14 for Joseph and 12 for Worley.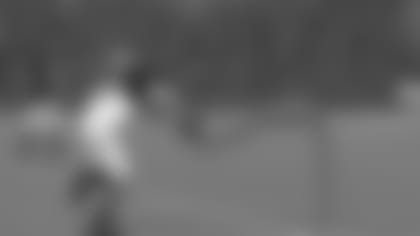 DEFENSIVE BACKS: CB Dre Kirkpatrick (7), SS Shawn Williams (6), CB Darqueze Dennard (5), CB-FS Josh Shaw (4), SS Clayton Fejedelem (3), CB C.J. Goodwin (3), CB William Jackson (3), CB KeiVarae Russell (3), CB Tony McRae (2), SS Brandon Wilson (2), CB Sojourn Shelton (1), FS Jessie Bates (R), FS Tyrice Beverette (R), CB Davontae Harris (R), SS Trayvon Henderson (R), CB Darius Phillips (R).
In the wake of the Iloka release, Bates is promoted and Henderson's journey gets a little more interesting. Henderson got hurt last week covering a kick and didn't practice much at all, if any, this week, but he played a dozen snaps on defense and nine on teams and responded. He seems to have a nice knack in coverage, where on Saturday they put him in the slot on a tight end and he had a pass defensed. He also had an assisted tackle. He's one to watch. So is Wilson. He continues to wow on teams, where Saturday he was the first guy down on a punt, got blocked and kept running to make the tackle coming back to him. He hasn't had as much of an impact from scrimmage, where they're trying to figure out his role and gave him 15 snaps.
Although Harris hurt his knee, they seem to think Russell, Shaw, Phillips and Goodwin are playing well enough they don't have to go get anybody else. Plus, McRae, a guy penciled in as making it in the offseason after last year's strong finish in the slot, may be back as soon as this week. Shaw's thing is he can play both corner and safety. But with the emergence of McRae, Wilson and Henderson, how does that shake out?
A word on Phillips here. They think they may have found a young returner. He's tied for 11th this preseason averaging 28 yards per kick return and Saturday night's 24-yard punt return is the fifth longest in the league.
SPECIALISTS: LS Clark Harris (10), P Kevin Huber (10), K Randy Bullock (7), K Jonathan Brown (1).
If you're Brown what more can you do to make it a competition? He's made all three of his field goals, one a 55-yarder that is the Bengals' regular-season record. He drilled one kickoff far enough that it hit the crossbar Saturday. Bullock only did one thing and that's kick off the game. Brown handled the rest, only to hear Lewis say after the game Saturday night great job, but there's no competition. The Bengals also know that those three field goals are the first Brown has kicked in any game on any level. It looks like now if they gamble it would be only on the lottery.
Meanwhile, Huber is in Pro Bowl form. He's jackhammered six inside the 20 with no touchbacks on a 41-yard net average.