Right tackle Jackson Carman is in the Bengals locker room Monday trying to explain how he knew his new teammate Myles Murphy would be a first-round draft pick the first day he went against him at Clemson.
Carman says he was a junior and the starting left tackle, which would have made Murphy 18 years old. Carman excitedly grabs a scribe's tape recorder and gets into a semi-stance to show how Murphy changed up his hips on him.
"We're going at it and I'm throwing him around and he's getting frustrated because I was beating him," Carman is saying. "He comes with a different move than he did. He just disappeared and he's running by with it. I'm like, 'Wow. OK. This is it.' From there it just compiled."
Carman let Murphy know how high he thought he was going to go and when he fell asleep Thursday night and woke up to find out his friend was a Bengal, he thought what everybody else thought.
"I thought he would go higher, but I'm glad he's here," Carman said. "He's strong, he's fast, he's smart, he's real humble. What more could you ask? I told him that."
Told Murphy sounds like a good fit, Carman said, "He'll do more than that."
RIGHT STUFF: Carman, who lost the starting left guard spot last training camp before coming off the bench and flashing at left tackle in the postseason, is going to get the first shot at filling in for rehabbing right tackle La'el Collins. That's what head coach Zac Taylor said after the
"That doesn't mean anything. We're not there yet. This is a whole new year, whole new season," Carman said. "Last year I had the first shot at left guard and what happened? I was in street clothes all year. But if that hadn't happened, I wouldn't have had the opportunity at the end of the season, so everything is working its way out for a reason."
Carman has never played right tackle in a game, but he's become used to the new since he arrived back in his hometown in the second round in 2021. He was a left tackle converted to right guard as a rookie. Then he went to left guard. Now he's at right tackle and he says there is a difference from left to right tackle.
"A lot of difference. When your body does things over and over, it gets adjusted after years of doing the same thing," Carman said. "When you do the complete opposite, the neuro pathways aren't sending signals as efficiently as they were because this is what you're used to doing. Every change of direction might not feel the same, but with training these things over and over, they start to work out evenly and unilaterally and you can just move however. That's where I want to get to. Where ever I'm at on the field, nobody can touch me. Nobody can knock me over and I'm blasting everybody."
Carman says he's feeling more and more ambidextrous and has confidence he can play right tackle, left guard, where ever they want him because he's working it all. He compares it to learning to teach himself musical instruments, which he often does.
"It's like if you play guitar your whole life with your right hand and then had to flip, that would mess you up," Carman said.
Carman recalled how he was with friends in his sunroom and he began rapping on certain parts of a bay window.
"Each part of the glass had a different frequency of vibrations and it sound musical," he said. "When you have that type of ear, you can figure out any instrument. Same thing. You watch other people, you visualize it yourself and get to the point you can do it."
And Carman has no doubt he can hit the right notes.
"When the time comes," Carman said, "I'll be ready, prepared, and competing my (guts) off."
READER REACTS: Nose tackle DJ Reader, the heart of the Bengals defense in more way than one, liked those first three rounds. Edge. Cornerback. Safety.
"That old saying 'defense wins championships," still holds true," Reader said. "Getting these young guys on defense, showing confidence in them and showing us guys who are on defense and know we lost some pieces to go out there immediately try to make a difference."
Reader, Murphy's Clemson ancestor, has heard good things about his guy. He wasn't too sure about that 4.5-second 40-yard dash, but he felt pretty good after he talked one of the Clemson coaches. Reader knows the guy well enough he was calling Reader by his college nickname.
"Freak numbers, man. I remember seeing that and saying, 'Damn,' but everybody says they run 4.5," Reader said. "I called down there and he said, 'No, Barbecue, 4.5 guy for sure. He can run.' So I asked him, 'Any knock on him?' and he said, 'No, not Myles. I got no knocks on Myles. Maybe some other guys, but not Myles.'
"So a 4.5 guy who can run around. Loves to play. High energy and that's huge. Gets some dog in him. Get it going, I think he's really, really competitive and he's focused. I think he's got that mindset to be great."
Reader knows where the kid has been. He's made more than one call and the feedback is always good.
"I know it's a program that produces guys who care about ball," Reader said. "The strength coach (Joey Batson) is the guy. He's going to make sure you get after it and I've talked to him about it. He's a kid that gets after it in the weight room. He wants to hit all his numbers making sure he's doing things right. Coming from that program I know (head coach Dabo) Swinney is going to hold you accountable. You're going to grow at your best to become a man in that program. I'm pretty excited about the player just to get him here."
MONEY BALL: So Reader's happy with it all. He likes that the defensive line just got more competitive. But in his glee there was no way he was giving up No. 98. Murphy thought about it ever so briefly, but he was up there quickly on Saturday with head coach Zac Taylor holding No. 99.
"That sucks for him. I can always be bought out," said Reader, the old baseball player, his tongue in cheek as firmly as tobacco. "But that number might be too steep for him at that price. If he wants to pay that price, he can holler at me. I'm just going to tell him to write a number on a piece of paper, slide it to me and I'll tell him whether it's good or not.
"When I saw he got picked, I was thinking, that's rough right there. Really rough. If could wear 48, I'd go back, but I can't."
DAX AND DJ: Bengals safety Dax Hill, last year's No. 1 pick, had the scouting report on this year's second-rounder, cornerback DJ Turner II his old Michigan teammate.
"Smart, fast, willing to do whatever he can for the team. A good fit for the secondary, "Hill said.
Turner is bringing his NFL scouting combine-best 4.26-second 40-yard dash and Hill throws that in with his own 4.38 and cornerback Cam Taylor-Britt's 4.38 and the 4.4s of cornerback Chidobe Awuzie and safety Nick Scott and, " I feel like we're unstoppable at this point. In the NFL, it takes speed. There's a mental aspect as well. But it includes speed with it. That makes it all the more fun, more excitement. You have no excuse not to run to the ball now. That just makes it all better for the entire secondary.
"I'm biased, but I feel like we're one of the fastest secondaries in the NFL possibly."
Hill and Turner are friends and have stayed in touch with texts and calls. As with Joe Burrow and Ja'Marr Chase, there's a lot to be said for playing together again.
"It was kind of funny. We were saying, 'Just like old times,'" Hill said. "We always look at each other kind of and we already know how to play based on how we're aligned. We already have the chemistry. I'm just looking forward to build on that."
Asked about Turner and the playbook, Hill had to laugh. Because of injuries and his versatility, Hill had to pretty much learn every spot back there.
"Hopefully he doesn't have to go through all that," Hill said. "Hopefully he can just stick to his corner position and excel in that position first. I would encourage him to go about his position and handle it in a professional way."
Count Hill in the "Can't-believe-he-was-there" group. When Turner went No. 60, Hill said, "Just the season he had at Michigan and just the player he is, I was surprised he was still there. It just shows in the draft you don't know really where you're slotted out. I'm glad he's here, though."
Yes, he says, he thinks they raced once before. But he was a little mischievous about it.
"I think I won that one, but I can't really remember," Hill said. "You'll have to ask him. But he's fast."
SLANTS AND SCREENS: Noting the selection of Michigan punter Brad Robbins at No. 6, incumbent Drue Chrisman said it all.
Chrisman says he's been working on all facets of his game and that includes conditioning.
"Just getting bigger, faster, stronger and I think that translates over to punting just as it does to any other position." …
Edge Joseph Ossai, recovering from a hyperextended knee and surgery for a labrum injury he played with since the Dec. 11 win over Cleveland, indicated he should be ready for training camp …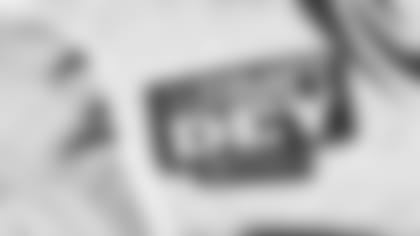 2023 Draft Dey Center
The official sources of news, photos, interviews and more of Draft Dey 2023, presented by Integrity Express Logistics.