INDIANAPOLIS - It was quite a Bengals debut for defensive coordinator Teryl Austin, who was true to the scouting report and brought the blitz more than his predecessors during Sunday's draining 34-23 Opening Day victory over the Colts. But it was persistence rather than pressure that gave the Bengals their first victory ever at Lucas Oil Stadium.
His defense was out-snapped, 82-55, and outgained, 380-330 yards.
He lost a defensive captain in Shawn Williams after just 13 plays because of an ejection and faced down Andrew Luck with rookie safety Jessie Bates and back-up Clayton Fejedelem playing all the snaps and 69 percent, respectively.
With savvy signal-caller Preston Brown saddled with an ankle injury late in the first half, Austin turned to sophomore back-up middle linebacker Hardy Nickerson instead of veteran Vincent Rey for much of the second half and in the last drive was rewarded with Fejedelem and Nickerson conspiring to make the biggest play of the game with 24 seconds left when their forced fumble of Colts tight end Jack Doyle turned into Fejedelem's 83-yard fumble return for a touchdown..
They survived three roughing calls on Luck, one which got Williams ejected, and two more on left end Carlos Dunlap that gave lethal oldster Adam Vinatieri long field goal tries. One made it from 51 yards. When Dunlap generated a sack late in the third quarter moments after his second roughing, Vinatieri missed from 55.
Luck jacked it up 53 times and the Bengals' vaunted pass rush could get there for just two sacks (Dunlap and tackle Geno Atkins) and seven more hits on him even though the Colts didn't have their left tackle and went with a little-used right tackle.
"It doesn't matter," said Dunlap after they blanked the Colts in the final 23 minutes while scoring 24 points despite all the mayhem. "We just take one drive at a time. We're not going to try and win the game on one series. We know we're going to put it together and do whatever it takes to get back in the game."
Dunlap was uncharacteristically so fired up after his sack, the message was clear.
"I put us in a bad situation and I wanted to be the one to take us out of it," said Dunlap, whose cajoling of the official didn't work.
Bates, his eight tackles behind only linebacker Nick Vigil's 11 and Fejedelem's ten, came away impressed with Fejedelem's poise after taking virtually no snaps with the first team during the week. But nothing was simplified.
"He knows he's backing up both of us," Bates said.
Fejedelem, who earned his captainship by a vote of his teammates last week for his work on special teams that gave him a second alternate Pro Bowl berth last season, cut back his snaps in the kicking game to 52 percent. Nickerson, another one of special teams coordinator Darrin Simmons' staples, pulled a Vinny Rey and played 44 percent of the snaps from scrimmage and 62 percent in the kicking game.
"I mean, just how much talent we have and you can tell in practice, and throughout camp and spring," said wide receiver John Ross. "Shawn going out, you know, we're still confident. We've got guys like Clayton to back him up and things like that. And that's just how much confidence that we have in each other. You know, when one goes down we know we're well prepared enough to go out there and make more plays."
Luck tested them all day behind Colts rookie head coach Frank Reich's alert play-calling of quick crossing patterns and screens designed to keep the Bengals' pass rushers away from his fragile franchise quarterback. It didn't surprise Dunlap:
"It's Andrew Luck's first game back. They're not going to let him get hit … We've got to do a better job getting our hands up affecting the pass. I had one (in the last drive). It hit me in the face. Could have been a pick. We won."
Austin, in his fifth year as a coordinator, countered with pressure looks complemented by careful coverages that allowed Luck to complete just one pass longer than 18 yards and that was the 26-yard touchdown pass to tight end Eric Ebron beating WILL backer Jordan Evans down the right side.
After Ebron and Doyle combined for 11 catches and 111 yards, Bengals head coach Marvin Lewis observed the plan with the tight ends was "to keep the ball in front of them," and except for one play, they did. They also held the Colts to 3.4 yards per rush with the only double-digit run a 12-yarder by running back Jordan Wilkins on detonation block by Cols rookie left guard Quenton Nelson in a top ten draft pick play that took out defensive lineman Jordan Willis.
"After the first trap, we settled down and played," Lewis said. "The defensive line was there at the end to squeeze the pocket make him check the ball down."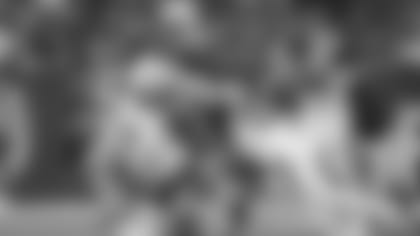 But they did get some huge pressure early. On the Colts' second snap of the game from the Bengals 4, Atkins, the six-time Pro Bowler, beat Nelson, the No. 6 pick in the draft, to force a holding call. On the next snap, Preston Brown's second as a Bengal, the Cincy native came up with an almost excuse-me-juggling interception at the 7. It helped that Dunlap was gnawing on Luck's elbow.
"Bunch formation," Brown said. "It was like he threw it right to me."
Brown said he played some in the second half after injuring the ankle late in the first half and naturally a guy that has played all of his 65 NFL games says he'll be ready Thursday night for the Paul Brown Stadium opener against Baltimore.
But Brown said in that last drive, "Hardy was the best way to go."
This is why the coaches love Nickerson. He's not blessed with great speed, but he plays fast because he always seems to be in the right place and he's a natural signal-caller. If you scripted how you think the son of a former Pro Bowl linebacker and a current college defensive coordinator would play, he's the guy.
"Hardy's a smart player, good guy," Fejedelem said. "He's not just a smart guy. He's a hell of an athlete."
Right place, right time. Just what Austin has been railing about since he arrived. One of the first things he said when he got hired was he wanted to focus on turnovers after the Bengals finished next-to-last-in-the-league in generating them. The last two years they set an NFL record for futility in recovering fumbles and they get one as big as you can get in Austin's first game.
Now you know why Austin has been screaming "scoop and score," every time a ball hits the ground in the spring and summer practices.
"You can't win in the NFL unless you get turnovers," said Vigil, who played all 82 snaps in what is rapidly becoming his relentless M.O.
"In that situation where they need a touchdown, we're playing coverages to keep them out of the end zone," said Nickerson of Capt. Luck's last march. "Run to the ball and force turnovers. That's what we preach … We all prepare as if we're going to play."
After Nickerson tried to pull Doyle back from the first-down stick, the ball popped as Fejedelem hit him high. Nickerson thought Fejedelem would just scoop the fumble with 24 seconds left and not try to score but take a knee.
"Huge play. He had nothing but open field to score," Nickerson said. "They say in that situation, about 20 seconds left, get down. But in that situation, I can see why."
It came down to heady-steady-keep-the-ball-in-front-of-you play. Just the kind of ball Austin came in talking about. Don't beat yourselves. The craziest thing they did all day was Fejedelem running and then diving into the end zone to celebrate. At the end of his day, he said it best.
"Andrew Luck is such a smart player, any time he sees any pressure he knows he wants to check it down," Fejedelem said. "He's going to rub off high-low (routes) just trying to get the ball in their hands. He's a good quarterback and he's going to make his plays. At the end of the day, you have to make more."
Try two. Two turnovers. Austin scoops and scores in Game One.