Bengals cornerback Dre Kirkpatrick and his defensive coordinator Teryl Austin have been around long enough to know September isn't December. The day after Sunday's soul-searching 31-21 loss for a defense that allowed rushing yards and third downs at will, neither man blinked in the hot glare of scrutiny.
"No panic. No panic," Kirkpatrick said Monday. "Joe (Mixon) was out. A.J. (Green) didn't play in the second half. Preston (Brown) ain't out there. 55 (Vontaze Burfict) is coming back after this week. I ain't panicking, we're 2-1. We let one slip this week. I ain't seen a team go undefeated since '72. I don't even think any of us were born. I love the feeling that everybody has right now, everybody's down and we expect more from each other. We expected to win that game, we felt like we could have won that game. I still feel like we were better than that team, but when you've got Pro Bowl caliber players out of the game that's tough."
Austin, looking to put back together a unit last in the league on third down and allowing the sixth most yards, is planning no personnel changes after surrendering the sixth most rushing yards (230) in the 16 seasons of the Marvin Lewis Era.
"I think when you look at it, there were some big plays in there, but there was some good stuff that went on," Austin said. "It always gets overshadowed in the big picture when you have some big plays and you don't win. But I love the way our guys competed. We fought. Don't give up. And I think there's enough good things to build on that we'll be better this week.
"It's me. We've had no problem in terms of taking care of the run the first two weeks. We ran across a unique run scheme and obviously I didn't get it done for our guys. The guys we have, they're good enough to do it. And we're going to make it this week."
That means they'll have to pitch an air-tight game in Atlanta against quarterback Matt Ryan's 106.5 passer rating that features the dangerous receiving troika of the great Julio Jones, the first-rounder Calvin Ridley and old friend Mohamed Sanu. Kirkpatrick, who has had the most passes thrown at him except all but one cornerback in the league, says to keep chucking at him. Panthers quarterback Cam Newton completed three third-down balls on him and wide receiver Devin Funchess racked up most of his four catches for 16.8 yards against him.
But Kirkpatrick, in his seventh season is backing down from no one.
"I admit I didn't have my best season last year, but so far I feel like I've had my best start to a season," Kirkpatrick said Monday. "If they want to keep coming eventually they'll pay for it. If you look at the completions on my side this year I feel like it's low. In three games I don't feel like I've given up 100 yards, I mean 200 maybe, 150 on my side so I feel like I've been doing pretty good."
Austin, who became a coordinator four years ago in Detroit after he led three different secondaries to a Super Bowl, is bullish Kirkpatrick. According to ProFootballFocus.com, Kirkpatrick's 31 targets are second only to the 33 of the Eagles' Ronald Darby. But Kirkpatrick has played the sixth most snaps in the league with 217, Darby only 178. Thanks to their inability to get off the field, the Bengals defense has played a league-leading number of snaps and William Jackson, Kirkpatrick's fellow starter, has played the most of any corner with 231.
Still, PFF has rated Kirkpatrick the 41st best cover corner, ahead of such estimable corners as Atlanta's Desmond Trufant, Minnesota's Xavier Rhodes, Detroit's Darius Slay and, yes, old friend Leon Hall in Oakland.
"He's fine. He comes to work every day. He competes," Austin said. "He knows like all of us we're just trying to get better and be better next week and help us win this week. Because we all know it's week to week and you don't know when your number is going to be called and when you've got to make play and I'm sure he's going to make a lot of plays to help us here. I've got all the confidence in the world in him.
"Some things were based on how the coverage got called and what the call was," Austin said of Sunday's action. "So that is not all on, 'Well, he's off.' Some of the stuff, the coverage tells him to be off and like I said, (Panthers quarterback Cam Newton) did a good job of finding where that weak spot was. Based on what we had seen that's not where we were expecting the ball to go."
There is criticism that Kirkpatrick played soft on third down Sunday. But he said Carolina took away the ability to play press when they bunched up their receivers and threatened the rub routes, which the Panthers hadn't shown much on film.
"There are definitely things I can work on. They had a good game plan, they knew it was going to be hard for those guys to compete with us on the outside so that's why they cut the splits," Kirkpatrick said. "The whole group I saw a couple of plays where I felt guys were a little hesitant. At the end of the day we've got to win those downs. We were in position on a lot of them. They did some things we hadn't seen on film. It kind of shocked us a little bit … They just knew to get them from the outside and bring them in. They knew it was harder for us to press guys when cut the splits down. I felt like going in I told Coach, 'They ain't going to leave them outside, they're going bring them in and get us in bunches and cluster situations where it can be a lot of misdirections and free releases on the outside.' Me and Will are pretty good at the press and getting our hands on guys and it would have been hard for those guys to separate."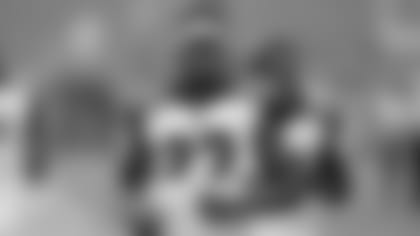 Kirkpatrick and Austin, an old safety at Pitt who had 10 picks, are excellent when it comes to short memories, a must for NFL defensive backs and their coaches. Kirkpatrick was already talking about how personal Sunday's game is with his old Alabama teammate Julio Jones lurking for their first NFL meeting. Not to mention Sanu, his 2012 Bengals draft mate. And Ridley.
"I know nothing about the guy. He's still my brother, though. He played at Bama, so that's where the bond lies," Kirkpatrick said. "They've got Julio. I played with him. I just know that competitive nature me and him had when I was down there. It's like me and A.J. Sometimes me and A.J. are about to kill each other in practice. We don't go that far. We're professionals. We know it's just competition. I'm going be ready. I've got to heal up, get my body back fresh and be ready to go."
Green's status is unknown after he missed all but three plays of Sunday's second half with a groin injury. He said after the game he'll be able to go and Kirkpatrick is talking like he will. Everybody wants to see A.J. vs. Julio, future Hall-of-Famers plucked three spots apart in the 2011 draft's top 10.
"They're both quiet. They're guys not talk talking trash," Kirkpatrick said. "They just show up to work, go to work every day. They're similar as far as when you look at them. To me A.J. is a little more finesse in certain things he does and Julio is a little more physical in certain things he does. But they both have great hands and they both go get the deep ball."
Short memory. Short week.
"That stuff is personal this week," Kirkpatrick said. "I already know it, they're not going to say it. For me," Kirkpatrick said. "I played with Mo, I played with Julio. Calvin played at Bama. I know the buzz going around there because that's where we're from. I already know I've got to have my (stuff) together. It's going to be real. I already know it."