Just like the old days. A relentless four-man pass rush. Taking away the top threat with man-to-man coverage. The corners crashing down on the run game. Hall-of-Fame tackle Geno Atkins causing enough car wrecks in the fourth quarter to get the Paul Brown Stadium crowd rubbernecking. Holding them to fewer than 300 yards a 25 percent proposition and stopping them on third down a 65-percent call.
And Paulie G on the sidelines calling defenses.
Except, of course, during Sunday's 30-16 victory over the Raiders in the PBS finale, former Bengals defensive coordinator Paul Guenther was on the Oakland sideline after calling the shots for head coach Marvin Lewis the previous four seasons. And now, of course, it was Lewis calling his fifth game after firing Guenther's successor last month.
"He took over the reins, he took over the ownership. We're playing off his energy," said nine-year left end Carlos Dunlap of the head coach. "He sent us a message and you can see the results in the last games."
It looks like the Bengals can't avoid allowing 6,000 yards for the first time in Lewis' 16 seasons and the second time in franchise history. But the way they've played defense the last two weeks, it makes you wonder where they'd be.
"A part of me thought that," said eight-year linebacker Vincent Rey, pressed into service in the first quarter when Jordan Evans went down with an ankle injury. " When I came in (to the locker room), I was like, 'Man, I wish we finished off some more games.' I was thinking after the bye, like Baltimore and games like that. But hey, we are where we are right now, and the best thing we can do right now is get better as a team."
For the first time this season they held a foe to less than 300 yards in back-to-back games, something they did twice last season under Guenther and in the previous four seasons they went under 300 in 16 games. For the first time since the Oct. 22, 2017 Steelers game last season they held a team to less than four third-down conversions when a defense giving up 52.7 percent on third down went 21 percent on 3-for-14. It was the fewest points they had allowed since last year's PBS same score win over Cleveland on Nov. 26, 2017, a season they held teams to 16 or fewer four times.
It was Guenther who had said earlier in the week that it looked like Lewis was going back to what they did last season, although he was using his own twists that maybe Guenther didn't use but now Lewis has eyed.
It looks like Lewis has ditched those zones over the middle that didn't cover anybody. Yes, they played some zone Sunday, but with safeties Shawn Williams and Jessie Bates doing a lot of the work, they made sure Jared Cook, Oakland's dangerous tight end, had a body on him. As Bengals radio analyst Dave Lapham noted in one of his pre-game breakdowns, Cook is in the NFL's top five in several major tight end categories.
"What does the film show?" asked cornerback Darqueze Dennard when asked if Lewis is going more man.
If that doesn't show it, then the stat sheet does. Cook had just two catches for 23 yards on five targets and the careful Derek Carr, who is competing 68 percent of his passes, hit just 55 percent on 21 of 38 passing. Remember, it was just last month Drew Brees and Baker Mayfield came into this building and lit them up for darn near 75 percent.
"The biggest part was Sam Hubbard, Geno Atkins and Carlos Dunlap," said the rookie Bates of the defensive line. "Once they got the quarterback (scrambling) like that, it's always a good thing for us. The DBs didn't get that much action, because our defensive ends were getting to the quarterback. That's always good, and it showed up a lot today."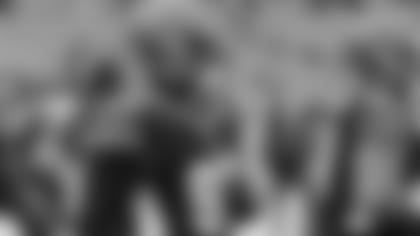 With Hubbard torturing No. 1 pick Kolton Moller at left tackle, Atkins waited in the weeds against the Raiders back-up guards and got all three of his sacks in the final 10 minutes, two on back-to-back snaps once the Bengals had gone up 30-16 in the last three minutes when he overwhelmed left guard Chaz Green. On the first one Green didn't touch him with a little help from linebacker Nick Vigil's pressure look and on the second one Atkins launched him back into Carr.
"We were closing out the game and Geno stepped up. That's why he gets the big bucks," said Dunlap and it didn't matter against whom.
"That's part of it, but you still have to go out and do it," Dunlap said. "Geno is a dominant player in this league. You don't get to that many Pro Bowls without having days like today."
Since he opened the season with six sacks in his first five games, Atkins had one until Sunday. Now he's got 10 for his third double-digit sack season and most since the 11.5 of 2015. Dunlap, who has eight and just one in the six games since the bye, has a pretty good idea why they broke out Sunday. They've been outscored by nearly 100 points in the first three quarters.
"We can rush. It's not like we forgot how to rush," Dunlap said. "It's easier when you get a lead."
It's also easier when you don't give up a gaping five yards per rush and for the second straight game the league's worst run defense held a team in check. They gave up 4.3, but Doug Martin's longest run was nine yards and once they went up 14-0 Carr was chucking.
And Dennard got three points for his club when he punched out a fumble from running back Jalen Richard and recovered it at the Oakland 34 in the second quarter that came right out of the game plan. Along with fellow corners William Jackson and Dre Kirkpatrick, they came down hill. And that was big, not only in the run game, but it broke up the bunch formations that have wreaked havoc on this pass defense.
"With the run game, I really credit our corners — 22 (Jackson), 27 ( Kirkpatrick) and 21 (Dennard)," Rey said. "These guys were coming down and setting the edge and doing a great job for us."
Dennard said it was the way Oakland had to be attacked.
"That's what they made us do," Dennard said. "They used tight cluster (formations) and made us tackle. That was their plan, and we just did what we were supposed to do."
Just like the old days. Except Guenther exchanging orange for silver.
Images from week 15 at Paul Brown Stadium as the Bengals host the Oakland Raiders.