Karlos Dansby (56) has been as solid as advertised.
It's Induction Weekend at the Pro Football Hall of Fame. But Bengals linebacker Karlos Dansby lives Canton, Ohio every day.
Dansby is heading into his 13th season and first in Cincinnati, happy and healthy and calling his corps "The best linebackers in the league," who have inspired him. From what he calls Vontaze Burfict's style of "ill will," to rookie Nick Vigil's "intangibles."
Dansby's goal to become the fifth linebacker ever to have 20 interceptions and 40 sacks in a career highlights how diverse and experienced they are at backer, starting with position coach Jim Haslett, an inside backer who made one first-team All-Pro team in the early '80s, one more than Dansby.
"I think about it every day,' says Dansby of numbers he thinks are worthy of Canton. "Without a doubt, that's an attainable goal. I feel like I'm one interception away. I feel like I have to be mentioned. I have to be in the discussion."
He'll have a tough time getting into the Hall with the curious career line that now reads 41 sacks, 19 interceptions, and no Pro Bowls. It's a fate that matches a lot Bengals past and present.
A very good player in a small market (Phoenix). Or a very good player on a losing team (Miami). Or a very good player that lost a Super Bowl ring in agonizing fashion in the big game. (If No Doubt Bengals Hall-of-Famers like Ken Anderson, Ken Riley, and Isaac Curtis lost their Canton bid on a goal line in Pontiac in Super Bowl XVI, then Dansby was on the sidelines in Tampa with 35 seconds left when Pittsburgh's Santonio Holmes  snatched away Super Bowl XLIII to beat his Cardinals, 27-23, eight years ago.)
"Never been to a Pro Bowl?" asks Bengals linebacker Marquis Flowers, who grew up in Phoenix watching Dansby. '"That's crazy."
Takeo Spikes, one of the many linebackers that the film junkie Dansby has studied, says about no Dansby Pro Bowls, "I'm hot about that."
"He's a playmaker," Spikes says. "An impact player. He's the modern day linebacker before people accepted the modern day linebacker."
He's also the kind of guy his coaches love. Defensive coordinator Paul Guenther sought him immediately on the free-agent market in the spring looking for depth with brains, professionalism and versatility. He's played everywhere in those 13 years, but this is the first time he hasn't played over a tight end as the Bengals' starting SAM backer. And it's been a seamless fit.
"Great guy. He's been everything we expected," Guenther says. "Maybe this is the year (he makes the Pro Bowl)."
Haslett, a NFL defensive coordinator and head coach during Dansby's career, has seen him plenty.
"He's been great for us," Haslett says. "He's smart, he knows what to do, and he knows how to win. You can never have too many of those guys."  
 Forty sacks and 20 picks. The only linebackers who have done it are Ray Lewis (41.5 sacks-31 interceptions), Seth Joyner (52-24), Wilber Marshall (45-23) and Brian Urlacher (41.5-22). That's 27 Pro Bowls among them (Lewis 13, Urlacher eight, Joyner and Marshall three each) and three Defensive Players of the Year (Lewis in 2000 and 2003 and Urlacher in 2005).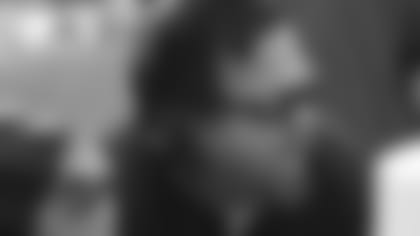 Paul Guenther coveted Dansby and got him.
Makes sense. Lewis played on a slew of great defenses and won a Super Bowl in his fifth season in Baltimore. Urlacher was a media darling in one of the league's biggest markets in Chicago. Joyner played in the bright lights of the NFC East with the Eagles and Marshall played on one of the greatest defenses of all-time that also secured a Super Bowl in Chicago.  
"I did it with no accolades. Nobody else in that pool of guys has done it the way I've done it," Dansby says. "All those guys have plenty of Pro Bowls and Defensive Players of the Year and all kinds of stuff. I was able to do it without all that. I feel like I'm unique. It's humbling."
Dansby feels like he should have been Defensive Player of the Year in 2013 when he returned to the Cardinals from Miami with 6.5 sacks, four interceptions (two for touchdowns), and 114 tackles. The linebacker who did win it, Carolina's Luke Kuechly, had four interceptions (no TDs), two sacks, and 96 tackles.
And in '05, Urlacher no interceptions when he won it. In '03, Lewis returned one of his six picks for a TD while adding 1.5 sacks, and 129 tackles. In '00, playing for Bengals head coach Marvin Lewis, Lewis had two picks, three sacks, and 107 tackles.
"Your guess is as good as mine," says Dansby on how a Pro Bowl has eluded him. "We still had Pro Bowlers with Arizona. Kurt Warner, Larry Fitzgerald, Anquan Boldin. You have a Darnell Dockett on defense, an Adrian Wilson. But you overlook Karlos Dansby. That's how it was."
This is how it's been: remember when the Steelers' James Harrison picked off Cards quarterback Kurt Warner at the goal line on the last play of the first half in that Super Bowl in Tampa and went 100 yards the other way to give the Steelers a 17-7 half-time lead?
But it was Dansby's interception that put the ball on the Steelers 34 at the two-minute warning, giving the Cards a shot to go into the locker room up 14-10 or tied at 10.
"It's humbling because I still get the respect," Dansby says. "Some guys think I've been to like eight Pro Bowls the way I play the game. They see it on film. They know what a Pro Bowl player looks like and I fit the bill. A popularity contest. Politics. You can say a lot of different things."
But he's trying to re-write Super Bowl history and thinks he can do it with these Bengals and linebackers like Burfict, Rey, and Rey Maualuga.
"Best linebackers in the league. If anybody thinks differently, they're crazy," Dansby says. "I think it's because we can all do different things."
"I watch every linebacker in the league. I try to grab a few things, put them in a pot, and stir it up and see what comes out:"
_Burfict: "His drive. His instincts and how he gets to the ball. It's rare. You don't see that in a lot of linebackers. Every time he gets close to the ball, he's got some ill will."
_Rey: "Vinny is a student of the game. It helps him overcome a lot of things people say he can't do … His approach off the field, his godly walk, is uncanny. I'm glad to be (lockering) next to him because I know that can rub off on me."
_Vigil: "He's got a lot of intangible you can't coach. That's what you want in a linebacker. He's solid all the way around. He flies around, he gets to the ball, he makes plays when there's an opportunity. He kind of reminds me of myself, he's a rangy kid."
The Bengals will gladly take that, even if Vigil doesn't make a Pro Bowl because making plays can win a Super Bowl.
"All these guys remind me of myself," Dansby says. "Because they've got the hunger to win."
Cincinnati Bengals host Training Camp at Paul Brown Stadium Practice Fields 8/5/2016