With possible surgery pending, Bengals quarterback Andy Dalton's season ended Monday and he was replaced on the roster when they claimed former Texans and 49ers back-up Tom Savage. That paves the way for Jeff Driskel's first NFL start Sunday against the Broncos at Paul Brown Stadium.
Dalton becomes the unlucky 13th player on injured reserve after he injured his throwing thumb in Sunday's 35-20 loss to the Browns trying to recover a wayward shot-gun snap. It's the first time in Dalton's eight seasons he's gone on injured reserve and the only games he's missed were the three regular-season games and Wild Card game at the end of the 2015 season when he broke the same thumb making a tackle on an interception.
Savage, waived by the 49ers last Saturday, is a 2014 fourth-round pick of the Texans and won his first NFL start against the Bengals in Houston on Christmas Eve of 2016. For his career, Savage has a 2-7 starting record, all with the Texans, and has a passer rating of 72.5 with five touchdowns and seven interceptions in 13 games. After four seasons with Houston, he signed with the Saints this past offseason and was waived in final cuts before signing with San Francisco on Oct. 16.
Maybe it was the only way this season could have ended for Dalton since he lost several of his weapons early and often. Tyler Eifert, his erstwhile Pro Bowl tight end, suffered a season-ending dislocated ankle on Sept. 30. On that same day in Atlanta, third down running back Giovani Bernard sprained his knee and missed the next four games. Starting running back Joe Mixon missed games against Carolina and Atlanta with a knee scope. Eifert's backup, Tyler Kroft, played just five games before going on IR with a foot issue.
And, of course, The Big One. Dalton lost his running mate when he and wide receiver A.J. Green hooked up to pave the way for Dalton's fourth-game winning drive of the season. On that 11-yard catch that set up Randy Bullock's walk-off field goal against Tampa Bay Oct. 28, Green re-aggravated an old toe injury and he's missed the last three games that has turned into an 0-3 spin. Sunday's final 28:19 marked the first time at least one of them wasn't on the field for more than a few plays since the Bengals took Green and Dalton 1-2 in the 2011 draft.
On Monday Marvin Lewis gave no clue to Green's status for this week, but there's no question he'll have the sixth different starting quarterback of his 16 seasons on Sunday when Driskel joins Dalton, A.J. McCarron, Carson Palmer, Ryan Fitzpatrick and Jon Kitna.
Driskel impressed in the second half against the Browns while completing 17 of 29 passes for 155 yards and a touchdown for an 84.7 passer rating during his longest NFL stint since the 49ers drafted him in the sixth round of the 2016 draft. When the Niners waived him in final cuts, the Bengals claimed him and thought enough of him to keep both him and McCarron behind Dalton in the last two seasons.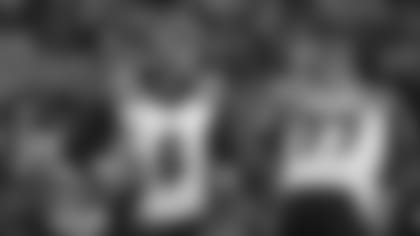 Before the Bengals made the announcement Monday, Driskel and offensive coordinator Bill Lazor met the media and reviewed the pros and cons of Sunday's outing and he got an overall solid grade.
"I was impressed with Jeff and really we've been impressed with him every time he's gone in a game. He's poised," Lazor said. "The glaring negative for us offensively was the number of pre-snap penalties. It's easy to explain that away as there was a new quarterback in the game, but that's not acceptable. So our job is obviously to get to the bottom of it … I think our players believe in him, and he's just proven it."
Lazor recalled looking at Driskel in that '16 draft and came away liking his game when he looked at his tape from both Florida and Louisiana Tech. He saw he was more than an athlete/runner/thrower
"One of the exercises we do is watch all the third-down passes that they make because typically in college, a lot of college offenses have a whole bunch of throws that don't translate real well to what's hard in the NFL," Lazor said. "But if you watch the third downs and the red zones, you can maybe get a clearer picture. And I remember watching Jeff's and thinking this guy has some NFL-looking throws on tape, not just physically but where he threw the ball, his confidence to get the ball in tight windows."
This isn't Driskel's first rodeo. Here's a guy that was named Gatorade Florida Player of the Year during his senior at Hagerty High School in Oviedo and then went on to throw 23 touchdowns and in 21 starts at Florida. After getting his sports management degree in Gainesville he went on to get his master's in business administration at Louisiana Tech while tuning up for the draft with a 4,033-yard passing season.
Somewhere in there he was drafted by the Red Sox even though he hadn't played baseball in four years.
So the guy's been around enough not to be overwhelmed by an NFL start.
"I think I can play at this level and give our team a chance to win. I've known that all along," Driskel said. "It's just a matter of stacking that up and doing it week in and week out.
"You have to focus every week, know the game plan like you're going to play because you never know when your number is going to be called. My routine is going to stay the same and come Sunday, I'll be ready to go regardless of who is in there."