Do you think your preseason went as well as everyone thinks it went?
"We did some good things. Now, it's about carrying that into the regular season. We have to keep up what we were doing. Just by carrying that momentum to the start of the year."
Do you think this preseason was the best of your career?
"Yeah. I felt really comfortable with the way that I played. There's a couple things I wish I could have done a little bit better. Just with the way this offense has moved and the way we are doing things, I feel really good about where we are at."
How much of what you did in the preseason was from the confidence you have in the offensive line protecting you? Because it didn't look like you got touched a lot…
"Our line has done a great this whole camp. Even in OTAs and everything. It's a big part. Anytime the quarterback has time and has the ability to step into his throws, you feel like you are going to put the ball in a good spot. It's a big part of the reason we had the success we did this preseason."
With so many young pieces around you, does that put more on you this season to keep things going?
"It's just about making sure guys are up to speed and guys are on the same page of what we are doing. I've seen all the stats saying we are the youngest team in the NFL and all that kind of stuff. We have a lot of guys that have played in a lot of games. For those young guys, they have good guys to look up to and see how they have done things. I feel like we have a special group here."
Does it feel like the team is younger personality-wise?
"Being 30 years old now, I'm one of the oldest on the team. There is definitely some things that I say, 'Oh, those are just young guys now' (laughs)."
Your wife Jordan said that this year that you got a parking spot here at the stadium, which are reserved for the longest-tenured players on the team, and that, 'We know he's old now'…
"Yeah that's right. You shoot for that parking spot. You get to be old enough to get that parking spot. I'm glad we got it, and I know she's happy that we have it."
What are your expectations for WR John Ross?
"We have high expectations for him, and he has high expectations for himself. For him not having that year (that he expected) last year wore on him some. He's done everything right since we have been back, and that's exactly what we've asked of him and what he expects. He's made some big plays this preseason, and we expect big plays in the regular season."
There have been a lot of changes here over the last year. What is the biggest difference now with this offense, compared to where you were a year ago?
"This is Bill's (offensive coordinator Bill Lazor) offense now. This wasn't just a carryover of what the offenses have been. With what we are doing, he feels comfortable with it and our guys feel comfortable with it. The biggest thing is that we are playing fast."
Ryan Hewitt, who was on this team a week ago, is now now on the Indianapolis Colts. What are your feelings on that, considering how well he knows the Bengals' offense?
"He knows a lot of what we've done. We'll see if that plays a part in it this week."
Do you need to come up with dummy calls because of Hewitt's knowledge with the Bengals playbook?
"No. Everything is exactly the same (laughs). That's just how it is."
What is G Alex Redmond like in the huddle?
"He brings an intensity, and he's a guy that's physical. He has that nastiness to him, which is good to have up front. That's just what he brings to the huddle and what he brings up front."
Does he make people nervous? It seems like he plays pretty close to the edge…
"He plays to the whistle. It's a good thing, as long as it doesn't go past the whistle and it draws a penalty. We like having him up there."
The Colts have an entirely new coaching staff. With so much uncertainty of what they might do, how much is that a factor as you game plan this week?
"There's going to be something that we haven't seen before. That's the nature of it. We only have four preseason games to go off of. With that, I'm sure they didn't show everything. We just have to be prepared to make adjustments if we need to and move on from there."
Flip side is that you guys haven't shown everything either by a longshot right?
"That's preseason football. It's just how it all works."
How has Marvin Lewis adjusted to Bill Lazor's offensive system, which seems to be more fast and aggressive?
"There is a balance of everything. Marvin likes where we are at. Everybody is the building is comfortable with what we have done. Now it's just putting it out there on Sunday's."
Did you talk to Colts QB Andrew Luck through his process coming back from injury?
"Yeah. He's from the Houston area. Our families have known each other for a while. Through the whole process of him doing (rehab) stuff, I didn't talk to him much. But it's always fun going against him and getting to catch up with him at the game."
After what Luck went through with his injury, does that put into perspective how one injury can change your career?
"That's just the game of football. You could be one play away from it being your last, but you can't think that way. You can't focus on that. For him, he's obviously had to go through a lot and had to miss a whole year. He's done a lot to work to get back playing again. I don't expect him to change much, hopefully this week he can slow it down a little bit, but I expect him to get back to the way he was playing."
Do you guys talk at all about the National Anthem controversy, or do you think the union and the league will work that out?
"That's one of those things where they will figure everything out."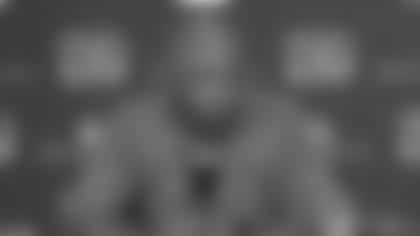 "Here we are at the kickoff of the season. It's an exciting point and an exciting opportunity. This (season opener) is on the road. We seem to be comfortable with that. We know the things you have to do to get off to a great start on the road. (The Indianapolis Colts) are excited with Andrew Luck coming back and playing his first regular season game (since 2016). They've reshaped their football team, particularly on defense, going from a 3-4 structure to more of a 4-3 structure. It's an adjustment they are making. We will likely see things from them that we didn't see in the preseason. Like most teams, they've been straight forward this preseason."
Do you feel like you know what you'll expect from Andrew Luck? Do you have a feel for where he is at currently?
"We have a pretty good feel for it. He's been a great player. He's come back from injuries (before). With every opportunity he's out there, he will feel more and more comfortable."
When you've faced him before, what did he do best?
"His command of the offense was tremendous, knowing where they wanted the football to fit in with both their running game and passing game. For a young player, he was very astute and ahead of the curve that way. He's really comfortable starting over there. He had Pep (former Colts offensive coordinator Pep Hamilton) early on in his career. It seemed like that helped give him great comfort."
You mentioned that you guys know what you need to do to get off to a good start on the road this season. What are some of those things you need to do?
What did G Alex Redmond show in the preseason that got him moved up to first on the depth chart at RG?
"He's shown consistency in his physicality, which is important. He's shown a steadiness in understanding the things (Bengals offensive line coach Frank Pollack) is teaching up front. He's continued to grow, and you see a maturation of his whole personality. His physical upside is tremendous. We now just need to fine-tune the little things he may have struggled with from time to time."
Early on in his career during practices, it seemed inevitable that he'd be involved in some pushing and shoving altercations. Is that something you've tried to reign in, or do you embrace that?
"No, this isn't WWF (laughs)."
Is that something where you talk to him about it?
"We've had talks (laughs)."
Have you had many talks over the last few years?
"We've had many talks, including a couple this year (laughs)."
When did it seem to sink in for him?
"If you don't play, it sinks in very quickly. These guys are here and want an opportunity to play. You can't play when that is getting in the way."
He was pretty candid about thinking that he blew his chance to start after the preseason game in Buffalo. What did you see from him in the way he came back after the penalties early in that game?
"He settled down and played. We put him back in, took him out for a bit, and put him back in again after a series or two. Sometimes you just have to stand and watch. It's important to him. Alex has grown more than any player in this building as a person, which is great. The staff and many others involved have done a great job with him. He's very appreciative of that. It's a great story."
His issue with the penalties is correctable, but he has to be the one to correct it, right?
There's nobody else that can correct it …
How do you reign that in without losing his edge? Is that something he just has to figure out?
"It's okay to have an edge. We want him to have an edge. I can't say some of the things I used to say, because then I'd get letters for donations (laughs). He is by nature a physical person. If I were to go down an alley, he'd be the first person I'd find in that locker room to take with me (laughs). No doubt about it. That's what you would want, because he's going to go down with you and he's going to go down swinging. We just have to go with what is within the framework of what we're asking him to do technically. He's embraced it. Coach Pollack came in here with an open and fresh mind, so all of these young guys got a fresh start. They got an opportunity to earn his trust and to further their cause by doing it his way, which is the right way. They are seeing that pay off."
How much do you have to worry about former H-B Ryan Hewitt being in Indianapolis now, since he's familiar with your offense?
"We have a concern, but we know that going into the season. All of the 90 players we have (during training camp) won't make the team, and we know that. We're well aware of the process. There is nothing that leaves here which is going to pertain to (our game plan) for Sunday that hasn't already been changed and adjusted. We have (former Bengals quarterbacks coach) James Urban a couple states over in Baltimore and we play (the Ravens) early (in the season) too. Anything that was left over offensively has already been revised."
Do you think about that type of stuff when you're putting in game plans?
"We don't put in game plans (during training camp). We talk about it, but now we focus on it since we have an opponent."
Is the focus more general in training camp and preseason?
"Yes, it's more general. These things are more for the coaches. It's for the coaches to have a look at concepts and theories. We don't apply it to any tape that way. Then we can the tape and bring it back now with things that would fit together (for this game). It's applicable to many opponents with the theories and concepts."
Did you break out these things with the players on Monday?
But it's after the final cuts were made, right?
"Yes. The football team basically gets put together on Sunday at 1:30 or 2 p.m. Obviously we had another move at 4."
Former Bengals OT Willie Anderson went to Baltimore after being cut here …
"The cut-down (process) was different back then. It was a different situation. The timing of everything was done differently. Now with Thursday night games, everything is taken into consideration with that. Basically everybody gets the same opportunity."
The way you have built this defensive line, with the young guys coming up behind DT Geno Atkins, DE Carlos Dunlap and Michael Johnson. Are you satisfied with what the young guys have shown in the preseason and what they showed last year?
"We're pleased with our depth up front. That's going to be important. We had a chance during the Buffalo game to divide (the snaps) and play the numbers the way we'd like to see them unfold during the season. Hopefully we stay healthy moving forward with those guys up front. They should stay fresh and should be able to contribute."
Does having this group of guys allow you to keep guys fresh and also rotate more than you've been able to in past seasons?
"We've tried to be (fresh) at this point. I don't know if we're better or worse. This group is said to be a year wiser and another playing year under their belts, whereas DE Sam Hubbard comes here as one of the most mature young guys we've had."
I know DE Carl Lawson is a third-down, nickel guy. What do you see out of DE Jordan Willis? Is he a first- and second-down guy?
"Jordan is going to have a role on third down as well. He's going to be able to come in as a substitute on both sides. He'll be the first rotation guy at either end on base downs. We tried to give him equal amounts of work this preseason inside and pass rush situations so he would get comfortable with that. He deserves the opportunity to play. The better you play, the more you end up playing. Carlos was listed as a starter on the depth chart for two years, but never ran out there (on the first series). It doesn't matter where you are on the depth chart — it's what you're contributing on Sundays."
Jordan came in with a good pass-rushing background from Kansas State. When he got to the league, did he have a lot to learn?
"Jordan is a superior athlete to a lot of players he played against (in college). You come here and it's a little different, yet he works and studies it. He's very analytical, as everyone knows, which is not a bad thing. He's conscientious. He wants to be out there as a starter. He's going to continue to impress in order to do that. We don't want him to be pressing from that."
You mentioned how the Colts have gone from a 3-4 to a 4-3 defense. Are there personnel differences, and have they seemed to transition smoothly in your eyes?
"They have (transitioned smoothly). They've made some personnel adjustments that are different. I don't think (former Colts DE) John Simon is still there. They've tried to slim the guys they have down and try to go with more speed. It's something that is almost a cultural change organizationally, with the defensive front particularly."