A week ago Andy Dalton was thinking about changing plays at the line of scrimmage. Now he's thinking about changing diapers. The Bengals, however, don't look to be changing franchise quarterbacks. Such is life in the NFL, which can change with a bounce. Or, as Dalton and the Bengals found out last Sunday against Cleveland, without a bounce.
The scribes covering the Bengals have calculated that Dalton tore throwing thumb ligaments about three yards from the Paul Brown Stadium spot he fractured the same thumb three years ago. He broke it making a tackle on Steelers defensive end Stephon Tuitt's interception. He tore the ligament Sunday chasing down an errant snap and when the ball didn't bounce up, Browns defensive end Emmanuel Ogbah went down and Dalton's thumb got tangled in the lost fumble.
"What was going through my mind, was what's the ball going to do? Is it going to bounce up? Do I need to fall on it?" Dalton recalled Friday, his first PBS appearance since surgery. "What's the best way of doing this? Then whatever happened, happened. I don't even know. It was a blur. Crazy."
Crazy? Dalton is gone, the 13th Bengal to go on injured reserve. The day after he underwent surgery, left tackle Jake Fisher became the 14th with a back problem. Even as Dalton briefed the press, tight end Tyler Eifert dragged his casted ankle through the locker room. And that's not even counting the guys on injured reserve. Dalton ended his season with not only Eifert iced, but favorite target A.J. Green has missed the last three games and returns Sunday (1 p.m.-Cincinnati's Channel 12) to play the Broncos at PBS.
You've got to hand it to Dalton. He's started 120 regular-season games out of a possible 123,
"I've played football for over 20 years," he said. "I've broken my left middle finger then broke my right thumb and now ligament in my right thumb. And that's it. To play football that long and only have three fingers that have been jacked up, that's pretty good. It's weird." 
Elias has 6-5 Washington in the NFL lead with 14 players on injured reserve and the 5-6 Bengals tied with the 6-5 Colts in second with 13, followed by the 3-8 Jags and 2-9 Raiders with 12 each. The Bengals would be tied with Washington, but Elias doesn't count rookie cornerback Davontae Harris, a member of injured reserve eligible to return.
"I feel like I keep saying it, but injuries unfortunately are part of the game and it's going to happen and you have to say 'next man up.' All that kind of stuff," Dalton said. "There is some reality to it. Nobody wants to make excuses. Nobody wants to come out there and say the injuries are the reason that we are where we are, but I think the team looked a little different when we were 4-1. Different guys took different time of missing games. It can be tough when you don't have the same group out there. When you look at the best teams, the teams that make a run at it, they're the healthiest teams. Unfortunately this year we weren't that."
Dalton says he'll stick around and help out back-up Jeff Driskel in his first five NFL starts. He stood on the sidelines three years ago to help AJ McCarron finish off the run to the AFC North title, but that's when he was protected with a cast. He doesn't have one of those now, so he's not sure if they want him on the sidelines.
Despite the grumblings about the Bengals moving on from Dalton with two years left on a club-friendly deal, that doesn't seem to be where management or head coach Marvin Lewis is headed. His season ended with the first 1-5 skein of his career.
"A lot of franchises would love to have Andy. If you talk with any GM or head coach, they're all trying to find Andy Dalton," Lewis said Friday. "Each and every one of them. You find out right away when you don't have a guy that's competent, that can deliver accurate throws and can handle the offense and handle the planning that goes into week to week to week. The quarterback is such a person that has to be able to handle the changes of the defensive schemes week to week and has to come in on Tuesday and have an idea about what is about to occur and be able to apply it and help the rest of his teammates bring it to life Wednesday and through the rest of the week and on Sunday. That's the quarterback's responsibility."
It's anyone's guess what happens at the end of year, pending the outcome of the next five games.  The safest conclusion is that the Green-Dalton Era is going to continue. Certainly Dalton hasn't gotten a whiff of anything else.
"Everybody here's been behind me. I've never doubted that at all. I think from the top down, the support that I've received is what you want," Dalton said. "I never had a doubt."
Dalton, like everyone else, dipped in the last two months, a stretch the Bengals have lost five out of the last six to wipe out a 4-1 start They've dropped three straight without Green and Dalton's passer rating of 76.5 (four TDs, three picks) indicated something wasn't right. But before all hell broke loose after the bye, he had a 92.9 rating with 17 TDs, projecting to break his own club record with 34 and a rating that would have been the second best of his career.
Lewis pointed to the Carolina game and the four interceptions that weren't his fault and thought he was playing some of his best football ever, starting with his four fourth-quarter comebacks that got them to 5-3. (He easily could have had five for 6-2 and you wonder where this season would be if the defense turned over the Steelers in the last 73 seconds.)
"Not everyone has that perceptiveness or whatever that quality is that those special guys have and Andy is one of those guys," Lewis said. "He can look at it right away. This is this. He helps the other guys. Then he gets with the center and goes from there. Then he has to help the backs and see what they see and the rest of the receiving corps so everyone sees it through the same the same eyes. He does a great job of that."
Dalton would like a few them back, of course. But he thinks this offense can hang its hat on some things.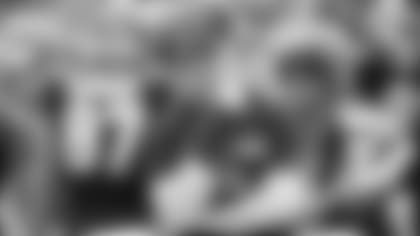 "When you look at the games we won and how we won them at the end of games, we made the plays when we needed to," Dalton said. "I think that definitely is a positive you can look back and say when we needed to make a play, when we needed to have a drive, when we needed to go score, we did it. There's a lot of positives there. Obviously there are some things I wish could have been a little different. But the way we played at the end of games is going to carry a lot. Even moving forward, not just this year. 'All right guys, we've done this.' So we know we can."
Dalton and Driskel spent a little time together Friday. He's not going to say much to him "("Be true to yourself. He knows what he's doing"), but this was more bureaucratic than anything.
"We were figuring out how to work computer and do all the stuff that I normally did," Dalton said. "In the quarterback room I'm the tech guy. I'm all into all that kind of stuff. I'm still that guy, but where I was doing that stuff now he's going to have to do a little more of it."
No question, Dalton says. He'll back throwing for the off-season workouts in April. But he won't push it until around then. Why? More urgent is the birth of his third child and wife J.J. is more than ready with the date less than two months away. Dalton had a little fun with the doctors and trainers after Cincinnati hand specialist Peter Stern operated.
"OK, we're having a baby here in less than eight weeks. Am I going to be able to hold the baby?" Dalton asked. "Will I be able to change diapers? What am I going to be able to do here? He was saying you'll be able to change diapers. I was saying, 'Are you sure? Change your mind. Now's the time.'"
Dalton may be doing some changing in the offseason, but it's not looking like the Bengals are changing him.