And on the third day, the Bengals drafted an offensive player.
For the second straight year, Cincinnati used its first three picks on defense. After not having the opportunity to discuss offensive players with reporters prior to day three of the draft, offensive coordinator Brian Callahan jokingly wore a "Hello! My name is Brian" name tag to a news conference following the fourth round selection of Purdue wide receiver Charlie Jones.
The 5-11, 176-pound Jones led all FBS receivers last year with 110 receptions and broke a 20-year-old Purdue record for receiving yards with 1,361. He finished 12th in the nation in touchdown catches with 12.
"To me, he was one of the top wide receivers in college football last year," said receivers coach Troy Walters. "So to add him to the guys already on the staff – I couldn't be more excited."
Jones ran a 4.43 40-yard dash at the combine. He primarily played outside receiver at Purdue, but has the profile of a slot receiver in the NFL.
"He's a technical route runner," said Walters. "If it's a 15-yard route, he's going to run 15. If it's 12-yards, he's going to get 12. He knows how to manipulate coverages and defenders at the top of his route. He just knows how to get open.
"Joe (Burrow) wants you to be in the right spot at the right time and that's what Charlie does. He's going to be in the right spot and he's someone that Joe can count on."
According to The Athletic's Dane Brugler, Jones' "crafty speed and ball skills will help find him a role in the NFL."
"He has great ball skills," said Walters. "Any time he's in a 50/50 contested catch situation, he seemed to come down with it. All of our receivers have great ball skills. So he adds to that as a guy where no matter where you throw the ball, he's going to make the play."
Since the Bengals have one of the NFL's best WR trios in Ja'Marr Chase, Tee Higgins, and Tyler Boyd, Jones' biggest opportunity to contribute early could come as a return specialist. He had a kick return touchdown and a punt return touchdown in his college career.
"It's something I want to do, and something I've loved doing," said Jones, the 2021 Big Ten Special Teams Player of the Year at Iowa. "I definitely understand the importance of special teams – it's really how I got my foot in the door. So I want to be able to come in and make an impact any way I possibly can."
"It feels like for the last couple of years we've always had our eye out for a returner that could help us with a little more dynamic ability," said Callahan.
Jones did not have a smooth path to the NFL. The 24-year-old spent two years at Buffalo before transferring to Iowa. After three years with the Hawkeyes, he transferred again to Purdue and took advantage of the Boilermakers' spread offense to earn Second Team All-America honors.
"It's amazing," said Jones. "A lot of emotions going on. I took a lot of chances with transfers and just believed in myself the whole time. I had to build myself up from the bottom and this has just been a dream of mine forever."
And while the pick finally gave Callahan the opportunity to discuss a draft pick with reporters, he has no complaints about the team's emphasis on defense in the first three rounds.
"It's exciting for me to watch the guys that we've picked that help our team," Brian said. "That's the best part about it.
"I'm a fan of helping the Bengals at the end of the day."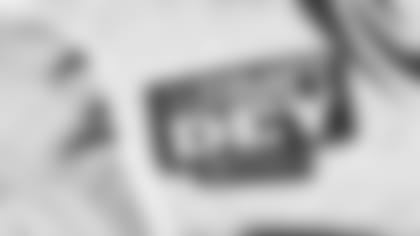 2023 Draft Dey Center
The official sources of news, photos, interviews and more of Draft Dey 2023, presented by Integrity Express Logistics.