The annual rite of The Pre-Season Finale, otherwise known as the Cedric Peerman Bowl and staged this year on Thursday at Paul Brown Stadium (7 p.m.-Cincinnati's Local 12) pitting the Bengals and the Colts, has evolved into a punch line for everybody but the 100 or so souls playing it.
For them, as Bengals special teams coordinator Darrin Simmons says so eloquently, "It's their business card."
Simmons has pulled out more tape than Netflix to prove his point. For fans of the Green-Dalton Era, he can point to any recent Peerman Bowl and show his players something like a punt return touchdown by wide receiver Dane Sanzenbacher, or a crushing tackle by safety Brandon Wilson or cornerback Tony McRae, or a kick return by wide receiver Alex Erickson that secured a roster spot less than 36 hours later.
"It matters," Simmons says. "This game matters to those guys."
But the Academy Award moment for any Bengals bubble player in a pre-season finale belongs to former running back Cedric Peerman, the man that took a run 93 yards from scrimmage in this game straight from purgatory to a Pro Bowl. The Peerman Bowl was born in the 2010 pre-season finale in Indianapolis in which the Bengals won a thoroughly obscure and anonymous 30-28 victory at Lucas Oil Stadium.
Except it gave them Peerman, a guy that had been cut three times since the Ravens drafted him the year before out of Virginia in the sixth round.
"I felt like I was fighting for a job," Peerman recalls this week of that run. "I was hoping that would kind of solidify it. I think it did."
Instead of getting cut a fourth time and going back home to Virginia to use his license to preach or getting claimed by his fourth NFL team, Peerman parlayed his shot into 90 games and a 2015 Pro Bowl berth during seven seasons for the Bengals in which he inherited Reggie Kelly's role as the locker room's spiritual leader while becoming a special teams captain for a team that went to five straight postseasons.
Not only that, the 93-yard dash allowed him to hang around long enough so that the next season Dan Hoard, the Bengals radio voice, could christen him with one of the best nicknames in franchise history.
Simmons, coaching them then and now, has no doubt.
"He made the team on that play," Simmons says. "His spot was probably up in the air a little bit. He helped solidify it. Yeah, I was happy. Well, more relieved than anything. He had special teams value to me."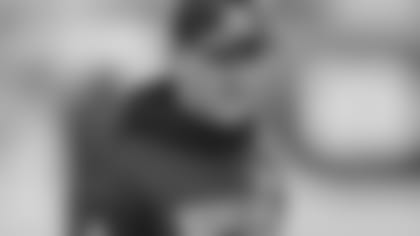 Same decade but different time in another game. The starters still played the first series of the finale back then as opposed to this Thursday when a starter or even regular treats the sideline line like an invisible fence. Nine years ago, quarterback Carson Palmer actually dropped back five times in this game, completing four for 28 yards that included a scary 12-yarder over the middle on which his top target, wide receiver Chad Ochocinco, got hammered. The bell cow, Cedric Benson, ran it three times for six yards before embarking on a season he would bang it 321 times. This year's bell cow, Joe Mixon, has carried it twice all preseason (one got called back), but not in two weeks.
"I thought it was down to me and another running back," Peerman says. "And maybe another guy on the other side of the ball. Like maybe a safety."
The Bengals were going to keep four running backs. Benson, Bernard Scott and Brian Leonard all played big roles in the team's sweep of the AFC North the year before and were locks. But Leonard had been hurt in the Hall of Fame Game that opened the preseason, along with undrafted rookie running back Cordera Eason, and while Leonard would be back for the third game or so, they needed bodies.
So three weeks before the finale, they signed running back James Johnson, who had played in just two games for the Bengals in the previous two seasons he spent mostly on the practice squad. The Vikings had cut him in June and now here he was. Peerman, who had been cut the day after the Lions drafted Jahvid Best in the first round a few months earlier, had been here before.
"They brought in James Johnson and I thought he was the guy I had to beat out," Peerman says.
On the second series of the second half in Indy he got the chance, standing behind back-up quarterback Jordan Palmer in his own end zone, flanked by second-year tight end Chase Coffman and undrafted rookie fullback Joe Tronzo. Left guard Reggie Stephens and center Otis Hudson pulled to the right. Right tackle Andre Smith walled off the edge. Peerman cut back from left to right and suddenly he was gone through the middle and leaving a diving DB in his wake. Helping him downfield were guys like left tackle Isaac Sowell and wide receiver Matt Jones, the last man to wear No. 18 before A.J. Green arrived the next year. Other than Smith, all those guys had yet to play a game for the Bengals. Only Coffman did and it was just six. The two Colts cornerbacks Peerman outran, Terrail Lambert and Brandon King, combined to play eight NFL games. None after 2011.
That wasn't the only big play Peerman made that night. He turned disaster into a second chance when he dropped a kickoff, braced himself and went 50 yards.
"You could say," Peerman says, "my career hung in the balance on two plays."
It's pretty basic for Simmons.
"If they have the ability to make plays, they'll make them," he says. "If they don't, you've got an answer, too."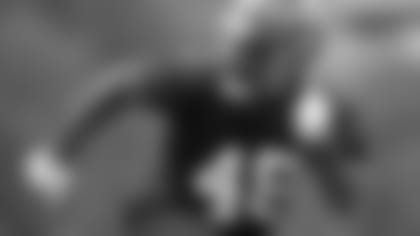 As Peerman became one of the better cover players in the NFL kicking game, Simmons would click to Peerman's tape on kickoffs and marvel how he had the audacity to break double teams. Same decade, different game. Peerman could continually break the now-outlawed two-man wedges with a highly-skilled combination of speed, savvy and strength. But that's not the guy Simmons got, a guy that hadn't played special teams his last few seasons in Charlottesville.
"A lot of guys come into the league with delusions of grandeur. They think they're going to start at running back or linebacker," Simmons says. "Ced understood it. He understood his role and he developed himself into a top special teams player. We've had a lot of great guys (on teams) with great contributions. He's at the top of the list."
Peerman is still showing what made him a great leader. "I love being around the guys," he says.
So he and wife Hagar, good friends with Jordan Dalton, still try to attend the team's weekly Bible study meetings during the season. They still live in Dayton, Ky., and with Hagar in rotation at the University of Cincinnati medical school, they've got their plates full with a three-year-old son and year-old twin girls. He's also overseeing rental properties as well as doing some coaching. But he's always got time to recall the Cedric Peerman Bowl.
Here's his advice to the guys on the bubble:
"You're going to get a lot of playing time," Peerman says. "There are a lot of other teams out there that are going to be watching. Use it as an opportunity to make a couple of big plays. Make a big play."
 Trying to figure out the guy or guys that need to come through Thursday night is anyone's guess. Is there anyone out there that can win a job at last call?
"I don't know," Simmons says. "I don't know because I don't know who's going to make a play or if they're going to make a play. But this is why you play four pre-season games. You evaluate it all."
Could it be at linebacker, where Simmons has openly lobbied the rookies to stop waiting to step up? Could sophomore Malik Jefferson or sixth-rounder Deshaun Davis stick if they have a pick-six or a fumble return TD or a blocked kick? What about at cornerback, where 2018 fifth-rounder Davontae Harris or undrafted rookie Anthony Chesley appear to be grinding for the last spot?
 On offense, the four running backs are set this time: Mixon, Giovani Bernard, Rodney Anderson and Trayveon Williams, although it looks like maybe only Anderson plays Thursday night. Or maybe not. But what about receiver, where they figure to keep seven in what has been a summer-long tight scrum? Injuries could be a factor with Auden Tate (knee) and Stanley Morgan (unknown) limping.
But, like Peerman said when he ended up in Cincinnati in May of 2010, it was in God's hands and if he stayed healthy and played well on teams and in the games, he had a shot. There's no mystery. It just hasn't been solved yet.
 "All it takes is one play to catch somebody's eye," says Peerman, who went a lifetime in 93 yards. "You can end up like me playing (seven) years."