DAVIE, Fla. - The last time Chad Johnson caught an NFL ball came in the Super Bowl of eight years ago and the laces might as well be turned the same way because nothing has changed.
As this Super Bowl weekend whirred about him, Johnson slowed down long enough to duck into another locker room. Still bald. Still walking the line between back-of-the-class mischief and front-of-the-reality TV tabloids outrageous. Always a click away from a war between capital letters. He just turned 42 but he hasn't turned back. Another Chad Johnson plays for Marvin Lewis this coming season at Arizona State.
"Of course he's a Junior," he says of his son.
His father is a little heavier, he says. He calls it 201 pounds, but he doesn't look 15 over the weight that carried him to six Pro Bowls when he patented those hair trigger releases that made him damn near invisible coming off the line of scrimmage.
"Never had any regrets. Never have," Johnson says. "I enjoyed my career the exact way I did it. If I was able to do it again, I'd probably do it the same way. Plus a little bit more. Bleep, yeah. Bleep, yeah."
He's in the bowels of Rick Case Arena at Nova Southeastern University, away from the madness of South Beach, where he'll be the next night, the night before the big game, to host a party. He motions to a chair and he sits in another one, where someone brings him a designer bag. Enclosed is his No. 85 for the SunTrust Chad "OchoCinco" Johnson Celebrity Super Slam charity basketball game benefiting the DJ Irie's Foundation for at-risk Miami youth.
The uniforms have Bengals-like stripes, but the lady who brings him the bag doesn't know if that's why.
"I'm still 85. It's a great thing 10 years removed from the game to still be identified as such," he says. "85 is everywhere as OchoCinco."
These are the Ocho's people. A Twitter feed of reality stars, singers, rappers, deejays, former athletes, a rising icon in tennis' Coco Gauff, NBA Hall-of-Famer Tracy McGrady, Janoris Jenkins and Terrell Owens are showing up on a red carpet.
"I don't really know who's coming," Johnson says. "They show up and I just say, 'Thank you.' I'm just the face."
More proof of how The Ocho entertained us all those years ago is that the entertainment press still covers his finances like Darrelle Revis stalked him in the '09 playoffs. Despite all that, the Ocho assures he's doing well. He says he's got too much going on and hands off his phone to show you whom he's been working for just this month.
Bleacher Report. Madden at Hard Rock. Madden in Chicago. NFL Films. He says throw in his NFL pension and life is good.
"I've cornered the market and marketed the corner years ago," Johnson says, "so the relevance always remained there whether I was in the game or not."
Bengals founder Paul Brown used to tell his players to think about their life's work after football. It turns out The Ocho's life work is being Chad.
He looks forward to working for NFL Films as they shoot "The Grind," the weekly Epix show featuring Johnson and other former and current NFL stars going behind the scenes of the league. He loves it because he feels the love talking to wide receivers like "Keenan (Allen), DeAndre (Hopkins), Julio (Jones), Michael Thomas.
"To hear them regurgitate some of the things I did that I even forgot I did," Johnson says. "And hear some of the stories and how they looked up to me as a kid … It's crazy. Watched me as a kid? I feel like I'm not that old or that far removed from the game. But that was so meaningful to talk to so many different players I hadn't met before. They looked up to me and enjoyed the way I played the game. It made me feel great."
His favorite receiver of the current crop sounds like the guy chasing his Bengals records.
"My favorite receiver?" Johnson repeats. "My favorite receiver didn't play last year … I see A.J. (Green) all the time. The respect there doesn't have to be said."
But as much as the current guys pay their respects, Ocho doesn't think they can top the original. And that's what he is. Johnson blazed the pro athlete's trail of social media footing, double-fisted branding and reality TV shows before the wives were invited. We thought he was nuts with the checklist of cornerbacks he beat, sending those care packages to opposing secondaries the week of games, handing the ref a buck. But he just beat us to Instagram Age, that's all.
"I was a bit over the top and different and authentic. Unlike most are now. They're cool. But they're just choreographed and nothing is original," Johnson says.  It's stuff that's already been done. The stuff I did, it was, 'Holy bleep, how did you think of that?'
"It's something that was frowned upon. What I made fun and entertaining is now OK. So I would like all my fine money back that comes from the powers that be."
Johnson thinks he paid a price for pulling stunts like donning a Hall-of-Fame-like gold jacket on the sidelines after he caught a 39-yard touchdown pass from Carson Palmer to start the season's scoring during the 2007 opener on Monday Night Football against the Ravens. He doesn't believe he hurt the team ("I was doing my best to win"), but he believes he hurt his chances to get a real gold jacket.
"Politically, the way I played the game is frowned upon. Nothing I can do about that," Johnson said. "At some point I will get in (the Hall) because the numbers are there. Look at the era I played in. You could actually play football. The defenses the Steelers and Ravens had that I had to deal with and still be productive consistently while I'm talking trash? That's difficult."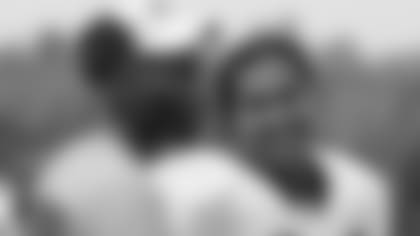 T.J. Houshmandzadeh, his 1,000-yard straight man, insists he should be in the Hall. (They hooked up in Miami last week for a hotel workout and Houshmandzadeh said, 'Even if we haven't seen each other in a year, it's like we haven't seen each other for five minutes. He lifts more weights now than when he was playing.")
"I look at talent," Houshmandzadeh says. "If you're name consistently pops up as one of the top players at your position for five years, you should be in the Hall of Fame. We didn't win enough. If we had won a couple of playoff games, he'd be in, but he should be in anyway. From '03 to '08, his name consistently came up."
Johnson looks at fellow Miami native Michael Irvin's Canton numbers with the Cowboys and says his numbers are identical and he's right. In 166 games, Johnson had 766 catches for 11,059 yards and 67 TDs on 14.4 yards per catch. In 159 games, Irvin had 750 catches for 11,904 yards and 65 TDs on 15.9 yards per catch. The problem is that Irvin played in the '90s, the decade before Johnson, when the passing game was still re-tooling its numbers and approach.
And the three receivers on the Hall ballot last week, Isaac Bruce (who got in with more than 15,000 yards) and Torry Holt and Reggie Wayne (who didn't get in with 13,382 and 14,345 yards, respectively) have so many more yards and Wayne played in 45 more games.
But to Houshmandzadeh's point, no one is going to say Wayne was a better receiver than Johnson. From 2003-06, Johnson won four straight AFC receiving yardage titles. The only other man to win four straight conference receiving titles is Jerry Rice, the greatest receiver of them all. And Johnson had four seasons of at least 1,300 yards, the same as Wayne.
But it doesn't sound like Johnson is going to be very broken up about not having the jacket.
"If I cared about the Hall," he says. "I would have changed the way I played and walked the straight line."
Marvin Lewis, his old head coach, is a guy that wishes The Ocho had walked the line a little more. But, he also agrees. If we're talking about these guys for the Hall, then the Ocho should be in the conversation at least. Lewis never passed on a chance to needle him and he's still doing it when he says his kid's a better receiver than Chad. Can't tell if he's kidding. But know this. Lewis thinks Johnson was a hell of a receiver and this kid is pretty good.
"Bigger body. He's 6-2 and still growing," says the 6-1 Johnson. "He's got great hands. He might have better hands than me. I had a small frame. He's built like Tyler Boyd."
Then he tucked in No. 85 in the show where the credits never roll.