For the first time as a pro Monday John Ross lined up against the defense.
Admitting he was "too excited," for his first NFL practice, it looked the adrenaline was still pumping through first-round pick John Ross after Monday's workout.
"Everybody was happy to see me out there running around, all the guys cracking jokes, 'you finally clocked into work,'" Ross said. "A couple of guys said I was on paid leave."
Wearing full pads in front of a group of season ticket holders, Ross, the Bengals rookie wide receiver, worked in one-on-one drills, seven-on-seven, and 11-on-11 for the first time since they made him the ninth pick in the draft. He's still under the watchful of the trainers as he finishes off his comeback from off-season shoulder surgery. After they told him "to be careful," they kept his snaps at a minimum, so it looks like he won't play Saturday (7 p.m.-Cincinnati's Channel 12) against the Chiefs at Paul Brown Stadium.
"I just want to take everything slowly, I don't want to rush everything," Ross said. "I don't think it's imperative for me to come back right now and play Saturday. I think it's important for me to be ready for Week 1." ….
Still, the man who set the NFL scouting combine 40-yard dash record this year with an out-of-this-world 4.22 seconds, had his teammates buzzing. "You've got to say pretty damn fast," said one of the guys not practicing as he gazed at a reporter's tweet.
With No. 2 quarterback Andy Dalton running the show, Ross lined up against last year's first-round pick, cornerback William Jackson in team drills, and momentarily beat him with a stutter step on a go route. But Jackson, who ran a 4.35 40 himself, recovered to say he got his hand on it at the last instant.     
"I might have dropped that. I think that was one of those lack of focus things,"
 said Ross, who was going to check the tape to see if he dropped it or Jackson tipped it.
He didn't make a lot of plays, but just the fact Ross was on the field against the defense for the first time in his NFL career is enough to give it to him.
And, believe it, the defense had a number of guys that could have taken it on a day it dominated. Start with right end Michael Johnson, who came up big after a bit of a  struggle Friday against his old team Tampa Bay. Or WILL backer Vontaze Burfict, who was his usual disruptive self and added an interception.
"I expect him to be a big factor as time moves on," said secondary coach Kevin Coyle after watching it all. "He looked good."
Coyle should know. He was there at the University of Washington's pro day in the spring when Ross showed he was more than a sprinter and carved up the field with jack-hammer cuts and breaks.  
"One of the most impressive workouts I've ever seen," said Coyle, who has been in the NFL since the turn of the century.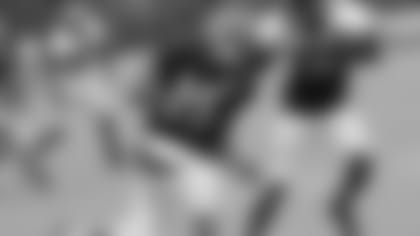 John Ross makes a move Monday.
"Like I said when we drafted him, he can start and he can stop," said wide receivers coach James Urban. "And those two things together, if you can go fast and you can stop and turn, now it's learning how to run the routes the way we need him to run."
And that's where Ross really impressed in his debut. This kid can stop and start. You could see that in the one-on-ones. It's going to be the team stuff that he'll need time to absorb. Like quarterback Andy Dalton said after the practice, it's just a matter of Ross getting used to where he lines up when.
There is a way to go. First there is getting used to the scheme.
"There were a couple of glimpses of what we saw on film," Urban said. "Shoot, just getting lined up is a big step for him. He hasn't done it yet."
Ross, the Fastest Man We Know, realizes it is now about football and everything else is that window dressing of hype that blankets the NFL.
"I think that's a media thing. I think our coaches they brought me in for a reason," said Ross of The Fastest Man stuff. " They know what I'm capable of, I know what I'm capable of I just got to trust the plan and trust everything that they're saying and continue to get better every day. That fastest man thing it really doesn't mean anything. It's football now. It's not set go from Andy and I'm running 40 yards and I get there first. I have to compete so from now on it's competing to be the best at my position and being better than I was yesterday."
Second, there is protecting the shoulder for the Sept. 10 opener. Both Ross and Urban say they know it's imperative he play before then. The conventional wisdom is he'll first play in the nationally-televised Sunday night game in Washington Aug. 28. Until then, he's trying to tell guys he won't break, although Urban is making sure "We're certainly not going to tackle him to the ground or anything like that. And I'm not having him go bang in there and dig out safeties in the run game or anything like that quite yet."
Ross isn't backing down, especially when it came to came to catching punts even though no contact was involved. He's struggled catching those during camp. But on Monday he showed that reps matter and smoothly caught his two chances.
"I'm kind of fearless and I don't think it's a bad thing. Guys are like, 'I didn't want to hit you,' and I'm like, 'It's fine.' I don't know if not's fine or not," Ross said. "I'm sure I'm fine. The doctor told me just be careful, but no hesitation at all, especially because I was so excited. If I was to get hit and hurt myself a little bit I probably wouldn't have felt it, because my adrenaline was so high, because I was so excited to be out here."
How can it not be that go route with Ross lined up against Jackson in a matchup of the Bengals' last two first-rounders? Not only that, both players represent the seismic shift to speed since the end of last season.
"Willie can run too, now," Coyle said of Jackson's 4.35 40 of his own.
The fastest 40 of all may now be headed to the dust bin of hype, but Jackson loved the challenge it brings.
"Real pumped up," Jackson said. "He's a fast guy and I feel like I'm a fast guy. He made that stutter step and I kind of stopped my feet and then I got going again and made a play on the ball. You always want to go against a guy that runs faster than you or is just as fast. It's always good to get that kind of guy in practice.
"He looked real good. He's just getting back into rhythm. In a few days he'll be great."
It shows you what kind of camp Jackson is having. For the most part he has been plastered on receivers.
"Willie kind of broke down with him and then accelerated with him," Coyle said. "Great throw and we were able to get the incompletion."
Urban knows Ross can make that play once he gets underway.
"Until you're running as fast as you run and then catching it, over the shoulder with a defender right there, I'm not making excuses for him, but he hasn't done that in a while," Urban said. "I have to see it on film. I'm not sure. I know Willie was running with him pretty good."
Coyle on the blurry-fast Ross-Jackson matchup:  "I think you're going to see a lot of that over the years to come. It's exciting to see."
SLANTS AND SCREENS:  Head coach Marvin Lewis wasn't pleased with how practice unfolded as the defense completely dominated the offense. Quarterback Andy Dalton threw two picks in team and late in the workout when they still couldn't block anybody on the two-yard line, Lewis stopped practice and called them up with a stern reminder not to be sloppy and don't turn it over … "The defense did a good job and gave us some things we haven't  seen," Dalton said. "We have to pick it up and that's what he said." …
Burfict made his pick in the middle of the field when two rushers collapsed on Dalton. Dre Kirkpatrick made the other one, which is good to see. He's using the broken hand that sat him out Friday...
Veteran Randy Bullock went 3-for-4 on field goals, which looks to be his first miss of training camp. Rookie Jake Elliott went 4-for-4 and drew a reprieve when they iced him …
Cedric Peerman (hamstring) practiced for the first time this camp. His chief roster competition at running back looks to be Tra Carson, but he left practice early with what is believed to be an ankle injury stemming from Friday night's game where he looked so good with 32 yards on eight carries …
Wide receiver Cody Core (ankle) and cornerback KeiVarae Russell (unknown) sat out with injuries not believed to be serious …
Cincinnati Bengals host Training Camp at Paul Brown Stadium Practice Fields 8/14/2017