Mohamed Sanu is catching everything this camp.
Hue Jackson won't confirm Monday was Monday. But this is clearly a new day for the Bengals offense.
Jackson, the new coordinator, is pleasant, talkative and polite. But he also knows the best way to slice an NFL defense to bits is to keep it guessing. So he's not going to confirm he's had a no huddle out there for the first five days of practice or that wide receiver Mohamed Sanu is going to do everything but park cars in Lot D or that the Bengals even worked in full pads for the second straight day.
"The locomotive hasn't taken off, but we're working on it," Jackson said after about 1,400 watched on another perfect 73-degree day at the Paul Brown Stadium practice fields. "We just want to play at a pace where we can have success.  That's not dictated yet. We have different ways we can play. What we have to do is continue to determine what's best."
Whether that's 80 plays a game or 60 plays a game, we'll have to wait on all kinds of factors ranging from opponent to temperature. But he wants them to be physical no matter how many snaps and when they converted all five short-yardage runs in Monday's drill it capped what long-time Bengals radio analyst Dave Lapham has called the most physical camp in the Green-Dalton era.
 Throw in quarterback Andy Dalton's play-action 50-yard pass to wide receiver A.J. Green for the one short-yardage pass and Jackson will take it.
But WILL linebacker Vontaze Burfict's third-ranked defense wasn't going to take that for long and he led a charge where the defense stopped the offense four out of six times on the goal line.
"That's the sign of a good team," Jackson said. "We shouldn't dominate every drill and they shouldn't dominate every drill. That's when you're finding out you're building a good team. It was a good start (for the offense), but we're nowhere close."
The offensive linemen were the stars of the short-yardage drill, paving first downs for a mix of backs. The one thing this line has done this camp is fire off the ball forward and get positive yards. Right tackle Andre Smith left after short-yardage and goal line with an unknown ailment, but it didn't look serious.
"We still need to be a physical team. Get after it. Tough. Be a mentally tough team. That's what we're trying to do," Jackson said.
He wasn't pleased with the first play of goal line, where one of his interior linemen went the wrong way and allowed defensive tackle Brandon Thompson to go untouched and wrap up running back Giovani Bernard in the backfield. On the second play Bernard got hit before the goal line when Burfict disrupted things and when the backups got in there rookie end Will Clarke's penetration forced a stop. The offense scored on BenJarvus Green-Ellis' run over the right side and rookie Jeremy Hill going airborne over the right side.
PLAY OF THE DAY: Sanu's deep bullet to Green down the sideline off a reverse brought back memories of his 73-yard touchdown bomb to Green as the Wildcat quarterback in Washington on the first snap of the game. But it wasn't quite good enough Monday.
In the short-yardage, Dalton gave a play-action fake and with Green running deep against cornerback Chris Lewis-Harris and safety Isaiah Lewis, he dropped a dime on Green. The ball bounced off Green's hands, but he caught when it came back to him as he went to the ground.
PLAYERS OF THE DAY: Dalton and Sanu.
Dalton hit his first seven passes on the way to finishing 10 of 16, but he made them count. He led Eifert down the seam and Eifert went into another gear to get it for what would been a touchdown bomb. Then a few snaps later Dalton patiently went through his progressions and was rewarded with a deep wide-open surprise in tight end Alex Smith, he of 34 catches the last five seasons.
In the red zone drill when the defense faked a blitz up the middle, Dalton checked to a play where he hit Sanu in the corner for a touchdown working against cornerback Darqueze Dennard.
But it was a red-zone ball he threw away that had Jackson raving. For those looking for a mentality to match a team that has the third best defense and a top 12 special teams, Jackson just may be your guy as he coaxes Dalton back from a 20-interception season.  
"That was outstanding," said Jackson of the throw away. "That's what I'm looking for. My thing with him is get us to the next down with the ball. It's not about always throwing a touchdown pass. Sometimes you're going to call one and the defense takes it away. If they do that, you have to protect the offensive football team and the entire team with the ball. But he's starting to understand that. I mean the guy threw 33 touchdowns last year. If we can get him to where those opportunities aren't there to be good with the ball, then great things can happen."
Dalton wasn't all that flashy Monday, but he was Jackson's kind of flashy.
"He had a flashy day to me," Jackson said. "He got a big seam route down the middle of the field for a touchdown, threw a couple more down the field.  That's big for me.  You have three or four of those in a game and great things can happen."
And, no picks against the full defense.
Marvin Jones, the No. 2 receiver, hasn't had the ball because he tweaked an ankle early in July and they're making sure it takes time to heal so it won't linger. So he's still on PUP.  In the meantime, Sanu, the slot receiver has had a monster camp. Just on Monday alone he threw a touchdown pass, caught a touchdown pass in the red zone, and took a handoff for a run.
Lapham saw him on the sidelines and said, "You the man," and Sanu said, "I'm just a guy behind the other two guys."
But he's a lot more than that. Especially with the way Jackson plans to use him. Which seems to be everywhere and often.
"That's up to you guys to see," shrugged Sanu. "You never know. You have to see when the day comes what he brings to the table and full steam ahead."
But there's no question that Green, Sanu, and Jones are extremely close and they're all tied into this offense's success.
"We call ourselves 'The Three Amigos,' 'The Three Stooges,' just playing around," Sanu said. "I roll off those two the same way they roll off me. We feed off each other."
SLANTS AND SCREENS: Cornerback Adam Jones and defensive lineman Robert Geathers each appeared to receive what looked to be a veteran's day off.  Cornerback Terence Newman and left guard Clint Boling were back from days they gave their knees a rest. Cornerback Dre Kirkpatrick (hamstring) missed his second straight day…
There were some interesting one-on-one matchups on passes from the 10-yard line. Dalton hit Green on a few fades, but Green couldn't beat cornerback Terence Newman on one even though he argued his feet were in, but it appeared Newman had position enough on him that his feet didn't get down.
Sanu and Dennard played so well, they could have played with one arm tied around their backs. Dennard yanked a touchdown away from Sanu when he just snatched it out of his hands in a scrum. Then Sanu, covered well by Dennard, came back and made a one-handed catch with his right arm over his head.
R.J. Stanford, a fourth-year corner, is making noise for that sixth and final cornerback spot. He's shown up on special teams as a gunner and on Monday he played two good plays in that drill when he jostled the ball away from wide receiver Cobi Hamilton…
The defensive stands were aided by tipped passes from Burfict and lineman Wallace Gilberry…On the day's first 11-on-11 snap, Gilberry was at left end and Carlos Dunlap was at right end…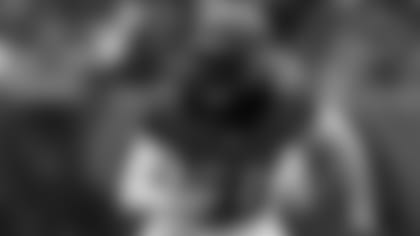 Jayson DiManche put 14 pounds back on and wants another match with Shawn Williams.
DIMANCHE BULKS: Jayson DiManche, the free agent rookie from Southern Illinois and Shawn Williams, the third-rounder from Georgia, had a fierce competition down the stretch last year for the Bengals' special teams tackling title that ended when Williams caught DiManche at the end, 14-12.
 "I think I got a little worn down," DiManche said. "In the offseason I focused on my lower body and core and tried to get my lower body a little bigger and stronger."
He also ended the season at a measly 230 pounds, more than 10 pounds off where he started. Now he's at 244 pounds and he think he's got a good shot to stay there because his girlfriend is a personal trainer whom cooks all his meals.
"I'm eating more and eating better," DiManche said. "She's really going to help me this season."
And there's no question the competition with Williams is back on.
"We had a bet, but at the end of the day we realized my free agent salary didn't match his higher draft pick so we called it off," DiManche said. "But I think this year we may actually put a little something on it and see who leads the team in special teams tackles."
QUOTE OF THE DAY: We already got one from the eminently quotable DiManche.  This one is on the rather broad subject of football in general
"I kind of think about it like a Broadway play.  You're practicing out there and running through the play and doing it over and over again and the day you actually have a crowd out there, you do just what you've been doing. If you make a mistake or do something different out there, nobody knows. You just keep going, cover it up, and do your thing."
And we could have used a couple more. With The Cincinnati Enquirer's Paul Dehner Jr., working on a trash talking story, DiManche gave him the lowdown on fellow linebacker Vontaze Burfict:
"Vontaze tries to get in somebody's head. He'll say, 'I have to hit you,' and give a word or two but that's just his personality. Everybody loves it because he's like that every single day. He's off the wall. His filter kind of disappears some times. I think it's funny. He reminds me a lot my friends growing up and saying the first thing that pops in his head. He's fun to watch and fun to listen to."
For the record DiManche grew up in New Jersey.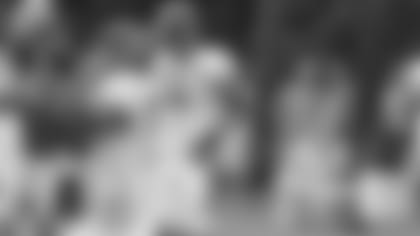 Russell Bodine (right) is squaring up the offense.
BODINE'S ROLLING: Offensive line coach Paul Alexander has absolutely no qualms lining up rookie center Russell Bodine against Ravens Pro Bowl nose tackle Haloti Ngata Sept. 7 in Baltimore.
"No," Alexander said. "He's not afraid to block (Domata) Peko."
They love what Bodine is doing this camp. He didn't have a great spring snapping out of the shotgun, but it looks like he's had a near perfect July. It appeared he drilled an unplayable high one in Sunday's half-line drills, but Alexander doesn't remember it and, besides, he's not going to put a lot into a half line.
"It wasn't a physical thing,' Alexander said of the spring snaps. "In college, (North Carolina) didn't have audibles and didn't run a cadence and he got up and said, 'Set, hike,' and he snapped when he wanted. Now, it's more play, call, cadence. 'Oh, when do I snap it?' It won't be a problem."
Alexander is confident people will see why Bodine is the third player in history they traded up to get in the draft.
 "He's strong, mature, with great lateral quickness," Alexander said. "He's going to be a terrific player."