PLAYER OF THE DAY: Running back Joe Mixon
After an offseason of getting hammered by the critics, the Bengals' new-look offensive line took it out on the defense Monday in live drills on the goal-line and short-yardage. With Mixon getting loose untouched on a carry in each drill, the offense did what it didn't do last year and shoved back by converting all six short-yardage situations and all but two on the goal line.
"They beat us up today a little bit," said SAM linebacker Nick Vigil. "They seem more aggressive. They seem like they're coming off a little more. It's a little different mentality. It's good to see, but we have to match that."
On the first short yardage run with the No. 1s working against the No. 1s, Mixon followed right guard Christian Westerman and right tackle Bobby Hart, didn't get touched, then cut left and still didn't get touched. On the first goal-line snap Mixon followed pulling left guard Clint Boling and walked in without a finger nail on him. You can safely say those two holes weren't there very often last season and Mixon saluted new offensive line coach Frank Pollack.
"He's changed the culture the way they block around here," Mixon said. "The attitude, strength-wise, they're way more physical than last year."
Even with the right side of the line in total flux (no one has reached out and grabbed either the guard or tackle spot), the physicality mentality seems to be brimming throughout the offensive line depth chart. On the goal line both Tra Carson and rookie Mark Walton bulled for touchdowns while the back-up quarterbacks had time to hit Mason Schreck for consecutive touchdowns.
The O-line may be a work in progress, but no one is quibbling with how Pollack is running the show.
"Any time you have your first period with live tackling, guys are going to be juiced up and for the first time we came out and did OK," Boling said. "We popped some big runs, but at the same time we made some mistakes. We're definitely trying to get that physical, down-hill mindset."
PLAY OF THE DAY: The defense had some moments Monday, including the big moment when nose tackle Andrew Billings and Vigil combined for a big pop that stuffed running back Giovani Bernard for nothing on the goal line. That came after a mishandled snap blew up the second goal-line play and allowed Bernard to get dumped in what has been a daily occurrence with rookie center Billy Price.
But to Price's credit, after the first day it's been only one snafu a day and the Bengals continue to be highly encouraged by their first-round pick, believing he's performing well for a guy that didn't get team reps in the spring and has never snapped with the quarterback under center. They feel like he can make the tough blocks and gave him one of the tougher goal-line assignments on the Billings play.
Billings, who has dropped 10 pounds, says he feels better at 320 pounds and was feeling pretty good about the play. A knee injury just a few days before his pre-season opener as a rookie in 2016 derailed his fast start, led to one of the league's lowest nose tackle rankings by profootballfocus.com and he's hoping that play puts him back on track.
"I hit the center and held my gap and whoever comes through is mine. I'm feeling it," said Billings, competing for the starting nose with free agent pickup Chris Baker and undrafted sophomore Josh Tupou. "I think the big thing is I'm where I was at the end of last year and I haven't slipped back.
"Goal line is always good. I feel smarter. I feel better," he said. "Moving the line of scrimmage and having good vision is what I'm working on and it's getting better."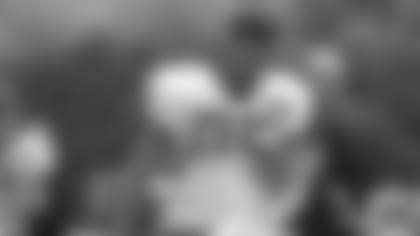 QUOTES OF THE DAY: "It's come a long way. Been through a lot adversity. A lot of people didn't like it at first. An awkward stage. I persevered. It's looking good now." _ Tyler Eifert on his mullet.
"Trust me. It's 100 times more frustrating for me because all I want is to be out there and doing literally everything I can, spending all my time to get back and stay out there with the guys." Eifert on the fans' frustration that he's played ten games since he got hurt in the 2015 Pro Bowl.
EIFERT RETURNS: The affable Eifert, the Bengals' answer to "Gronk," in more ways than one, made a few jokes about his mullet after practicing for the first time in more than ten months Monday ("Maybe it will have powers") as Bengaldom holds its breath on his cranky back. He reminded everyone that he's never hurt his back getting hit or tackled after he made a catch, it's always happened running or extending or reaching.
So far, so good after Monday's work in seven-on-seven and team. He even caught a touchdown in seven-on-seven, a classic out of the Eifert 2015 archives. It was a seam ball against safety Shawn Williams out of what Eifert called a staple that features four vertical routes.
"That felt good. I just have to keep it going," Eifert said. "The big thing is running with urgency and not thinking about it and that's going to happen in a day or two."
The Bengals kept him out of the most physical drills on the most physical day of practice. While the tight ends joined H-Back Ryan Hewitt in the blitz pick-up drill, Eifert was running routes with the quarterbacks and receivers. But he did hit the ground a few times in pursuit of the ball and while he says he hasn't been told how/if the Bengals plan to protect him, he says it's not like he can wear an orange jersey like the quarterbacks so nobody hits him.
"When I'm in there its full speed reps," Eifert said. "I'm hoping I don't feel any of those tweaks … ever again.
"I've got to get in there and start getting reps, seeing coverages and processing things faster. Everything on paper is easy when you talk in the meeting rooms. It's a different speed."
Eifert says the toughest thing about coming back after a long layoff is processing the call in the huddle, particularly in a new offense.
"its fun," he said after his first work in pads since the Sept. 14 game against the Texans.
RIFLE RANGE: Dalton had another solid day. Just take a look at three straight passes to wide receivers in the team period right after goal line. He hit A.J. Green over the middle, led Tyler Boyd on a drag route to the sideline and threaded a ball between safety Dre Kirkpatrick and rookie safety Jessie Bates for Brandon LaFell.
Just ask first-year quarterbacks coach Alex Van Pelt about what's impressed him with Dalton in Week One.
"Just the consistency with his reads," Van Pelt said. "The biggest thing is just the accuracy on his throws. I love his accuracy. Very rarely does he miss a guy. He puts the ball right where he wants it."