Pass rush guru Chuck Smith made what has become his annual pilgrimage to Bengals training camp the past two sessions, but Carlos Dunlap knows the emphasis Saturday in Dallas (7 p.m.-Cincinnati's Channel 12) is stopping the run for a variety of reasons.
For one thing, new defensive coordinator Teryl Austin has made stopping the run this season's top priority after the Bengals were one of three teams that allowed more than 2,000 yards rushing last season. For another, if you can't stop the run, you can't rush the passer and Dunlap says this is one of the best pass-rushing defensive lines he's ever been around in his nine NFL seasons. And, thirdly, Cowboys running back Zeke Elliott's 60-yard end-zone waltz during a day two years ago he gouged them for nine yards per carry still stings.
"We want to lead the league in sacks. Whatever number it takes," Dunlap said after Monday's practice. "(So) we have to do a better job against the run. That's our big focus. (The Cowboys) ran the ball very well on us. We have to go there and have the mindset to do it however long we have to do it. If we don't stop it, we'll be playing longer than we want."
Dunlap agrees with the pundits. The Bengals' current crop of rushers is really good. He thinks better than the 2012-2013 editions that combined for 94 sacks and featured the club-record 51 in '12, Dunlap's third season when he racked up six sacks, fellow end Michael Johnson had 11.5 and defensive tackle Geno Atkins led the way with 12.5.
All three guys are back after combining for 21.5 sacks last season, but this year there is also right end Carl Lawson coming off an 8.5 sack season, and fellow rookie end Jordan Willis adding one. Plus, third-rounder Sam Hubbard has been one of camp's most impressive rookies coming off the edge.
"We've definitely got depth," Dunlap said. "This is one of the few times we've had this many guys that can get after it as 1A and 1B. (In 2012) the young guys were coming in as the pass rushers. Now we have starters and young guys coming in to rush. Guys like Jordan Willis, and Sam is going to be good in the rotation. This is one of the best D-lines I've been a part of pass-rushing wise."
But here's another reason to stop the run in Jerry World Saturday. A big part of the Cowboys' brand these days is the run. They've been runner-up in NFL rushing the past two seasons and after a fairly pedestrian opener last week in which they ran it at just 3.6 yards per pop for a meager 105 yards look for them to try and pound it against a Bengals first defense that held the Bears to three yards on three carries, thanks to Dunlap's two-yard tackle for a loss.
Still, this week has a definite pass-rush feel with Smith on the field. Dunlap hasn't played the 64.5 card on him yet. That's how many NFL sacks Dunlap has in eight seasons. During eight seasons in the '90s with the Falcons, Smith had 58.5 from the end spot. Dunlap is too busy watching Smith watching him. Smith has built his academy into a national power and he'll take his expertise from here to the Steelers and Broncos for a few days each.
"I like seeing his eyes. I like having a different set of eyes watching me," Dunlap said. "He has 58 sacks in this league, so he knows how to rush the passer. I like hearing the experts."
Smith played just two games in the 2000s and they were with Jacob Burney's 2000 Panthers. But Burney, the Bengals defensive line coach now and the Carolina line coach then, saw enough to make sure Smith coaches on the field even though he's just visiting. There's already two voices with Burney and first-year assistant Matt Raich, an import from new defensive coordinator Teryl Austin's former staff in Detroit. But Burney says the more the merrier.
"There's no bad in it," Burney said. "They go to Chuck in the offseason. Coach (Marvin) Lewis had a good relationship with him before I got here and the guys are comfortable with him. That's why you see him coaching. I'll say it one way, Matt will say it another way and he'll say it another way. Every little bit helps."
Lawson spent two days working with Smith in Atlanta before the season began, where they both live, and reports, "He's got wonderful knowledge about all of the pass rush, not just one thing."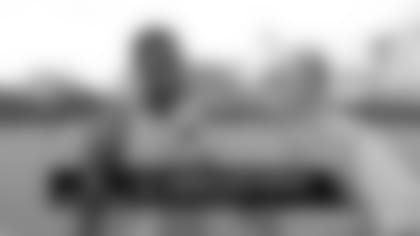 PLAYER OF THE DAY: Wide receiver A.J. Green
In front of a gathering of season ticket-holders Monday, the Bengals went in full pads with much of practice geared to preparing for the Cowboys. The No. 1s did go semi-live on the goal line for a few snaps against each other and after a play-action pass didn't click, running back Joe Mixon converted a scrum up the middle.
Whether it was live or scripted off the cards, no one could cover Green, so what else is new? His mastery dominated one third-down team period that began when he climbed a hook and ladder to haul in a towering sailor over the middle from quarterback Andy Dalton.
"You see that?" asked newly-arrived cornerback C.J. Goodwin. "Man."
Then on consecutive snaps he saw it up close. Green ran away from the vet Goodwin to the left sideline and Green hauled it in just before running out-of-bounds. After that he ran away from rookie cornerback Darius Phillips to the other side.
"Don't put me down for that," Goodwin joked. "I'm used to not touching Julio. I didn't want to get tangled up down there. I'm scared to touch him. That's a quick way to lose a job."
Goodwin is only kidding. The Bengals have told him he can compete out here. But it's no joke that he has now covered both Green and Julio Jones in practice and doesn't see a heck of a lot of difference in the future Hall-of-Famers taken two picks apart (Green fourth, Jones sixth) in 2011. During the Falcons' Super Bowl season two years ago Goodwin played in the dime package and was a core special teamer in 14 games.
"They're both very fast. Both stop on a dime. Both run precision pass routes. Both have a huge catch radius. Both don't drop any balls. You need help with A.J. just like you need help with Julio," said Goodwin, who just arrived last week and obviously doesn't know Green as well as he does Jones. "I haven't talked to A.J. much. He introduced himself, 'I'm A.J. Green,' like I didn't know. He seems like a quiet guy, they seem the same, but I don't really know. I haven't talked to him much. Julio's a very quiet guy. He sticks to himself. He's a good guy. They seem similar that way."
PLAY OF THE DAY: No. 3 QB Jeff Driskel can show people he can throw as well as run. On Monday he threw a great seam ball right down Broadway and rookie tight end Jordan Franks made a nice stretching catch to haul it among three defenders.
But he gets so much heat, let's target wide receiver John Ross. He gets drilled for being inconsistent, but he looked to have a nice consistent Monday where most everything that was thrown his way didn't get dropped ... He caught a long one in one-on-ones and conquered his bugaboo by catching some contested balls over the middle in team periods.
But the Play of the Day is when Ross kept running his route in team even when a defender jumped offsides. That's a free play but even through the defenders seemed unsure (Goodwin and safety Brandon Wilson), Ross kept hauling down field and caught a long one down the side.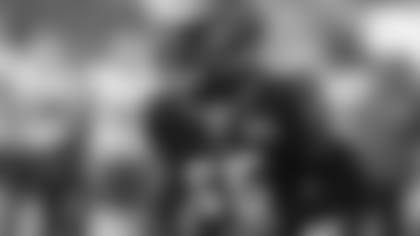 QUOTE OF THE DAY: "I like to say Julio is LeBron and A.J. is Kevin Durant. Both are two of the greatest to ever play. Julio is huge like LeBron and A.J. is Kevin Durant, a little lankier but he's sneaky strong. And they're two of the greats." _ Bengals cornerback C.J. Goodwin, who has practiced against both A.J. Green and Julio Jones.
SLANTS AND SCREENS: If WILL linebacker Vontaze Burfict was going to play at all in the preseason that may be by the boards after he suffered what appeared to be a foot injury in Monday's practice. Burfict was covering tight end Moritz Bohringer on a pass in an early team period when they appeared to click heels before going to the ground.
Burfict, who is under NFL suspension for the first four regular-season games, spent the rest of practice icing his foot and then waited until the end of the workout to leave the field on a cart. With Vincent Rey (sprained ankle) out for what is likely the rest of the preseason, the young linebackers are going to get plenty of work the next three weeks, starting with Saturday in Dallas. Plus, rookie linebacker Chris Worley is getting snaps at defensive end, but they did sign a defensive tackle Monday and that may alleviate Worley's situation …
Right guard Alex Redmond got a ton of work with the first team Monday as offensive line coach Frank Pollack continues his rotations. Starter Trey Hopkins also had consistent work with the ones. Pollack seems pretty set at right tackle with Bobby Hart at the moment …