PLAYER OF THE DAY: WILL linebacker Jordan Evans
A close call over wide receiver John Ross, but when Ross couldn't corral his last ball of the day the nod went to Evans after another day he prevented catches from being made. Plus, the first day of full pads usually belongs to the defense.
"He's been very good for four days," said ever cautious linebackers coach Jim Haslett. "And that's it."
Evans, the speedy sophomore linebacker from Oklahoma, has put his hands on more balls than rookie center Billy Price this week. Since Vontaze Burfict's absence early in camp has provided a look at the Opening Day lineup, Evans is showing why he'll take Burfict's place while he sits out the first four games. During one-on-ones Sunday before the biggest crowd of training camp, Evans slapped away a pass headed to running back Tra Carson and as he walked off the field Haslett said got his hands on another one and should have had the interception.
"I did?" Evans asked. "Can't remember. Too tired."
Quarterbacks are starting to get tired throwing it his way. On Saturday he discombobulated one of the NFL's top tandems when Evans dropped into zone coverage after diagnosing a play-action fake, leaped for quarterback Andy Dalton's pass over the middle and barely got a few fingers on it that were enough to disrupt wide receiver A.J. Green's vision and force the drop. The Bengals are banking on their last three drafts to propel them back to the playoffs and with SAM backer Nick Vigil (2016 third-rounder) and Evans (2017 sixth round) showing off their speed and athleticism in the nickel package, the Bengals need those other draft picks to match them.
"I'm more comfortable. I'm paying more attention in meetings. Just being a better all-around player for the team," said Evans, who say it's not like he was sleeping through meetings. "I understand more. It makes more sense to me. The only way to learn is through the experience I had last year."
Injuries forced Evans to take an uncharacteristic Marvin Lewis 311 rookie snaps, but Haslett thinks what mattered more is that he's got another year playing at WILL after playing the middle for the Sooners. He also bulked up slightly over last season, adding about five pounds to 242. At 6-3, Evans is a rare tall linebacker and Haslett loves what those arms do in passing lanes.
He also made a nice play in the run game Sunday when cornerback KeiVarae Russell turned the runner back to Evans in a team-drill snap. Haslett says Evans is using his hands much more than he did at Oklahoma and is doing a better job of striking, like he did on that play.
Scouts wondered if he could make or want to make that play at the NFL level. Heading into last year's draft, Haslett found himself watching games where it felt like Evans would be on the field for 90 snaps and face 80 passes.
"The knock on him was, how tough is he?" Haslett said. "Nobody knows. But how do you know how tough he is when you don't have anybody banging at you? I thought looking at tape he's the kind of guy you want in the NFL now."
Speed is the one dominant theme from those three drafts headlined by Ross, the record-holder for the scouting combine's 40-yard dash after his 4.22 seconds of 2017. On Sunday Ross continued to run by people and make some plays, as well as catch some contested balls. In one-on-ones he spun around cornerback Darqueze Dennard with a quick move and he caught the in cut. Later in the one-on-ones he had a corner beat on a bomb but quarterback Matt Barkley underthrew it. In seven-on-seven he raced past a corner in a zone and ran up and away on safety Shawn Williams to grab a bomb from Barkley that almost featured Ross running into the pass rush drill taking place clear down the other end of the field.
Then during the last team drills of the day Ross made a diving, leaping catch over the middle in a zone.  A few snaps later Ross was open again on a quick hitter thrown on a deeper route and it went through his hands at an awkward angle.
"That was on me. That was all my fault. I just have to get my eyes around quicker," Ross said. "It's one of those timing things. I just have to continue each and every day to reach a different goal. I had a decent day. Use it as a learning experience. I'll have that route again. The coaches do a good job of putting us in position to recreate that and correct that. Next time I'll have my eyes around quicker."
The bomb showed good anticipation. He said when he looked back he could tell by Barkley's windup he was going to throw it as far he could.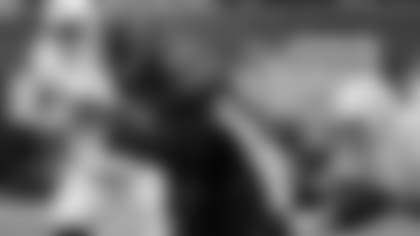 PLAY OF THE DAY: Stop if you've seen this one before. In the last team drill, Dalton tried a tight end screen to C.J. Uzomah and, guess who? Left end Carlos Dunlap was standing right there when Dalton threw into his chest. Just like he always does, Dunlap took off into the end zone. But not before Dalton tried a little levity when he attempted to bat the ball out of Dunlap's hands and ended up pawing at his ankles as Dunlap brushed him away like a gnat.
Dunlap says it was pretty much the same play that won last year's game at The Paul when he stepped into the Colts backfield with about seven minutes left in the game and the Bengals trailing, 23-17. He tipped quarterback Jacoby Brissett's pass to himself and went in from 16 yards out. 24-23, Win.
Could it have come at a better time? On Saturday Dunlap's agent Drew Rosenhaus met with Bengals vice president Troy Blackburn at The Paul in negotiations for a contract extension that have been ongoing since the spring. Rosenhaus left without a deal, but they're still talking. The Bengals are also talking to defensive tackle Geno Atkins about an extension and both are looking for a lot.
"That's a good, friendly reminder of something that I did well last year," Dunlap said. "I just reacted. I didn't even know they had that in the playbook. I just saw what was unfolding. It's a familiar play. I've seen it before. I was fortunate enough to win a game on almost exactly the same play."
Dalton was half-wondering with a smile if Dunlap heard the play, but it ended up he was watching Uzomah lined up almost across from him. When he saw Uzomah stop pass-blocking, he knew something was up. Defensive coordinator Teryl Austin, who has been preaching more turnovers, simply saluted him with, "Touchdown Man."
QUOTE OF THE DAY: "Every day. I went to UPS the other day and the guy says, 'I'm ready to race you in the 40.' I'm just trying recover from practice. I hear it all day, every day. It's always funny. I mean, no disrespect, you can't win. Not at all. It's all in fun." _Ross on being asked by a fan Sunday to race him in the 40-yard dash and if the constant question bothers him.
SLANTS AND SCREENS: The first day in full pads featured some interesting work in the trenches in one-on-one drills. Right end Carl Lawson appeared to draw with left tackle Cordy Glenn. Both got in some good moves. When action switched to team Dalton had good time on his blindside …
If there was one notable development, the offensive line protected better Sunday than Saturday, but there were only two team periods as head coach Marvin Lewis concentrated on getting his players acclimated through one-on-one drills and position work such as seven-on-sevens. There's more team work in pads to come and Monday could be a big day since Tuesday is a day off …
Dalton's receivers spent the practice adjusting to the pads and he lost one when Josh Malone left with a hamstring issue … Defensive tackle Chris Baker didn't work Sunday for unknown reasons …