Paul Guenther's defense had a good night Friday.
In a Friday night practice focusing on special teams and situations, the Bengals defense unleashed its pass rush and dominated the most pleasant day of training camp as temperatures dropped to 70 as an estimated 1,400 fans looked on.
The  workout served as a tune-up for Saturday's 1 p.m. Family Day practice at Paul Brown Stadium, where head coach Marvin Lewis holds the closest thing to an intrasquad scrimmage. There's not hitting like back in the  day, but there are elements of the old Mock Game with the roster split into two teams.  Each team wears white and black jerseys and  has an offense and a defense that can score points for touchdowns, PATs, field goals and interceptions.
With the offense needing a touchdown to win during Friday's two-minute drills monitored by an NFL officiating crew, defensive coordinator Paul Guenther saw his men stop the offense four times, one of them with safety Josh Shaw's end-zone interception that Guenther counts as the 11th in team drills after the seventh practice.
"Understand  the situation," Guenther said. "Sometimes you're not sure if you're going to be in-bounds. That's why you have officials here to judge that. So the players can understand, 'Hey, they've got this much time. If we keep them in-bounds, they've got no timeouts.'  I love it. To me that's the best thing you can do. We talk about it all the time because so many games are won or lost at the end of games and the end of halves."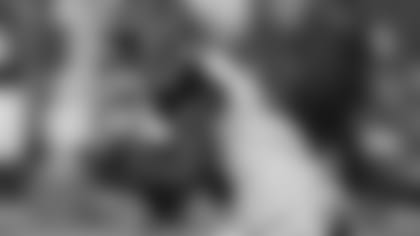 Tra Carson, in last year's pre-season opener, is leaner and keener this year.
PLAYER OF THE DAY:  Despite all this passing, sophomore running back Tra Carson was  good enough to get noticed during one of the two-minute drills to keep his impressive camp going and put him in the serious mix for a roster spot.  Veteran running back and special teams captain Cedric Peerman (hamstring) has yet to practice and rookie sensation Joe Mixon dressed with everybody else in full pads Friday but they sat him with a bruised heel. If there was a game he could have played, but they were cautious with him, which should tell you a little bit about what the Bengals think of Mixon.
That left the 5-11, 227-pound Carson to roam with the second team and he made the most of it with three catches out of the backfield from backup quarterback Andy Dalton to help drive them inside the red zone before Shaw ended the drive with the pick.
Carson, undrafted last year out of Texas A&M where he rung up 1,165 yards and added 29 catches in 2015, spent all last season on the practice squad before being called up but inactive for the season finale. Wearing a new number, Rex Burkhead's 33, Carson showed some of the hands and versatility Burkhead took to New England in free agency.
"I think I can catch the ball, run routes out of the backfield, and do a lot of things that Rex can do," Carson said after practice.
The Bengals have a bevy of big backs now with the 230-pound Hill, the 228-pound Mixon, and the 227-pound Carson. But Carson isn't as big as he was as a rookie (233) and credits a careful diet making him leaner and making him feel lighter on his feet. He's not Mixon big and fast but, like he says, he believes his strengths are that he's "a bigger back with good feet and an all-around game."
"Joe Mixon is a rare breed. A rare breed. A real big guy that can run," said Carson of the second-rounder who has become a good friend.
"I just feel better," Carson said. "I tried to eat more veggies and stay away from fried foods … Last year I had surgery in January, so I wasn't able to work out in the offseason like the other guys. This time I was able to get ready for the season."
Carson wore No. 5 at A&M and had No. 39 last year, but he asked head coach Marvin Lewis if he could have No. 33 when it became available. Chalk that up to former Cowboys running back Tony Dorsett, still a draw to a kid who grew up in Texarkana, Texas and rushed for a Liberty–Eylau High School record of 2,202 yards as a senior.
Not only that, he's fan of the Celtics' famed No. 33 Larry Bird even though he was born (1992) in Bird's last season.
"I didn't like 39 that much," Carson said. "I just didn't like it. No particular reason."
Let's face it. The only number he's worried about is the final 53.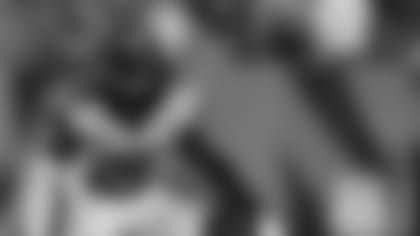 Josh Shaw gets another pick for defense.
PLAY OF THE DAY: With 11 seconds left and the first offense on the outskirts of the red zone needing a touchdown, rookie right end/SAM backer Carl Lawson showed exactly how special he can be. With the defense hollering that left tackle Cedric Ogbuehi moved early, Lawson still beat him cleanly on a blur-fast rush courtesy  of violent hands that tore right through Ogbuehi to end it all very quickly. Lawson received congratulations as he came to the triumphant defense on the sideline. When quarterback Andy Dalton ran over to the sideline he crossed paths with Lawson and gave him a "good job," pat on the back.
Lawson made life tough on Ogbuehi Friday. Ogbuehi has held up most of camp, but he also had a false start in another drive. Lawson will do that to you. The operative reaction from Lawson's teammate is, "That kid is going to be good."
But Lawson wasn't the only pressure point Friday. The backup offensive line really struggled, as did the first line, and that meant the Bengals quarterbacks ran for their lives much of the evening.
"We don't want to knock the quarterback, get his hand hit or whatever," Guenther said. "For getting off, working the games,  and different type blitzes, it was really good day today. They had plenty of people with a different type of blitzes. They had plenty of rest with all the special teams going in . Maybe that's why."
QUOTE OF THE DAY: Running back Tra Carson on liking Boston Celtics' Larry Bird even though he was retiring the year Carson was born: "I'm a big basketball fan and Iiked Larry Bird. I think he's the most underrated player. He reminds me of LeBron before LeBron."
TECHNIQUE AND TURNOVERS: That was Friday's emphasis by secondary coach Kevin Coyle and Shaw delivered with the pick. McCarron got off a good red-zone pass in the two-minute drill, but wide receiver Cody Core let himself get tangled up with rookie safety Demetrious Cox over the middle.  They wrestled for the ball and it got slapped to Shaw, playing the other safety, and he kept his eye on it to haul it in.
"I'll take 'em anyway I can get 'em," Shaw said. "We hadn't had a turnover for a couple of days, so we were really going after it.  It's a big upgrade from where we were last year."
They know because Guenther tracks everything. Picks, fumbles, strips, plays where the ball is disturbed, and he compares it to last year. With 11 interceptions in seven practices, that's a good number.
"We're making a big deal out of it," Guenther said. "Anytime we get the ball back for the offense we know how important that is … (Shaw) made a nice read out in the middle."
Shaw is Guenther's kind of guy because he can play three different positions. Safety, slot cornerback and outside cornerback. Ironically, Friday was the first day he played slot corner since safeties George Iloka (knee) and Derron Smith (ankle) went down on Sunday. With rookie safety Brandon Wilson (knee) yet to practice since he arrived, the Bengals were really low on safeties until Smith came back Friday. But Shaw got the pick at safety, after all that.
"Whatever I can do to help the team," Shaw said.
SLANTS AND SCREENS:  On Friday, Tony Corrente, the head referee of the crew that is visiting PBS, walked the media through the film the league provides each club every year reviewing rules changes and points of emphasis and said he believes the biggest impact is the rule liberalizing celebrations.
Players can now celebrate together in the end zone and use the ball as a prop. But as the film showed former Bengals wide receiver Chad Johnson in a decade-old clip doing his "Tiger Hood," celebration putting the ball with a pylon, the reminder is no other props can be used.
"As soon as there's a touchdown, the 40-second (play) clock is going until the ball is kicked off," Guenther said. "If the celebration takes 30 seconds, that's only 10 seconds for the kick-off team. We're not going to do that stuff anyway. Just give the ball to the official. Act like you've been there before. I think they understand the rule now. If you're jumping in the end zone, we're going to get a delay on the kickoff." …
Randy Bullock and Jake Elliott each made their one field-goal try. …
Cincinnati Bengals host Training Camp at Paul Brown Stadium Practice Fields 8/4/2017