The Bengals defensive newcomers have come to play.
Whether it's tackle Mike Daniels snarling at offensive linemen or nose man D.J. Reader needling running back Joe Mixon after a stop or free safety Vonn Bell decking Giovani Bernard on a pop that crackled over the middle, the defense that has given up the most rushing yards in the NFL the last three seasons isn't backing down.
There seems to be a mixed bag on their injury front. Vet safety Shawn Williams, who injured his calf in positional drills on Tuesday and got carted off, looks like he could be back in time for the opener. The news doesn't look to be as good for nose tackle Renell Wren after he went down Monday with what appeared to be a leg injury.
The defense clearly won Tuesday's first day in pads with aggressive play in the red zone, using good pressure and tight coverage to cool down rookie quarterback Joe Burrow.
"Today, I feel like our defense beat us in the red zone down there offensively," said head coach Zac Taylor after the first offense could manage only a handful of touchdowns on about 25 snaps inside the 20.
Bell, the former Saints free safety, has become a fast favorite of teammates and coaches alike. He's known for getting to Paul Brown Stadium at 6 a.m. and then hounding the other guys in the secondary to join him when he gives them a wake-up call.
Bell's shot on Bernard looked to be inadvertent but still aggressive because he didn't back away or slow down. Taylor made sure to let Bell know he appreciated the sentiment, but not the moment.
"It's competitive. It's nothing personal. Guys are going after each other because they like to compete," Taylor said. "And there's just some frustration on some plays. When the offense gives up a play that they shouldn't have given up or the defense gives up a play, it means something to the guys. They're upset about it. And sometimes they take out their physical aggression. I told Vonn, 'Just take it out on your position coach.' Rob (Livingston) can coach in a sling. But don't take it out on Gio. But those guys are good about it. They know they're trying to protect each other. But it's been competitive for three days, that's for sure."
You know it is when you see a running play stuffed at the line and you hear Reader call out to Mixon, "Find another lane, Joe."
No question stopping the run has become a mantra of the new guys.
JACKSON REPPING THE REPS: Cornerback William Jackson III was supposed to be headed to the Pro Bowl after his sophomore season, but it didn't happen. He's only got two career interceptions. But he's upbeat because this is the first time since then that he's been in the same defensive system two straight years. Really, it's the first time in his career because he never played his rookie year of 2016 because of injury.
"A lot of people don't understand that a lot of corners have been in the same system their whole career," Jackson said. "Every year I've had to learn a new system and terminology. So, that's the reason I've been playing and wasn't getting as much picks as I should because everything was new to me every year. So, this is the first year that I've had the same coach two years in a row. It should be a great one.
"I feel like I'm where I need to be and know where I'm going. Since I've been here it's been a different defensive coordinator as you should know. So, I'm familiar with this defense and I'm comfortable in it and it's time to go make plays."
He did right away. Jackson got his hand on Burrow's first pass and knocked it away over the middle. He received some pretty good advice a few years ago, but now he's putting it into practice. Literally.
"My mom came to every game and she's like, 'I'm taking it too serious. It doesn't look like you're having fun and this year,'" Jackson recalled of the 2018 conversation. "It's time to get back to having fun. Mistakes are going to happen. Just try to minimize the mistakes and have fun."
Here's the irony. Jackson lost that 2016 season to a pectoral injury, the injury that has knocked out new starting cornerback Trae Waynes for at least much of the season. But Jackson, in his contract year, says that pectoral injury isn't putting pressure on him.
"It's the NFL. Everybody gets hurt," Jackson said. "It's the next guy up. It's a part of the game. You can't dwell on it. When he gets back, we'll be that much better."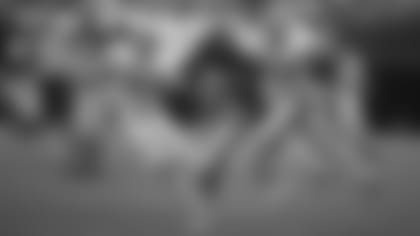 ANOTHER HALL MISS: The Pro Football Hall of Fame candidacies of Bengals greats Ken Anderson and Ken Riley got stiff-armed again Tuesday by the senior committee. But not before they went as far as they could go in the Zoom meeting to Canton.
Last month the nine-member committee gave them enough votes to put them on the list of the dozen finalists that were discussed and voted on by five members of the committee on Tuesday. Only one senior can be nominated and it was Cowboys wide receiver Drew Pearson.
That won't sit well with Bengaldom. Pearson broke in the same year as Bengals' all-time great Isaac Curtis in 1973. When he retired in 1983 he had 48 touchdowns on 16 yards per his 489 catches. When Curtis retired in 1984, he had 17.1 yards per his 416 catches.
And that's not even talking about Anderson and Riley. Riley's 65 interceptions are fifth all-time with everybody in front of him on the list enshrined, as well as the two behind him. Anderson remains the best eligible quarterback not in. He's the only eligible player with at least three NFL passing titles without an induction.
The same Hall stigmas seemed to haunt Tuesday's decision for the Bengals, a team that has only one Hall-of-Famer in 53 seasons of football. Pearson is an all-decade player from the 1970s as voted by the Hall who played in three Super Bowls and won one. Anderson and Riley lost their only Super Bowl appearance.
Pearson now is automatically on the Hall's list of finalists for the final selections the day before the Super Bowl. The endorsement of the senior committee almost always proves to be a rubber stamp.
ECHOES OF BOOMER: The Bengals are hoping Burrow can be a composite of their four previous multiple Pro Bowl quarterbacks. As in Anderson's accuracy, Carson Palmer's overall No. 1 Heisman Trophy talent pedigree, Andy Dalton's ability to find ways to win and Boomer Esiason's leadership.
Burrow certainly has shown tendencies already to be one of their best locker-room leaders this season. We all know how Esiason did it. He included everyone, particularly his offensive line. The Bengals of the late '80s have stories rife with Esiason taking out his offensive line to Friday lunches, hosting them at his sprawling Northern Kentucky home or buying them glittering watches for Christmas. It sounds like Burrow took notes.
"Those guys have to be my best friends. I have to make them happy so they fight for me, and that's something I've always tried to do,: Burrow said. "They are going to have some nice Christmas presents this year, so I hope they are looking forward to that, and I'm looking forward to working with them.
"It's just natural. You just be yourself, talk to them, have conversations about them. Be confident in the huddle. O-linemen really have a good B.S. meter and if you're not confident in the huddle and saying the play confidently, they are going to think you don't know what you're doing so that's something I've really taken to heart and tried to do."
SLANTS AND SCREENS: With Waynes out indefinitely on a starting corner, Darius Phillips has taken advantage of being rolled out to replace him. He's kept it up since he had four interceptions last year to lead the team despite just barely taking 100 snaps.
"I think Darius has been off to a good start here in training camp," Taylor said. "He obviously has made the big splash plays in the opportunities he got last year now it's just consistency from down to down. That's what we expect to see from him. He's off to a solid start here. I've been pleased with some of the things we've seen him do."
But there are other corners earning shots too, such as CFL vet Winston Rose, a guy that has earned the gaze of the personnel department.
The Bengals are easing the new-look linebackers through plenty of combinations. Nickel you've been getting a lot of four-year vet Jordan Evans teamed with third-rounder Logan Wilson or free agent pick-up Josh Bynes with fourth-rounder Akeem Davis-Gaither or sophomore Germaine Pratt with the rookies. Evans, whose 45 NFL games are the second most in the group, has looked quick and active and the kids have clearly upped the group's speed factor to where it hasn't been in years.
But don't look for who is ahead of whom right now, although it seems like Bynes and Pratt are the guys in base.
"Sometimes you want to make sure there's not two rookies standing there next to each other, try to get them in there with one of the veteran guys," Taylor said. "Whether it's Bynes or (Austin) Calitro or Jordan and then get one of the younger guys next to them to kind of bring them along. That way they can grow on top of communication. But again, it's like all the position groups right now. You're not looking at first team or second team or third team. We're free to mix guys up, and we feel really good about our depth right now. Also we've got a better feel for the guys we've got on the team. But we do feel good about the depth with the 1s and 2s, mixing those guys up and not missing a beat." …
Here's two examples of what a change in coaching staff can mean for one guy. Or maybe it's just because wide receiver Auden Tate had a tough time getting a foothold as a rookie in 2018. But Taylor's staff (and injuries) opened the door for him to walk through with a break-through 40 catches last season.
And during the offseason the Bengals picked up wide receiver Mike Thomas, a four-year vet for Taylor's Rams. Both have stepped in well for a depleted corps to help negotiate Burrow's first week. You know how the 6-5 Tate catches everything. Thomas is a springy 6-1, 190 pounds and always seems to be in the right spot. He has just 10 catches in 40 games, but at 14.4 yards per pop.
"Obviously (Tate is) a guy who I've been impressed with since we got here. He's a total professional. Even though you consider him a young player, he's a pro," Taylor said. "He's on top of the details on special teams with Darrin (Simmons) and Colt (Anderson). He does a good job. He's got a great grasp of what we're trying to do on offense, playing a lot of different positions. He can play a lot of positions for us as well.
"Mike Thomas is an explosive guy. I've been around him a couple years. He's got that explosiveness to him and he really gets on those DBs quickly."
They've been running with Burrow and the ones a lot, but Taylor says at that spot with this group there are no 1s and 2s in his mind.
As the rain came down at the end of Tuesday's practice, Randy Bullock made all four field-goal tries and Tristan Vizcaino went three of four. Both made their last, a 53-yarder.