Hue Jackson has a fire in his belly as he starts his first training camp as the Bengals offensive coordinator.
The Bengals officially open the season Tuesday when they welcome the media to Paul Brown Stadium for the annual training camp luncheon, which is the only day of the year Bengals president Mike Brown and all three coordinators are available at the same time to greet the press.
Brown, no doubt, is going to be inundated by questions about the talks involving quarterback Andy Dalton's contract extension.
Although no deal looks to be in the offing before Brown speaks Tuesday, he'll no doubt emphasize that he hopes a deal can get done before the season starts and that both sides are still talking. Each side wanted one before camp, but all is not lost. The Bengals have traditionally nailed down their biggest extensions closer to September than August.
The luncheon is a first during the term of head coach Marvin Lewis. It's the first time in his 12 seasons he's had new coordinators on offense (Hue Jackson) and defense (Paul Guenther) and they join the only special teams coordinator (Darrin Simmons) Lewis has ever had.
But Jackson and Guenther are far from strangers in Bengaldom. Jackson, with his fourth team as a coordinator, is in his fourth different role with Lewis in Cincinnati. Guenther, in his 10th season on staff, was the eyes and ears of former defensive coordinator Mike Zimmer in press box on Sundays, as well as his third-down specialists.
Here's a sneak preview of what the coordinators are going to be talking about Tuesday:
Jackson has been quite eloquent since spring camp broke about how good he feels about Dalton and three-time Pro Bowl wide receiver A.J. Green and how much they can accomplish. But on Monday he offered a reminder he needs everybody.
"I'm not relying on any one guy or any two guys," Jackson said. "It has to be everybody. You know I've been saying it since I got the job how important the offensive line is. We've had a good foundation and I think the sky's the limit for these guys, but it doesn't matter what happened in OTAs anymore. Now it's time to go."
Much was made of Jackson's up-tempo approach in the spring, but he'd like to see the Bengals run his offense even quicker.
"I hope so,' Jackson said. "I want that to be something we continue to work at and grow in. but we're only going to assimilate what our players can do best. Hopefully we'll continue to push the envelope in that area as we move forward."
The Bengals are supposed to be the guys that play this season with chips on their shoulders. They are 30-18 the past three seasons, but don't have a post-season victory. After being dismissed by the Raiders despite coming within seven minutes of the club's first play-off berth in his only season as Oakland's head coach in 2011, Jackson would seem to be the perfect match.
"If anyone has been in my shoes, I guess they might have a chip on their shoulder," Jackson said. "I know this. You can't be complacent. There has to be a fire in you. Hopefully with our players it's the right kind of fire, not one you have to put out. The past is the past. It's about a different future. Not for myself but for this offensive football team."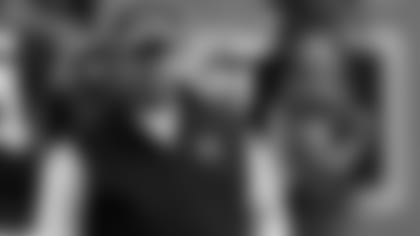 New defensive coordinator Paul Guenther didn't horse around this summer when he took advantage of a chance meeting with Bill Parcells.
While taking his last weekend of summer vacation at Saratoga Race Track in gorgeous Upstate New York, Guenther found himself sitting near Hall of Fame coach Bill Parcells. Guenther wasted no time picking the brain of one of the game's foremost defensive authorities.
"There's a lot of time between races so we talked a lot of football," Guenther said. "Just to be able to sit and talk football with him was great."
They do have one thing in common. Zimmer worked for Parcells and Guenther worked for Zimmer. But is clearly Guenther's show, as it was during the spring. His players better be ready that first meeting Wednesday night, because Guenther is looking for you.
"We install the defense in the spring. Now I'm going to make the players install it," Guenther said. "I'm going to have a player come down every meeting when we put a coverage in; they're going to go through it. Guys are going to be on call. It's important. I may ask a guy to do something he doesn't do all the time. If they understand the ins and outs of it, that makes us more flexible."
Guenther calls it the "whole part whole philosophy."
"Give them everything, break it down in little pieces, and then there it is,' he said. "I'll go in there, and that first coverage in for that day, I'll have a player get on the board and install it. It keeps them all accountable."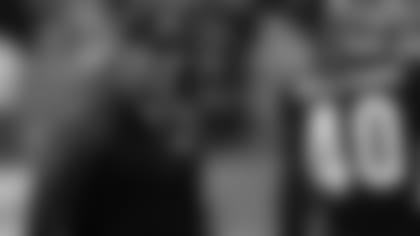 Special teams coach Darrin Simmons is hoping to pull the trigger on some gunners in this training camp.
After his unit led all special teams in the top 10 major categories in 2012, Simmons saw his guys finish 12th last season and he's demanding they cut down on penalties this season.
"Especially on punt return," Simmons said. "We have to play smarter and better situationally. If there's one area that stands out it is the net punt average against us has to get down."
You know he'll get the "Will Adam Jones return more punts this season?"
"A lot of it is going to be dictated by how much he plays (at cornerback)," Simmons said. "He never got an opportunity to get it going at all last year. Leon (Hall) got hurt so quickly. They say running backs get better as the game goes on.   They get in the groove. When you just throw somebody in there when they don't have a lot of live game action, it's hard."
Never one to mince words, Simmons is looking at big-time improvement from one his co-captains, running back Cedric Peerman, a guy he covets for so many reasons.
"He needs to go from being a good player to a great player. That's his role on our team. He's got to play at a Pro Bowl level for us to be where we need to be."
Also on Simmons' agenda this camp is getting the backup linebacker spots "clearer, it's murky right now,' as guys like Jayson DiManche, J.K. Schaffer, Brandon Joiner and picks from the last two drafts, Sean Porter and Marquis Flowers, begin the battle for what looks to be two spots.
Simmons is also searching for that versatile backup cornerback he hasn't had in a while. Ironically, he's looking for a guy that can replace wide receiver Andrew Hawkins.
"We have to find two gunners. Someone that can replace Hawk in the roles he filled. He was a receiver, but he played in the kicking game like he was a corner. If that's filled by a receiver, OK, that's a positive. Or maybe it's filled by a corner we've been looking for. We've got to get better tackling. We have to make better open-field tackles on punt and that comes from the gunners and gunners have to make plays."
Cornerback Dre Kirkpatrick has been productive there, but they need another one and among the candidates are receivers Cobi Hamilton and James Wright and cornerbacks ranging from first-rounder Darqueze Dennard, sixth-rounder Lavelle Westbrooks, second-year player Chris Lewis-Harris, and new fourth-year player R.J. Stanford.