Cam Sample's mom, as versatile as her son, is a senior vice president for a bank who has put him on the cover of what would be her fourth children's book.
But that's as far as she has gone on the writing project about Cameron's successful life entwined in a football journey and what it took. Mom, he said to her at some point after that sophomore year at Tulane, it's not time yet.
"Cameron has always been deep and clear," Deidre' Sample says. "He wasn't feeling it. He wasn't interested. 'My story isn't over.' I had to honor that."
A Six Sigma Green Belt, Deidre' Sample could deduce she may have a long wait because Sample, the Bengals' second-year-jack-of-all-trades on the defensive line, looks like he's going to be around awhile.
After a solid rookie year, he may have returned as the most improved player on a defense that has everyone back from the group that dominated the postseason.
"Love him," says defensive coordinator Lou Anarumo. "He's reliable. He'll play in the league for 10 years just because he'll always be in the right place. He's strong. He's smart as hell. He's got instincts."
All of which is no surprise to Deidre' Sample, who has a box of index cards somewhere filled with his observations she found so amazing she had to jot them down. Such as the one when he was six or seven or maybe even eight and they were driving.
"Mom, look up there in the clouds," he told her. "That cloud represents the people you have to leave out of your live so you can move on."
"That's how he's always been," Deidre' Sample says. "Cameron is just really grounded and no matter what, he stays focused."
That's what he did the six weeks between spring ball and the start of training camp instead of going back to home to Snellville and the edges of Atlanta.
"I stayed here because I had everything here. The gym. Chiropractor. In the gym Sam (Hubbard) and Khalid (Kareem), we were pushing each other," Sample says of his fellow D-linemen. "I just attacked every day. Worked on everything. Conditioning. A lot in the film room, seeing looks in the playbook."
That's not all that different than when he was playing at the demanding Shiloh High School football program and every August she brought in a tutor to the home once or twice a week to help him with courses like math and physics. It helped pave the way for him to negotiate Tulane's demanding finance major.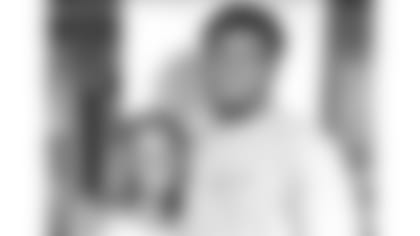 But senior defensive assistant Mark Duffner, who helps line coach Marion Hobby with the edge players, says the biggest difference between his rookie year and this preseason just might be his health. He played hurt at points last year and ended up getting surgery on his core after the season. He also missed the last two games of the regular season with a hamstring injury before returning to play 67 snaps in three of the four postseason games as a rotational edge player and occasional three technique inside.
"He's showing more burst right now because he was hurt. He was not 100 percent last season," Duffner says. He's quicker off the ball. His short area burst is more. And he gives you such great versatility. He can play end, he can play inside."
It was Duffner who told Sample during the 2021 draft process, after about his third Zoom interview with him, "I'd adopt you in three seconds."
After spending a season with him, that first impression grew. When Duffner met Deidre' at the Super Bowl, he told her the same thing. (She's keeping him.) Every week when Duffner gives out his quizzes, he says Sample always hits 95 to 100.
"He nails it," Duffner says. "He's bright, he's upbeat. He's detailed in his work ethic. He does an excellent job with his preparation on and off the field."
He was raised upbeat. Deidre' Sample would have it no other way. Not the lady who has penned, ABCs to Self Worth,ME!andGod Loves Us! They're for kids anywhere from 3-11 and hammers home positive, esteem-enhancer themes.
"If we don't do these jobs of building up our children, and I just don't mean biological but children in general," Deidre' Sample says, "are we going to leave it up to anybody to see their worth and tell them who they are? These are very formative years to pour into our kids so they can believe in themselves. It's easier to build a child then re-build one."
In Cam Sample's house there were no negative thoughts or actions. Mainly, no negative words because they're so lethal. Even something like, 'You're so silly."
"It may seem light," she says, "but you don't know where somebody else is mentally or emotionally."
Even before Sample wrote those three, she examined the faith-based lives of 25 of women in a book overseen by legendary editor Denise McFall, a speechwriter for Coretta Scott King. Worth: an inspiring anthology of pearls of wisdom, celebrating the value of women across generations, was published when Cam was just starting high school.
So she knows how to get out a positive message and she texts her son one every morning in the chain she shares with him and his father they call "Cam's Corner." It could be a Biblical passage or simply a syllable or two of love.
"He's my inspiration," says the author of Worth.
Just the other day she sent, "Father God we can't just do this on our own. We need your power in Jesus's name."
The day of the Super Bowl she texted a heart with, "You got this." Then another heart with, "I'm right here believing in you."
So naturally Cam Sample is upbeat about the coming season. All signs are pointing to him playing more than those 310 rookie snaps.
"Another year in the system," Cam Sample says. "Last year I was really thinking out there. Now I'm really confident in the system. I know what I'm doing, so I'm just playing fast."
Deidre' Sample's cover has cartoon images of her son, his father and her standing on a football field. Cam, wearing his old No. 55 Tulane jersey, towers over his parents. They're all smiles under the title Be Great!
"It's about him, about his life. His story," Deidre' Sample says. "The theme is about greatness. People look at the lights and the stars, but they don't look for the background. I also want to highlight the camaraderie with his teammates."
But it looks like there has to be a new cover. Maye a different uniform? A new number? 96?
"It's still being written," Deidre Sample says. "I'm watching it live."