If there's one thing Bengals head coach Marvin Lewis detests more than quarterback controversies, it is kicking competitions. You can put rookies and depth charts up there, too. But you can really sense Lewis' queasiness about the kicking game when he talks about why he'll take the experienced consistency of Randy Bullock over Jonathan Brown's bionic yet untried leg.
"Ask the teams that don't have a kicker," Lewis said before Wednesday's practice. "When we line up to kick a field goal I expect to walk away with three points and it's not a maybe or maybe not proposition. (A kicking merry-go-round is) not a good situation to be in."
During Lewis' 16 seasons on the job, Elias Sports Bureau says the Bengals are the only NFL team with two different kickers that have scored at least 718 points. Indeed, Elias says the Chargers are the only team in that stretch to have two players regardless of position with at least 718 points in kicker Nate Kaeding and running back LaDainian Tomlinson.
Say it again. Lewis wants a known quantity. Like Shayne Graham with 779 points from 2003-09 and then Mike Nugent from 2010 until he slumped late in 2016 and ushered in Bullock.
"It's the fully body of work, as I said, and that's important," Lewis said. "The time that Darrin (special teams coordinator Simmons) spends with the guys, even outside of my eyes, is important, like when we're out there (holding practice at the practice fields) and he's in here (inside the stadium working with special teams), or vice versa. It's the confidence we have."
Lewis says there's no competition, indicating it is Bullock's job again for the second straight season. Not only that, he says, there's no spot for Brown on the practice squad.
Yet his bomb of a 55-yard field goal last Saturday night in Dallas highlighted an intriguing camp for a guy that is a former member of the USA men's under-17 soccer team who earned a soccer scholarship to Kentucky before transferring to Louisville. It was at Louisville three years ago where Brown dabbled in kicking off and where the Bengals saw the power at the Cardinals' pro day two years ago. They signed him up as a member of the college free-agent class of 2016.
But this is the first preseason he has been in games (in fact, it's the first year anytime anywhere he's kicked field goals for real) and he's three for-three with what would have been a tie for the club longest in franchise history, along with a 34-yarder in Dallas that he followed up most impressively by drilling the ensuing kickoff off the crossbar.
Brown may have video of Ravens Pro Bowl kicker Justin Tucker to study on his iPad and he may flash that kind of dominating power. But Simmons and Lewis are putting on the brakes. He's not Tucker yet for a variety of reasons and one of them is he doesn't always make the short one in practice.
"Everything Jon has done, he's done well," said special teams coordinator Darrin Simmons. "He has to make sure he's carrying all that stuff over. He has to know every time he steps foot on the field in any form or fashion, practice or games, he's getting evaluated. He's done well in games. He has to do great in practice."
Practice is what got fifth-rounder Jake Elliott cut last season because that's where Bullock was so much better. Even then, if Elliott made that 60-yarder in Indy on the final snap of the last preseason, he probably would have made the club. But Brown isn't Elliott or Tucker just yet. He may have the leg, but not the skins.
And, believe it, if anyone knows how lethal a guy like Tucker is, it's Simmons. Remember last season's finale in Baltimore long before Boyd from Dalton? With 22 seconds left in the half, the Bengals couldn't squib the kick because they knew all Joe Flacco had to do was throw two passes to get Tucker in range. So they kicked off and allowed an 87-yard return that set up a TD.
"Inexperience," Simmons said of the difference between Tucker and Brown. "Tucker has kicked his whole life. Jon kicked his first ball 10 days ago in a game situation and Tucker has been through game winners, been through field goals at the end of the half. Or field goals to win. Jon hasn't done that. He doesn't know. We don't know. It's great to get him in games. See how he reacts just under normal circumstances. We'll see how it plays out in situations. We had some of that in our fourth pre-season game last year. We had two of those. Randy had a game winner and then Jake had a game winner. We want to see how they react."
Both missed. Brown had a miss Saturday and they loved the way he reacted. It didn't count on the snap before his 55-yarder. Long-snapper Clark Harris saw the Cowboys were missing some people and, to the ref's chagrin, snapped it and Brown tried one that missed. Both Simmons and Lewis noted how coolly he drilled the next.
"I've blown that whistle (to simulate a timeout before a FG attempt) how many times in practice? And everybody thinks it's funny," Lewis said. "I don't want to let them have the practice kick, and he got the practice kick and took full advantage of it. He just lined it up, looked relaxed and looked like he knew what (he was doing). I told Darrin that he was going to make it."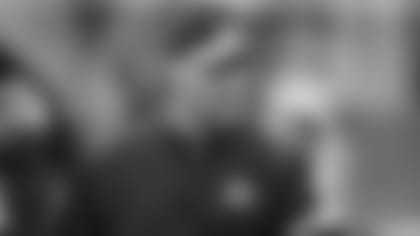 Brown knows the score. It's not the 55-yarders. It's the 25-yarders.
"For some reason," Brown said before Wednesday's practice, "I focus more on the long ones than the short ones. It's something Darrin and I have talked about. I'm really laser focused on the long ones and I have to get that same way for the short ones."
Brown says watching the Tucker video helps. While he strives for consistency in contact, Brown is taking notes on how Tucker always seems to make solid contact.
"Having a strong leg like that, it's kind of relatable," Brown said.
What's next is anyone's guess. With no spot in Cincy but on player personnel chief Duke Tobin's phone list, is there a team out there that takes the gamble?
"It's not my job to populate someone else's roster," Lewis said. "That's their decision."
With two kickers for nearly 1,500 points, you can see why he's made his.