Until the call from Bengals head coach Zac Taylor on draft night and Kevin Huber's ensuing call, it seemed like the Robbins family of the Westerville, Ohio Robbins were doing it all in reverse.
The right leg of Brad Robbins, the new Bengal from Westerville South High School, came back home last year to The Horseshoe to help the University of Michigan stun the No. 2 Buckeyes by 22 points when he forced five fair catches.
The left leg of Eric Robbins, his father, had launched enough wow-factor bombs at Westerville South to draw pre-game gawkers and a preferred walk-on berth at Ohio State before he opted for the Air Force. He came back to OSU to get a degree. But instead of punting, Buckeyes punter Tom Tupa and teammate Cris Carter recruited him for their intramural basketball team when they saw the former all-conference high school player deal in the gym.
"Brad saw Cris Carter at the (scouting) combine and told him, 'My dad played basketball with you in college,'" Eric Robbins says. "He asked him the name and (Carter) said, 'Oh yeah, Lefty.'"
Eric's wife is a Buckeye, too. His younger brother, who played for Ohio State in the '80s under coach Earle Bruce, left in the second half of Michigan's win in Ann Arbor a few years ago and didn't tell anyone he was driving back to Columbus.
But now it's all squared away with the last pick in a sixth round of two prized punters stuffed between projections and projects. And the shoe fits. Even his competition for the Bengals job. Old Ohio State foe Drue Chrisman.
Before they moved to Westerville, Eric Robbins' dad drove him a few times from Troy, Ohio to Wilmington College to watch the Bengals practice at training camp. The oldest of ten kids, Bill Robbins grew up in Marion, Ohio, and became the only Bengals fan in the bunch. Everyone else rooted for the Browns. He also loved Cincy's Big Red Machine.
Eric, born with the AFL in 1960, fit right in. He remembers catching glimpses of quarterback Greg Cook, the spiraling punts of Pat McInally and the imposing image of guard Pat Matson.
"He was huge. He looked like a bodybuilder," Eric Robbins recalls.
He had all their football cards and Bill Robbins, a Bob Trumpy devotee, had passed on his Bengals fandom to his son. Later Eric would become a fan of fellow lefty Boomer Esiason and he would live and die with Super Bowls then and now.
Then came Zac Taylor's phone call.
"I was ecstatic. It was surreal," Eric says. "I thought the last couple of years he might get a chance the way he was trending. People would ask me (where he wanted Brad to go) and I said it was a privilege just to be drafted, but I must have told dozens of people if I had my druthers I hope he would end up in Cincinnati."
Brad Robbins wasn't so much a fan of teams growing up playing four sports and playing travel baseball for his dad. He follows individuals with his two favorites Tom Brady and Kobe Bryant. Same with punters. Andy Lee. Sam Koch. Johnny Hekker.
And the lefty who ended up becoming the Bengals all-time leading punter during 14 seasons and a team-record 216 games. But that's not why he took Huber's No. 10 jersey when Taylor offered him a couple of options.
"I just closed my eyes and thought ten was a good number. It had slipped my mind that (Huber) had worn it," Brad Robbins says. "Then I went back and googled to see which punters wore ten and whom I could emulate. There it was. Kevin Huber and Johnny Hekker, so it all worked out."
Travis Brammer, the Bengals' vicar of video, is making sure Robbins is getting all the Huber tape he wants. It turns out both Brammer and the draft can magically reverse things to make them right.
"We have the technology to flip them around so he's a righty and it mirrors everything from a right-footed perspective," Robbins says. "His consistency and dependability are what really helped him stay as long as he did. Just as a player that's somebody who I want to mimic in that regard. As a specialist in the NFL you have to be dependable and consistent and just be repeatable.
"I'm watching his film now. Just looking at the repeatability, his hands and his steps were really tight and consistent and it's something I can model, but a righty version."
One day he'd probably also like to model Huber's welcome to a way-in-the-future rookie. Not long after the Taylor call, Huber was on the phone.
"It was a really good welcome," Robbins says. "He said congrats and all that good stuff. We're supposed to have lunch at some point. I have not met him personally, but I'm hoping to use him as sort of a mentor to pick his brain. I felt like he's somebody who I can have a personal relationship with."
Eric Robbins took a shot at the original USFL of the 1980s, winning one punt-off with the New Jersey Generals but not sticking. He also went to a tryout in Orlando, but punting and the pros just weren't as scientific as it would be for his youngest child.
Bengals Booth Podcast: Future Days
It's the "Future Days" edition of the Bengals Booth Podcast as broadcasters Dan Hoard and Dave Lapham discuss the 2023 schedule and take a week-by-week look at the Bengals' path to winning the AFC North for the third straight year. Plus, a pair of one-on-one conversations with a pair of Bengals draft picks – cornerback DJ Turner who tells us about his unusual first name, and punter Brad Robbins who admits that he wasn't sure that it was really Zac Taylor when he got his draft day phone call.
"The day before I probably punted a thousand balls. My leg was dead," says Eric Robbins, who still got off a couple of his usual tracers but not enough.
He put that OSU degree to work and is now an investment adviser. He invested much of his time in coaching both sons in a travel baseball career of 25 years. Brad's brother played basketball at the College of Wooster. His sister played two sports at Otterbein. There was a time Eric thought Brad was headed to Nevada to play football and baseball.
His holding? Don't worry about it. A centerfielder as well as a middle infielder, Brad Robbins had the scouts interested during his all-conference career in high school. He was also all-league in soccer, where he played some goalie. And he played basketball.
But Eric Robbins never pushed punting on him. One year during pee wees, Brad's team was looking for one and he casually urged his to give it a try.
"He reluctantly went out there and put up a 35-yard spiral. High and pretty. I got goosebumps," Eric Robbins says. "I'm thinking, 'Oh crap, he's got the gene.' They said can you do it again? And he did."
Thanks to Bill Robbins, he's also got the Bengals gene. Bill died two years ago at 83, the week his grandson pumped both his punts inside the Michigan State 20. Eric can only imagine what his dad would have thought when the call came.
"Oh my gosh. Oh my gosh. He was one of Brad's biggest guys," Eric Robbins says. "He was also an Ohio State nut. But he converted immediately to Michigan."
There is no need for converts now. The draft has reversed it all right.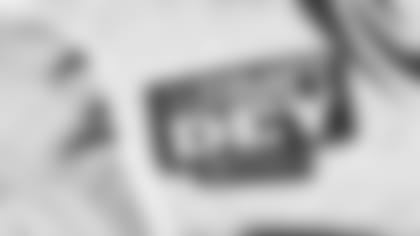 2023 Draft Dey Center
The official sources of news, photos, interviews and more of Draft Dey 2023, presented by Integrity Express Logistics.