With the 5-3 Bengals on a bye week, it's a great time to look back at memorable moments from the first half of the season. 
Amazing A.J. – WR A.J. Green continues to prove why he's one of the top receivers in the league. Fans knew it was going to be a special start to the season after Green broke out for three first half touchdowns against the Baltimore Ravens. Green hauled in all three scores in a span of 16:58, the fourth-quickest span in the previous 15 seasons.
Clutch Performance – QB Andy Dalton led a dramatic 16-play, 75-yard drive in the final four minutes against the Atlanta Falcons that ended with a 13-yard touchdown pass to A.J. Green with seven seconds left. The drive included one third-down conversion and two fourth-down conversions.
Comeback Cats - Trailing 17-3 in the fourth quarter against the Miami Dolphins, QB Andy Dalton scrambled out of trouble for a thrilling touchdown pass to HB Joe Mixon for an 18-yard score. That spearheaded Dalton's 23rd career game-winning drive, which set a new franchise mark.
Tampa Two-Step – Joe Mixon ranks eighth in the NFL with 509 rushing yards, which is impressive given he missed two weeks with a knee injury. What excites many fans coming out of the bye week is his breakout performance against Tampa Bay. Mixon rushed 21 times for 123 yards and two touchdowns in the win over the Buccaneers.
Tip Top Tyler – In a sign of great things to come, one of the best offensive highlights from the first half came when Andy Dalton scrambled and found WR Tyler Boyd wide for a 27-yard touchdown reception. Boyd is second on the team with 620 receiving yards and five touchdowns at the bye.
Make a "B" Line – Just how rare is it for two defensive linemen to score a touchdown in the same game? Consider it was the first time in franchise that two Bengals defensive linemen scored a touchdown in the same game, and the first time that two defensive linemen scored in the same quarter of an NFL game since Dec. 10, 1989.
Scoop and Score - S Clayton Fejedelem helped secure the Bengals first win of the season when he forced a fumble and returned it 83 yards with 24 seconds left to beat the Indianapolis Colts.
Bates' Pick Six – S Jessie Bates has three interceptions, but none were more exciting than his 23-yard pick-six against Tampa Bay for his first NFL touchdown. It helped propel him to his first NFL Rookie of the Week nomination.
Big Willie Style – After Baltimore clawed back into striking distance, S Shawn Williams hit quarterback Joe Flacco from behind, forced a fumble that was recovered by the Bengals to clinch the victory.
Brown Sets The Tone - One pass, one interception. It was a tone-setting play for the season when Colts quarterback Andrew Luck's first pass of the season was intercepted by LB Preston Brown at the Bengals 5-yard line.
Bullock's Game-Winner – In an NFL season with kickers missing clutch attempts at a high rate, K Randy Bullock has been a model of consistency this season. Bullock kicked a 44-yard field goal on the final play of the game to help the Bengals defeat Tampa Bay. Bullock is 9-for-11 on field goal attempts and 26-for-27 on extra point tries this season.
Going The Extra Yard – Already a considerable presence in the Bengals' record book, P Kevin Huber has taken over first place in one Bengals career punting category this year, and he's poised to take over the lead in one more by season's end. Against Pittsburgh, Huber passed Lee Johnson (32,196) for most career punting yards in Bengals history.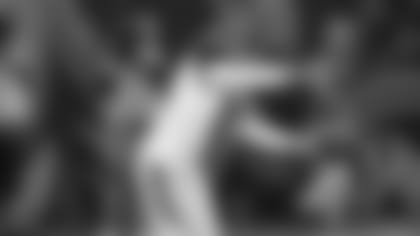 Next up for the Bengals is a showdown against future Hall of Fame quarterback Drew Brees and the New Orleans Saints on Sunday, Nov. 11 at 1 p.m. at Paul Brown Stadium.
Fans may purchase tickets through the Bengals Ticket Hotline at (513) 621-8383, online at Bengals.com or by visiting the Paul Brown Stadium ticket office. Those who purchase individual game tickets on Bengals.com or the Bengals app will not be subject to additional processing fees when choosing mobile tickets as the delivery option.