Safety Jessie Bates III and right end Sam Hubbard, the 2018 draft picks who have become centerpieces for the future of the Bengals defense, were hardly surprised when they watched their unit re-made in about a week's time last month.
As the football world reeled while the Bengals shifted gears and committed about $120 million for five defensive starters in free agency, Bates and Hubbard had already huddled with coaches during their exit meetings following the season and left with the idea they were going to aggressively upgrade their side of the ball.
The bad news is no one knows when they'll meet for the first time. The good news is they can't wait.
"I knew we were going to get some guys just from what I had been told and I had no reason to think they weren't telling the truth," said Hubbard, the homegrown third-rounder off an 8.5-sack season. "I think they really showed that they are trying to win games and bring a winning culture and they followed up those words up with actions. And made some big moves.
"It's exactly what we needed to improve on the defensive side of the ball. And we got it. It's time to go to work and put it on display. I'm just really excited. It's crazy times. Right now I'm preparing as hard as I can  for it to come around. I think it's going to be awhile, but I'll continue like we're on track to start the season regularly."
Bates, the second-rounder who has played all but one percent of the snaps since he arrived, lingered a bit with defensive coordinator Lou Anarumo after his exit meeting. The straight-shooting Anarumo told Bates privately what he needed to do to get better and he got the message.
"I was one of the last guys to have a conversation with Coach Lou and we had a great conversation for about 20 minutes," Bates said. "I kind of knew we were going to get some help in here as far bringing in some new guys. They were preaching about getting younger and we did.
"You heard around the league the Bengals don't reach out to players in free agency and spend a lot of money because that's always been their philosophy. They've always been comfortable with some of the guys in the locker room. I think now it kind of gives the players an eye opener. They're not going to keep a lot guys around if they're not getting the job done. Whether that's not getting a contract extension if not playing well in that first year, nobody's safe, I think that puts a little bit of fire under a lot of people and opened their eyes a little bit. At least to the guys that have been there for a while."
The Bengals attacked a culture crisis that has been festering for a few years on that side of the ball. The once proud and hard-nosed defense that began the first four seasons of the previous decade with three top seven finishes in the NFL rankings comes into this season after a soft three years with four different play-callers.
Since 2017 the Bengals have allowed the most total yards and most rushing yards, but this spate of signings has yielded a group of big, smart physical men coming play-off defenses.
The moves project to five new Opening Day regulars: Texans nose tackle D.J. Reader (a Pro Football Focus.com Pro Bowler in the first stretch of the season), Ravens middle linebacker Josh Bynes (a starter for a defense that finished fifth vs. the run), Vikings cornerback Trae Waynes (off a Mike Zimmer defense that had the third most interceptions), Saints safety Vonn Bell (whose defense finished fourth vs. the run) and Vikings slot cornerback Mackensie Alexander (who didn't miss a tackle on 142 run plays, according to PFF).
The effort for chemistry was symbolized by Bell reaching out to Bates on his phone and Hubbard firing out a welcome text of his own to his old buddy from their days of hoisting the national championship trophy for Ohio State.
"Vonn's an incredible player. Great character. Leadership. Competitor. I was really excited to hear that," Hubbard said. "He's super physical. He comes down and makes tackles on anybody. He's been doing that since I've known him. I think he's elevated his game to a whole new level the last four years in New Orleans. I just think he brings a physicality and mentality in the back end that's going to be awesome to have behind me."
 Bates enjoyed their first conversation.
"I hear he's very smart, very well-rounded, which is step one in getting the right guys in the locker room," Bates said. "He introduced himself and we're excited to be working together."
Bates, who turned 23 last month, has his pulse on the youth. Bell turned 25 in the last month of the season, Reader won't turn 26 until July and Alexander doesn't turn 27 until the second half of the season.
 That's one of the reasons the Reader signing has them raising their eyebrows.
"I know he's a great young player. I think they made him the highest-paid nose tackle and he definitely deserves it. I think it was a great addition," said Hubbard, picturing Reader next to Pro Bowl pass rushing tackle Geno Atkins. "That's a big presence. He'll help us all across the front when it comes to stopping the run and rushing the passer. A very physical, big guy."
Maybe the most revealing stat over the last three seasons is that while the Bengals have faced the most rushing attempts, they have handled only the 20th most passes. They know they have to reverse that trend to open up the pass rush. If anybody knows that, it is Bates after he led the team in tackles as a rookie, edging out safety partner Shawn Williams. Last year, Williams won the title and Bates finished 11 tackles behind linebacker Nick Vigil in third.
"The big thing is stopping the run," Bates said. "It's never good for your safeties leading the team in tackles both years I've been here. I think that's why they went out and got a really good defensive line guy. That will help a lot. And I think next is stopping the pass being aggressive, maybe even getting some fire under guys and making it a lot more competitive in the secondary."
There are things to be worked out, of course.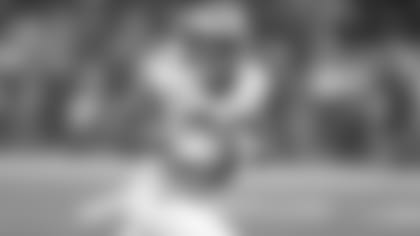 Bates has always been the free safety here (he's got six picks in 32 games) and while Bell has done both, he's got a strong safety's game to complement Bates. Bates also believes they'll find a place for incumbent strong safety Shawn Williams, a respected and versatile sort who can help at linebacker and the secondary in certain packages with the credibility a locker-room leader.
"He's been one of my best friends for two years and he's great for us on and off the field," Bates said.
Both Bates and Hubbard began their offseasons in Florida but have returned to their homes, Hubbard in Cincinnati and Bates in Fort Wayne, Ind. Both are adhering to the sheltering guidelines of the pandemic and are mixing up social distancing with solitary workouts.
But they're keeping in touch with teammates and coaches.
"I think ownership and the personnel department did a great job giving key pieces that the coaching staff was asking for. We're all really happy," Hubbard said.
When they're all together is another question. But they can't wait.
"We needed a fresh culture. Needed to develop a winning culture. Adding guys like this with the right mindset, the competiveness, who do things the right way is the first step of many," Hubbard said. "I think we're on our way."