Cincinnati Bengals Quarterback Andy Dalton
 Q: Andy, could you imagine your day getting much better?
A: It was a good day. I think the way it started was the best part because I was able to give back to Roswell Park Cancer Institute. It was amazing and there's so much support here in Buffalo. So many people have given to us so the fact that the day started out that way and the game went well too.
Q: Andy, can you describe the emotion of seeing, I know it's been a lot, but the opposing fans giving you a standing ovation coming out? What was that moment like?
A: Yeah, I mean again I didn't know what the ovation was going to be but for them to hold me back and be the last one to come out I wasn't expecting that. But it's cool. It's a crazy story and it's been fun to be on this side of it and going through it. The best part is all the money that was raised and how many families and how many children we were able to help.
Q: A.J. Green said the first play was scripted for John Ross, but you can't really script what happened with the final 10 yards. Were you able to see what was playing out there at the end?
A: Yeah, I saw a little bit of it. John made such a good play after the catch and to make a couple guys miss right there to get close to the end zone and get in it shows his talent and what he can bring to this offense.
Q: Does that ten minutes show what this offense can do?
A: For sure. We just have to play to our potential and I feel like we started the game how we wanted to. I felt like we moved the ball and scored points and that's what happens on offense.
Q: Do you like how you ran the ball?
A: I thought we moved the ball well up and down the field and that's how we wanted to start the game with that one play to score a touchdown, which was nice. It was good.
Q: I know with John Ross, it was scripted that you were going to use him on the first play, but was it something they were doing? Was he the guy you were picking on and you just wanted to boost John's confidence? What was behind that?
A: Yeah, I mean there's a lot that went into that. I think just for us, take a shot with John and we knew that was going to be the first play. I said in the huddle it was going to be a touchdown. I said on the sidelines before the game it was going to be a touchdown. So I'm glad it happened that way.
Q: Is he almost impossible to [hold back]?
A: I mean everybody knows his speed and he can run. So we just put it out there and wanted him to make a play.
Q: Can you walk through your play with A.J. for me?
A: Yeah, I mean A.J. and I have been doing this together for a long time. I know how he runs routes and for him he's so good. He did a great job beating the corner so I could give him the ball to make a play and he did. So that was another good play for us.
Q: Andy, for a preseason game was it easy or difficult for you to contain some of your emotions given the reception that happened and knowing that the first play was this on top of everything that went on today?
A: It's one of those things that things would have been completely different had it been a regular season game. I wouldn't have been able to do all of the stuff that I was able to do before [the game]. I don't know if it was the ovation before, but the fact that it was a preseason game made this whole trip and made everything that we had planned to do way easier. I think it's cool that it all happened the way it did.
Q: Do you almost feel bad for throwing a touchdown on the first pass after the standing ovation?
A: No, I don't feel bad. I don't feel bad. It's just all part of it.
Q: Did the ovation surprise you?
A: Yeah I figured it was going to be something in some way, I just didn't know when it was going to happen. And I had too many people tell me they were going to do an ovation for me so it wasn't a surprise. But I think just the way it happened. As I was walking out of the tunnel they said, "Hey, we're holding you back and we're going to do something." And I was like "okay." So yeah, I mean it's pretty cool.
Q: Was it nice having Tyler [Boyd] back in on the action?
A: For sure. I think that getting Tyler back in on the action, I think that he's going to be a big part of our offense and I think that it's good for him to get some action.
Q: Were you hoping to see him take a hit and pop up and everyone can stop talking about that?
A: Yeah. And he did, so it's good.
Q: You and Tyler Boyd seemed to pick up right where you left off too, and Tyler seemed [to do well] too.
A: Yeah, I think Tyler's done a great job and I think we've got a lot of guys on this offense, so he's another one that I feel like he's had a great training camp and a great preseason will be great going into the season.
Q: Talk about how this a script and a dress rehearsal.
A: I mean I felt like we played well and the game. I thought we did a lot of good things. The offense moved and overall I think it was a good game.
Q: Andy, did you hear about the shooting today in Jacksonville with the kids playing Madden football?
A: I haven't heard much about it, no.
Q: We've been talking to some of the players just getting some of their thoughts because now it's come to the point where kids are playing video games, Madden Football, so just your thoughts on all of the craziness that's going on and now it's impacting video games and sports.
A: It's sad. I mean any time there's something like that that happens it's sad. I think it's one of those things where this isn't our home, so for us we need to believe in that and we have to have faith in Jesus and believe in something bigger. It's sad when stuff like that happens and you never want anything like that to happen, especially playing video games, something that you think is so safe. You never think something like that would happen so it's sad that stuff like that does happen.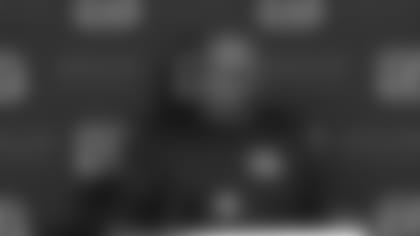 CINCINNATI BENGALS HEAD COACH MARVIN LEWIS
Opening Statement: It was a good start to the process tonight. Obviously offensively we caught our first series, nice job coming out and getting the ball back for the offense. It was just another step in the process, so [we did] a nice job today.
Q: He seemed okay, referring to (Cordy) Glenn, will he be expected for the first regular season game?
A: I'm not going to speculate.
Q: (John) Ross has had a nice camp, made a lot of great plays in when it came to the game. First play in the game, was that is a big deal for him in his development?
A: Every chance John gets out to play, it's another step forward for John in his abilities and his career and so forth. It was a good way to start it tonight and hopefully he can continue to build upon those opportunities.
Q: What about Andy building off of that. He had a warm welcome here in Buffalo. He got a lot of cheers, which is unusual for any visiting quarterback.
A: His emotions are at the right place all the time, so that doesn't change anything.
Q: The passing game looks great here right now, run game seems to have some issues, what do you say about that?
A: Again, we are going to continue to take what the defense gives us and that's a nice job by our quarterback. A lot of those throws today are running plays and off run and so forth, we've got to continue to play football that way. We've got some things in the running game that we have to make sure we get better at, there's no doubt about it. That's all apart of NFL football. We have 11 guys out there are we have to attack them and use the guys as much as we can. We know we have a lot of football coming this season and we are going to have to do a great job with whatever it presents.
Q: What about how your defense attacked, five sacks in the first half?
A: Well you know again, I'm pleased with where it was today. Again [we have to] come out and play well, and I thought we did a good job with that. We will see how it takes.
Q: How important was (Tyler) Boyd playing the five series that he did today, did you always pin point the third game for him.
A: You know, he didn't really play this week and again it's great for him and he's ready to go.
Q: What's your take on the number of preseason games, that everybody has to play too many or just right?
A: It's great for us to have the opportunity to get our young guys out here and get ourselves prepared for the season. As coaches, we need our guys to play, that's the only way we can play football, is to play football. These guys ask me about (John) Ross and stuff, (John) Ross is in there third quarter because he needs to play football. That's the only way we can play football is to get these guys out there playing and so forth. We can't emulate it in practice like we can out here when we are playing against an opponent. We played the team today, got some physical guys out front with some skill and it was good and we needed to do that.
CINCINNATI BENGALS WIDE RECEIVER AJ GREEN
Q: For you guys to play the way you did in that first half, how much confidence does that give you heading into the regular season just two weeks from now?
A: It feels good. Not just us, the coaches and everybody is just feeling good going into week one when live bullets start flying around, so it felt good to get back out there for a little while.
Q: From the outside looking in, it feels like Andy Dalton has had one of his best camps. He's had eight camps so far, or preseason, whatever you want to call it. What are you seeing from him, because he looked nearly perfect today out there?
A: It's the same thing he has been doing for the last seven years, man. He does what he has to do. He's a guy that comes in everyday and works his butt off. He's a smart guy, so he's just having a typical year that we always see him have.
Q: I know you're part of plays, I don't know if you got to watch John Ross and what happened. That play was ridiculous, the way he turned around the secondary. What was your take on that play?
A: It was great for him just to get him in the zone, get his feet wet. I was very happy for him. We drew up that play all week so it was good to have it work
Q: So that was something you guys were planning on going for, but obviously he changed the end of the play quite a bit. Is that just what he can do with this team?
A: Yeah, you've seen what he can do with the ball in his hands. He's very electric.
Q: What was it like seeing Andy Dalton get that kind of reception? Obviously, there's been a big build up for this, with getting the standing ovation. You know what Andy means to this team and to Cincinnati, but he obviously means a lot to Buffalo now as well.
A: Of course, Andy is just a great guy on and off the field. What he has done off the field with his foundation, these kids and their parents is just unbelievable. A lot we see on the field, but a lot of what he does off the field is unbelievable.
CINCINNATI BENGALS WIDE RECEIVER JOHN ROSS
Q: John, the team is raving about that first play. AJ (Green) said it was drawn up, but he didn't draw up what you did in the final five yards there. How exciting was that for you?
A: It was really exciting, just to finally get an opportunity to make a play, especially on a deep ball. The finish was the best part so, for me to be able to go out there and do that is amazing.
Q: The finish was the best part. Can you walk us through what went through your mind in that half second where you made a decision to make that move?
A: It was just all pursuing that way. I kind of just wanted to make a quick move and see if it worked, and it did.
Q: AJ said that was planned, like I mentioned. So, out of the gate, do you expect that deep ball coming towards you? Were you nervous, jitters, excited? What was going through your mind?
A: I was excited because the whole team knew about it so, everybody said 'first play we're going to score.' Everybody was basically getting me ready, pumping me up. Then it happened. It was crazy when I got back to the sideline, everybody was so excited.