This is the way the players wanted it.
They had something to say, they wanted to say it together and they wanted to be with Bengals president Mike Brown when they said it.
So on Saturday, in front of Cincinnati's national monument for the battle against injustice and racism and flanked by running back Giovani Bernard and tight end C.J. Uzomah, Brown stood with them and behind them as Trey Hopkins and Joe Burrow read the team's mission statement.
Hopkins, the undrafted center who won a starting job and second contract in his sixth NFL season, wrote the two-paragraph release Friday after he held a media Zoom spellbound detailing growing up black in east Houston. He read the first paragraph before a microphone in front of the National Underground Railroad Freedom Center.
"As this country continues to see instances of racial discrimination and injustices, it is time for us to act. Together, as a unified front, we must identify, address and ultimately end those practices and policies that would deny liberty and justice to all, regardless of race, religion, or creed. It is time for us all to take a stand!"
Burrow, the overall No. 1 draft pick and white Heisman Trophy quarterback who immediately displayed public empathy for his black teammates when nation-wide protests began in the spring, read the second:
"It is each of our responsibility to effect change in our communities, not only for us but for those yet to come. We cannot turn a blind eye to the racism still experienced in this country. This is not an issue of politics but a fight for equality and life. If this nation is to ever reach the goals that it has promised its citizens, we must be catalysts for change."
After an hour of mini-presentations on bias and systemic racism followed by a quick tour that included the museum's iconic slave pen, the Bengals players, coaches, staff and owners left as they came. Walking the quarter of a mile or so back to Paul Brown Stadium. All dressed in black. Many wore Bengals black T-Shirts . Safety Jessie Bates wore an 'I Can't Breathe" T-Shirt.
"These are the first steps," Uzomah said. "It's symbolic. It's the reason we decided to walk over to the Freedom Center. These are the steps we want to begin to take as an organization. To show the community, show the country what we stand for, what we believe in and that we're a united front against the social injustices that are going on. We just want to help educate everyone."
Bernard led the effort of players on the team's Positive Community Impact Committee (PCIC) during the last 48 hours to form a statement and an event to unveil it. Their goal is to foster social justice in the city through a variety of programs and PCIC is starting it off by coordinating with the $250,000 the Bengals gave to the cause back in the spring.
It was more than fitting that the 85-year-old Brown was there in front of the Freedom Center waiting for them with head coach Zac Taylor's two young sons. The rest of the ownership family, Paul Brown and Katie, Elizabeth and Troy Blackburn, walked with the team.
The players invited Brown and his family on the walk during his Friday morning meeting with some players and coaches.
"We told him, we would love for you guys, the Brown family to take the walk over with us to the Freedom Center and it seemed very easy for him to say yes," Bernard recalled.
Brown joked that he would be glad to do it, but that he can't walk like he used to. And the players kidded him back, saying he could ride over in the golf cart that he uses to drive around practice,
"Which was awesome. Which was awesome," said Bernard when he saw Brown waiting for them. "And that was a big thing for a lot of the guys on the team to have that unity, to have that feeling of everyone being together and staying together. It's a huge moment for us."
Hopkins said that after the meeting with Brown and his show of support, the players wanted to get their thoughts together for a statement. Taylor gave them extra time after practice and opened up the team room for the meeting.
While players voiced their opinions, Hopkins took notes on his phone and began jotting down ideas. He says it took him ten minutes to write, which makes you wonder why he wasn't teaching English instead of math and science during his stint in a junior high a few offseasons ago.
"It pretty much flowed. We all kind of had the same ideas that we wanted to convey, so that was the easy part," Hopkins said. "The hardest part was trying to make it concise."
Brown spoke to Hopkins, Bernard, Uzomah, Dunlap, Burrow and other players at the front of the group. He outlined the history of the Freedom Center, a museum that the Bengals have supported with donations down through the years. Bernard knows Brown doesn't like the limelight and doesn't want to overshadow his players. Even on Saturday Brown wanted to make sure players were in front.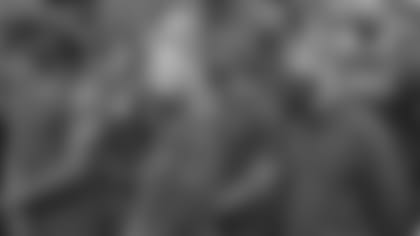 "I just think it's good for the new guys to see him. He didn't give his talk at training camp this year (because of the pandemic) and he's got so much history," Bernard said. "He was talking about the history of the National Underground Railroad Freedom Center. It was a moment for us to learn how he was connected. A lot that stuff doesn't come to light. It's behind-the-scenes, but I think in today's age a lot of that has to come out for people to know. Him being beside us and being there with us was obviously a huge thing."
The visit continues the Bengals' lifetime support of the 16-year-old museum and kicks off new ventures this season beginning Saturday with the promotion of the visit on the club's social media channels.
The Bengals are also putting the Freedom Center's logo on one of the tarps covering the first seven rows in Paul Brown Stadium, raising funds for the museum through the fan cutout program and partnering the club's PCIC with the museum in an Implicit Bias program targeted at youth.
Bengals sack ace Carlos Dunlap, the restauranteur on the roster, called the day "a launch." They hope it's continuing education for everyone.
Like the questions after Saturday's quick history lecture. Burrow had never heard of "Black Codes," that were mentioned on a slide and wanted to know about them. He discovered they were restrictive laws designed to limit the freedom of African-Americans and that some of the earliest were passed in Ohio at the turn of the 19th century. Wide receiver John Ross wanted to know about another slide and how the Million Man March in 1995 could draw a crowd before social media.
"It was an encouraging step in the right direction," said Hopkins, who has Saturday's last word because he had all the good ones. "We want to let the community know we know what's going on. We're not separated by our job or our paychecks. We want to take steps to make sure this is a better place."