Bengals slot corner Tony McRae may have a mere 70 NFL snaps to his credit, but he has a veteran's soul. He finds himself in the cross hairs of what has become the league's self-imposed weekly officiating follies.
While the internet snaps, crackles and pops with takes, double takes and architectural drawings of his dust up with Steelers wide receiver Justin Hunter on Pittsburgh's winning touchdown pass with ten seconds left, McRae knows quarterback Patrick Mahomes and his Chiefs wait Sunday night in Arrowhead Stadium (8:20 p.m.-Cincinnati's Channel 5) for his battered secondary. The Chiefs may be on pace to allow the most yards in NFL history, but the Bengals are trying to get a defense right that's on pace to allow the most yards in Bengals history and McRae is one of the guys that has to help with regular slot corner Darqueze Dennard (shoulder) most likely out and starting safety Shawn Williams (head) possibly out. McRae may be just 25 years old, but he knows if ifs and buts were candy and nuts, every day would be Christmas.
"At the end of the day he scored to win the game and you can't get it back," McRae said as he left Paul Brown Stadium following Monday's film review. "It was a good learning experience and it's something that won't happen again."
"It,' of course, is Hunter driving McRae off the line of scrimmage in what appears to be offensive pass interference and taking him out of Steelers wide receiver Antonio Brown's 31-yard touchdown run-and-catch with 15 seconds left. NFL officiating chief Al Riveron said no, that with McRae initiating the contact all bets are off. Bengals head coach Marvin Lewis, a former member of the NFL completion committee who usually treats the refs with kid gloves and peppers his officiating answers with "no comments," came out about as strongly as he ever does and says the NFL got it wrong.
"The receiver was more than a yard from the line of scrimmage. Tony was trying to slide inside and was contacted. That defines offensive pass interference. But unless it's called, it doesn't matter," Lewis said at his Monday news conference, disputing that McRae initiated contact.
"From what I understand, Al's explanation was that our guy was there at the line of scrimmage and put his hands on their guy. But our guy was back off of the line of scrimmage to begin with and backed up. It's over, nothing is going to change, so we have to move on. Those are plays they have run in the past and the officiating crew has seen those plays before. We have to do a great job defending those plays as they come up every year. We have to do a good job of understanding it and defending it better next time."
But McRae, a second-year undrafted player out of North Carolina A&T that has worked his way up the ladder with feisty fundamentals, took the blame.
"That's one of those they're never going to call. Offenses are doing that everywhere. Especially Pittsburgh," McRae said. "We were ready for it. We knew that play was possible. They just hit it at the right time and I didn't play it how I was coached to play it. All our DBs know they'll never call that. Marvin told us they're not going to call that. I have to put myself in a better situation."
Which is why Lewis also said it, "doesn't matter."
McRae, though, loved defensive coordinator Teryl Austin's call on the play. Zero blitz. All out. And he said Austin walked him through the possibilities before Sunday.
"You want an aggressive play call. Regardless of what he calls. I have to play it," McRae said. "He made a great call. That was all on me. As far as communication-wise, I should have played in and out. I should have played inside of him. Instead, I was head up to him. I put myself in a losing situation. T. A. had already gone over that earlier this week. Maybe it was little different situation. But he still coached it so I have to do better."
He'll get plenty of chances at Arrowhead. If the 5-10, 185-pound McRae is the most photographed man in the NFL this week, Chiefs wide receiver Tyreek Hill is the hottest. He's coming off a three-touchdown game in New England during a season he has six TDs and he'll be lined up all over the place this Sunday night. Also getting dibs is William Jackson, the Bengals' best cover corner who says he'll play despite his own health problems.
When someone mentioned to Jackson that "Hill can fly," Jackson shot back, "So can I … They've got some great players, we've got some great players. It should be fun."
Jackson played 64 of the 73 snaps despite being called questionable after a limited week of practice with knee issues. He went down late for a spell before getting back for the last couple of plays, which is why rookie Darius Phillips was in there causing tight end Vance McDonald to fumble away a first down and forcing the Steelers to kick that late field goal to set up Andy Dalton's late heroics.
Jackson already has cache as an elite cover corner. Now his teammates are watching his toughness. ProFootballFocus.com said Steelers quarterback Ben Roethlisberger threw at him twice all day and didn't get a completion.
"I had to play, I was never not going to play. They just put me questionable," Jackson said.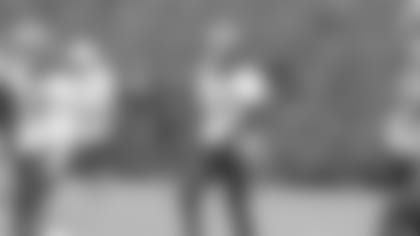 He's on Lewis's side and thought McRae got interfered with on the play. With a tip to McRae's feistiness, Jackson said if McRae could have got inside to cover Brown he would have. He pictured the 6-4 Hunter steaming at McRae at the line of scrimmage and says picks are now a thing of an NFL that loves and legislates offense.
"I don't like the picking that's going on," Jackson said. "Tony McRae didn't initiate the contact. The guy just ran into him. He didn't run a route. I just don't like the way the NFL put that together … Everybody around the league does picks. It's the new thing on the goal line. It's a copycat league. It looks like they're setting up the offense to score … Tony was in a hard spot. There's nothing he could do about it. We indicated what we're going with and when a guy (6-4) runs at you, what can you do about it?"
There wasn't much McRae could do about Steelers wide receiver JuJu Smith-Schuster's twisting 10-yard catch in the winning drive on third-and-two. If you don't think the 6-1, 215-pound Smith-Schuster is a reincarnation of T.J. Houshmandzadeh come back to haunt the Bengals, think again. He also killed them with a 23-yarder down the middle of a zone a few plays later.
"We could have played it a little bit better, in terms of our spacing with our coverage. But again, he's got to be able to see that and he did," Austin said of Roethlisberger. "That was one there that he found the hole in the coverage. Every coverage has got a little bit of a weakness in it, and where they hit us was right behind the linebackers and just in front of the safeties. So he did a good job of finding it and getting it in there and making a good throw. It's one thing to see it, it's another thing to make it."
But a few plays before that McRae was all over Smith-Schuster on the sidelines. CBS-TV analyst Dan Fouts called the coverage good, but Smith-Schuster stretched up and over McRae to make a nice grab.
"That's Ben," McRae said. "Putting it high and outside. Either they can catch it or it's a nobody ball."
Now McRae goes from Canton to Kansas City, where Mahomes' rocket arm is the NFL's next big thing with a league-leading 18 touchdown passes. The Bengals, giving up 409 yards a game, face an offense rolling up 418. Now McRae has an idea what waits.
"Ben is a very veteran quarterback," McRae said. "Anytime you go against a guy like, it's a great experience."